Creating content with AI software is a relatively new concept that's recently taken the creator space by storm. Whether you're a digital marketing agency owner or a blogger, it's safe to assume that you have heard of Jasper AI. (If not, watch out – you might live under a rock.) But how exactly does it work? And is it worth the hype?
Today, I'm breaking down everything you need to know about this AI copywriting tool in an unbiased Jasper AI review. From the method behind the madness to the various plans that Jasper AI offers, it's time to find out if you can write quality content like SEO-optimized blog posts and trendy social media posts with this popular AI software.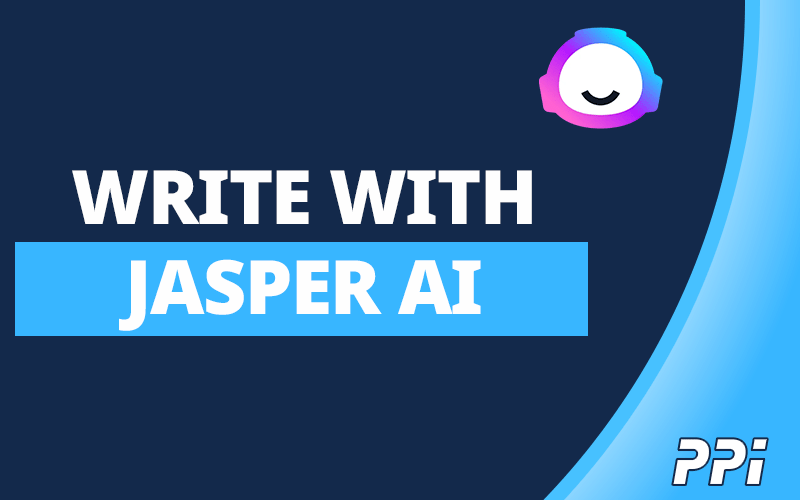 Top Features & Benefits
For those of you who are just here for a quick overview of the most noteworthy features and benefits that the Jasper AI tool provides, let's start there:
Works in 29 languages
Curates content at 10X the speed of human writers
User-friendly interface (even for beginners)
Built-in plagiarism checker
Offers users free SEO courses, web copy courses, and 50+ templates
Live chat support for Boss Mode members
5-day free trial that comes with 10k credits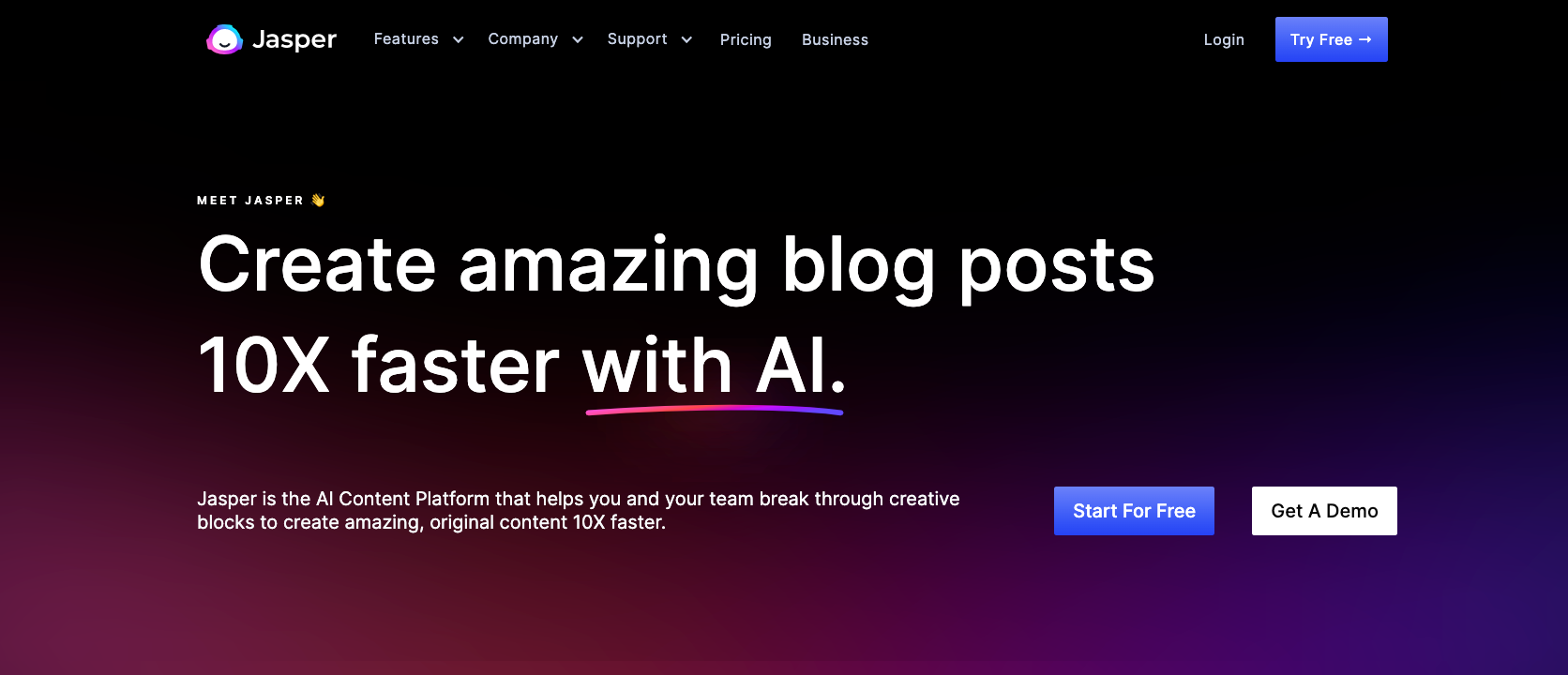 If you're still here, thanks for staying! Let's move on to the part of this Jasper AI review where we cover what it is, who needs it, and how it works.
Jasper AI Overview
What is Jasper AI?
Upon landing on Jasper's homepage, you can quickly find bold declarations like "generate months of social media content in minutes" and "write SEO-optimized blog posts 10X faster with Jasper."
Sounds impressive, huh? The proof is in the pudding. Or, in this case, the 800+ reviews that gave Jasper AI its 4.8/5 rating.
According to Jasper's website, the Jasper AI tool is "an artificial intelligence platform that helps marketing and sales teams create high-quality content faster."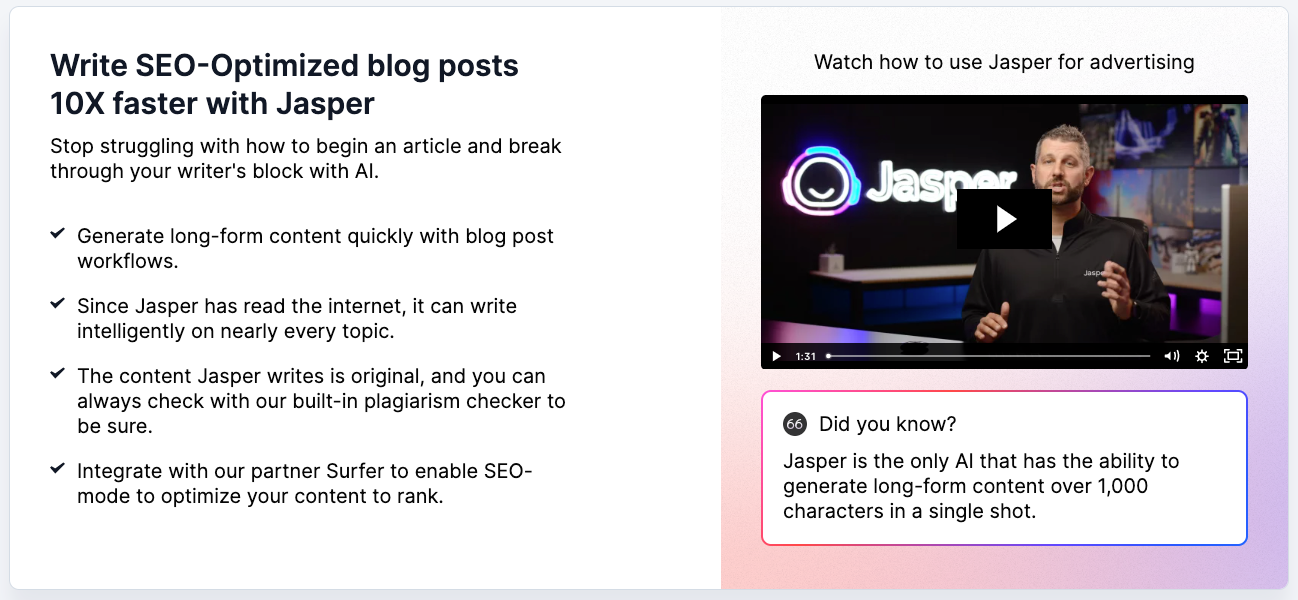 You can use Jasper to quickly craft long-form blog posts, Facebook ads, social media posts, email marketing content, website copy, and even art.
Thanks to cutting-edge AI technology, the content that Jasper AI spits out will be optimized and ready to help you boost sales.
All you have to do to get started is plug in some information and let your new sidekick work its magic. With Jasper AI, you can push out content that ranks at the top in Google search results and dramatically increases your audience.
Because Jasper AI works by reading what's on the internet, the AI writing tool can write intelligently on nearly every topic.
Who Needs Jasper AI
If you would benefit from a writing assistant, you would benefit from Jasper AI. Think about it like this: Jasper can tackle any writing task you give it with ease, never complains, and is always on time (as long as you are). It's the perfect assistant!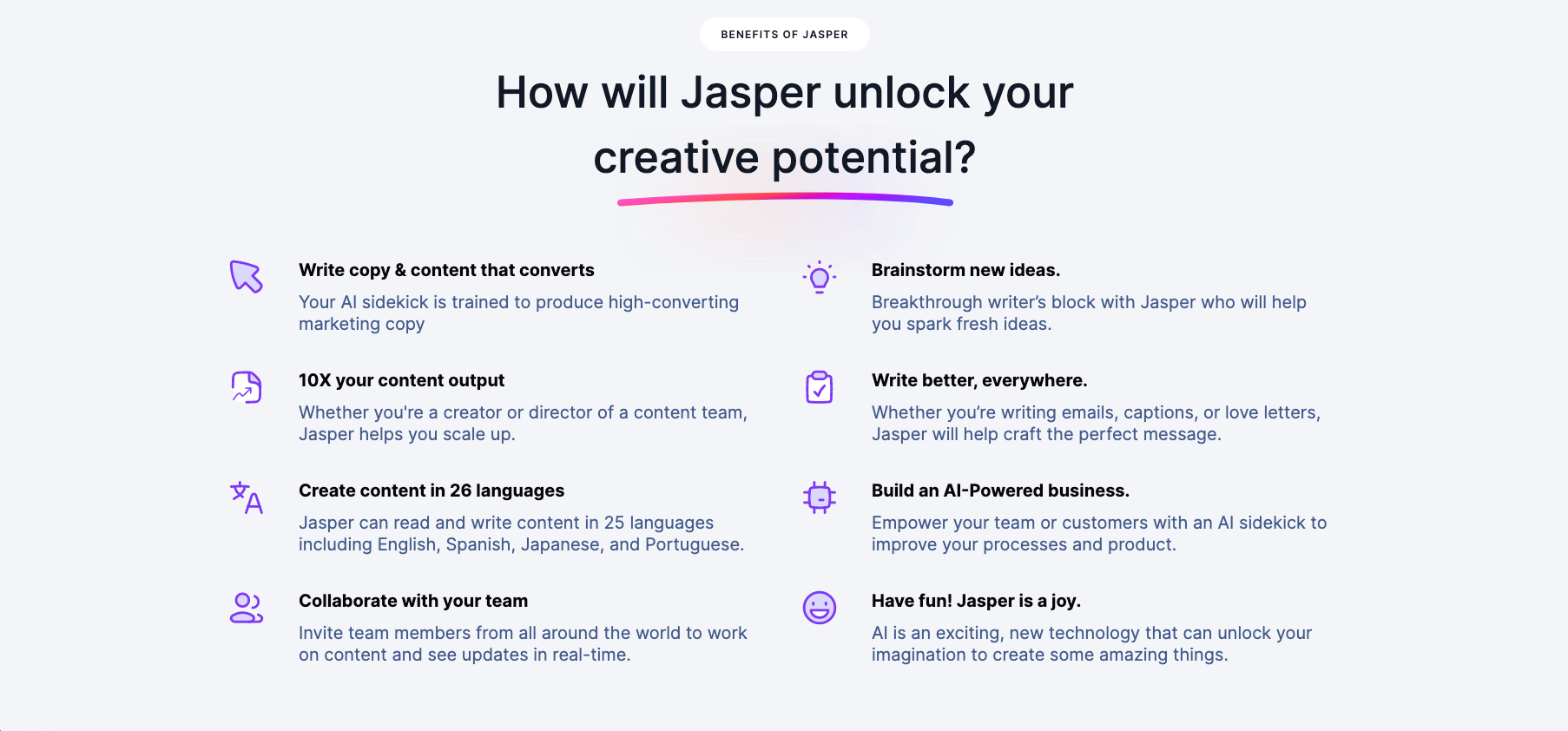 Whether you are a college student needing help writing your essays or a copywriter looking to complete more work in less time, the Jasper AI tool can make your job easier. Here's a closer look at some of the roles that may benefit from Jasper AI the most:
Copywriters and content writers
Social media managers
Bloggers and digital creators
Small business owners
Digital marketing professionals
How Jasper AI Works
As I mentioned earlier in this Jasper AI review, Jasper AI has an incredibly user-friendly interface, so you don't need to be a technical wizard to figure out how it works.
To start, you will choose from a broad selection of content templates to find the one that best suits your needs. Whether you're writing a real estate listing, blog post, or YouTube video description, you should be able to find whatever you're looking for in their content templates stock.
Once you have selected the template you want to use, it's time to feed information into it. This is how you will guide the AI writing tool to write what you want in the tone of voice you need. It's essential to be specific here. Otherwise, you may not get exactly what you're looking for.

Now, it's time for the fun part. Once you have inputted the necessary data into your template, you'll click the "generate AI content" button and relax. Grab a snack. Have a stretch. Seriously, your work here is done.
Of course, if you aren't in love with the content that Jasper AI has generated for you, then you can easily make changes as you see fit. If you're feeling suspicious, feel free to run the content through Jasper's plagiarism checker. It should come up empty.
Jasper AI Plans & Pricing
Jasper AI operates in three different plans: Starter, Boss Mode, and Business. You can choose to pay monthly, which is great if you don't want to fully commit or only need an AI writing tool for one project, or save 17% by opting for an annual payment.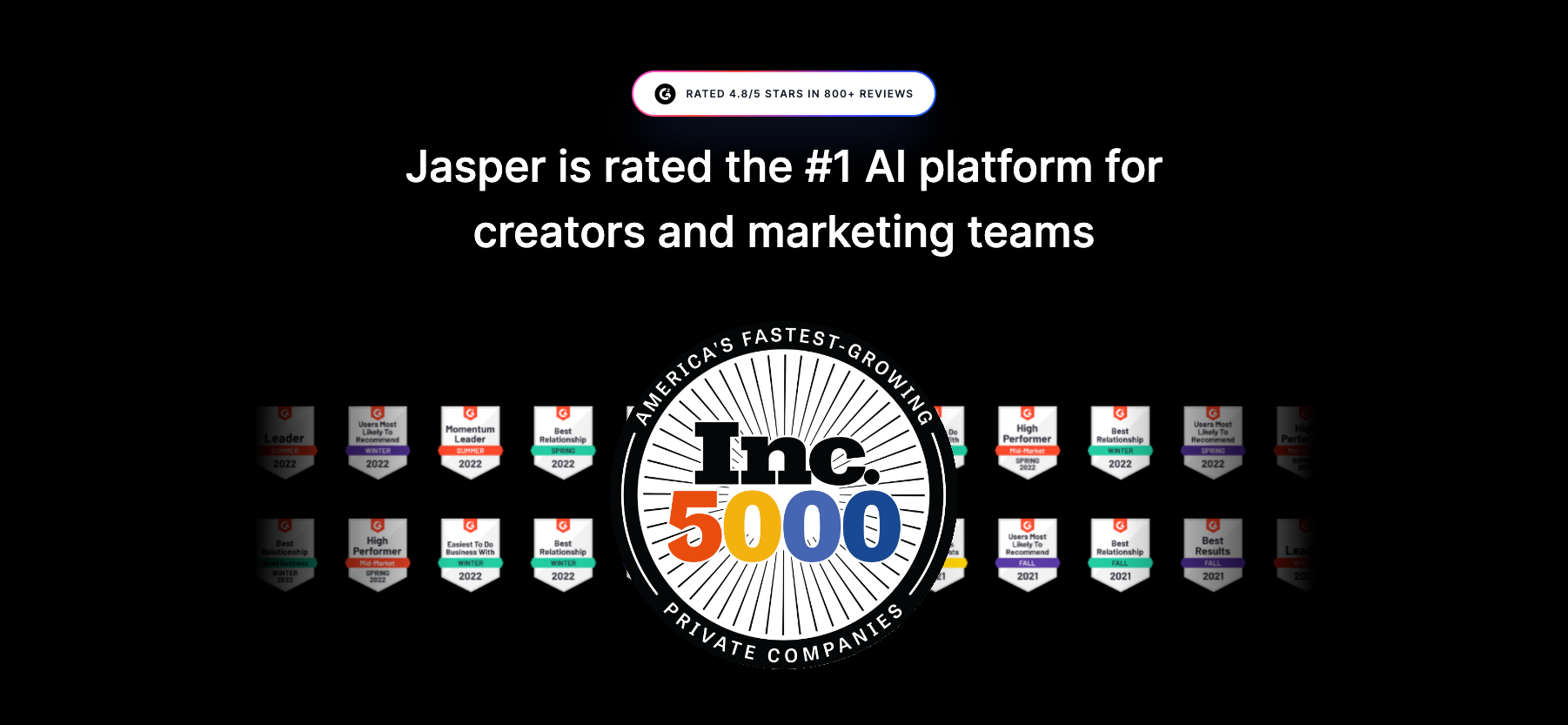 Let's break down the different plans that Jasper AI offers and what you get with each:
Starter Plan
Starts at $24/month for 20k words
Good for hobbyists just starting out
Access to 50+ AI templates
Google Chrome extension
Supports 29 languages
Up to 5 users
Email support
Boss Mode
Starts at $49/month for 50k words
Ideal for bloggers and content marketers
Includes everything in the Starter plan (including all the templates)
Google Docs style editor
Compose and command features
Increased content input amount
Long-form content generation
Live chat support
Business Plan
Custom plan and price based on your needs
Designed for teams and businesses
Includes everything in the Boss Mode plan
More than 5 users
Custom AI templates
Workspace admin features
Document sharing and permissions
Personalized onboarding and training
Dedicated Jasper AI account manager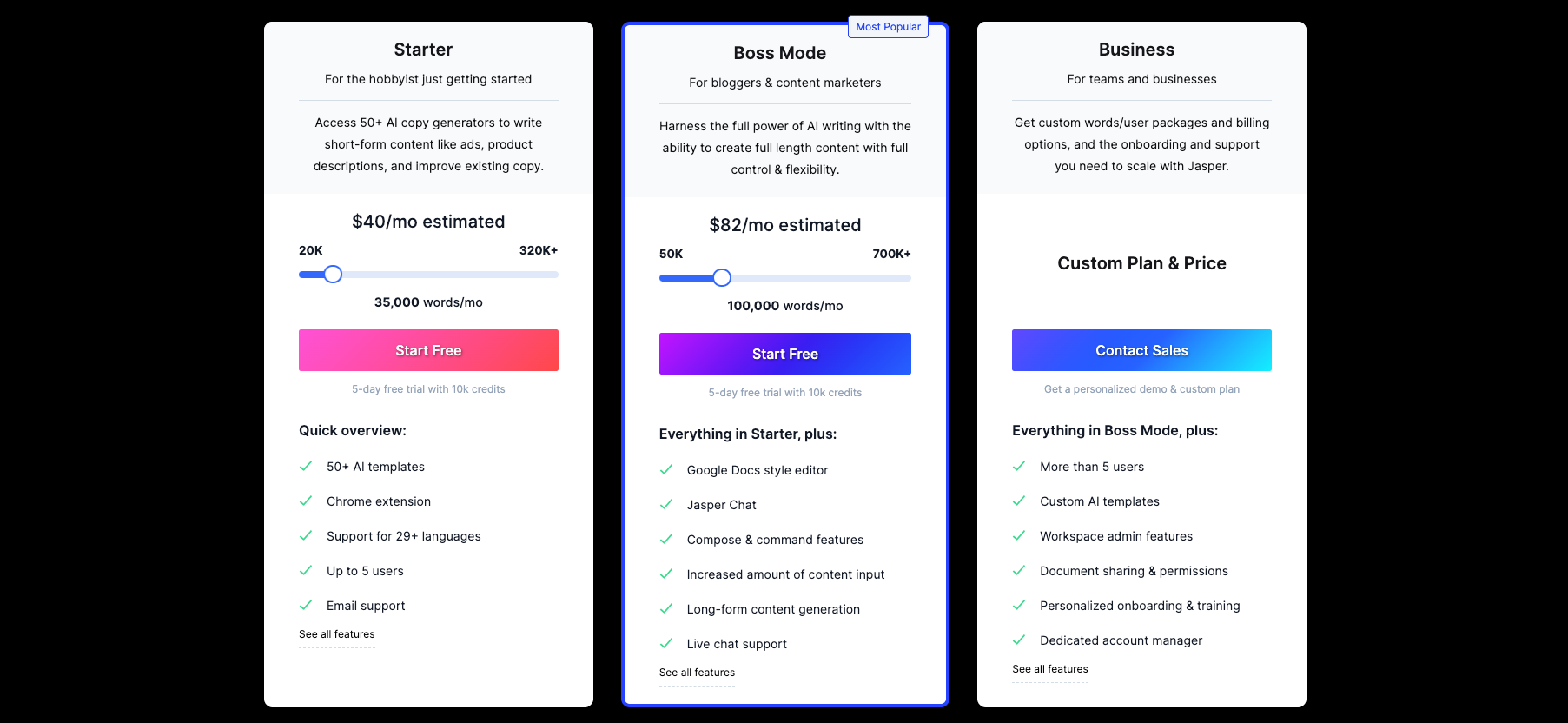 FAQs
Still have a few questions that this Jasper AI review didn't cover? Here are the answers to some of the most frequently asked questions about Jasper AI:
What is Jasper AI Boss Mode Plan?
Jasper knew what they were doing when they named this package the Boss Mode plan. Not only does it sound enticing, but it seriously generates content like a boss.
As Jasper's mid-level package, the Boss Mode plan is the company's most popular option. It allows bloggers and marketing professionals alike to harness the power of AI writing with control, flexibility, and the ability to produce long-form blog posts.
Is Jasper AI Worth the Money?
Jasper AI is worth the money. However, remember that whether or not it's worth it depends entirely on what you intend to use it for and how often you plan to use it.
If you're a copywriter looking to lighten your workload without losing money, a social media manager in need of creative social media posts, or a digital marketing agency owner looking to attract sales for your clients, then Jasper AI may be what you need for quality content.
Everyone has their own preferences, and my only objective in writing this Jasper AI review is to give you the tools you need to make an informed decision about whether you want to use it.
Can Jasper AI Write a Book?
It may sound crazy (and almost like cheating) to believe that an AI writing tool can write an entire book on your behalf, but it's true. With that said, I wouldn't recommend clicking 'generate AI content' and immediately calling up a publisher.
While Jasper AI can be supremely helpful in writing a book, it would be better to use it as a writing assistant to help you escape writer's block and give you ideas.
Can I Create Blog Posts With Jasper AI?
Jasper AI is used by bloggers all over the world to write everything from a simple blog post outline to long-form blog posts on a myriad of topics.
If you plan on investing in Jasper AI to help you write SEO-optimized blog posts, you can rest assured that it'll get the job done—and in much less time than it would otherwise take you.
What is Jasper Art?
In August 2022, Jasper AI launched its newest feature: Jasper Art. The AI image generator works by transforming your text into an original image. Simply type what you want to see and let Jasper Art take the reins.
This is a wildly helpful tool for bloggers, digital marketers, and social media managers who would ordinarily rely on generic stock photos to convey their message. With Jasper Art, you can illustrate your story with a unique, high-resolution image.
Final Thoughts
As with anything else in life, Jasper AI comes with both benefits and drawbacks. However, I strongly believe that the Jasper AI pros majorly outweigh fixable cons like the potential for repetition.
If you're still on the fence after reading this Jasper AI review, I would recommend opting for Jasper's 5-day free trial. That way, you can test it out and see if Jasper AI makes sense for you as a long-term investment.
Did I miss anything? Have any thoughts on AI writing tools? Feel free to share your thoughts in the comments, I'd love to hear from you.
Related Articles: