Inflact, formerly known as Ingramer, is promoted as a complete marketing toolkit for Instagram. It promises to help you build your target audience, engage with clients, and plan content with the help of this AI-powered software.
Some available features include attracting users using smart targeting and growth analytics, interacting with your audience using the advanced direct messenger and automated chatbot, and improving content with the help of their post scheduler and AI hashtag generator.
We know our customers are on Instagram, but is the Inflact investment worth it? Will it help you grow, does it help you produce the right content, and can its automation features help save time?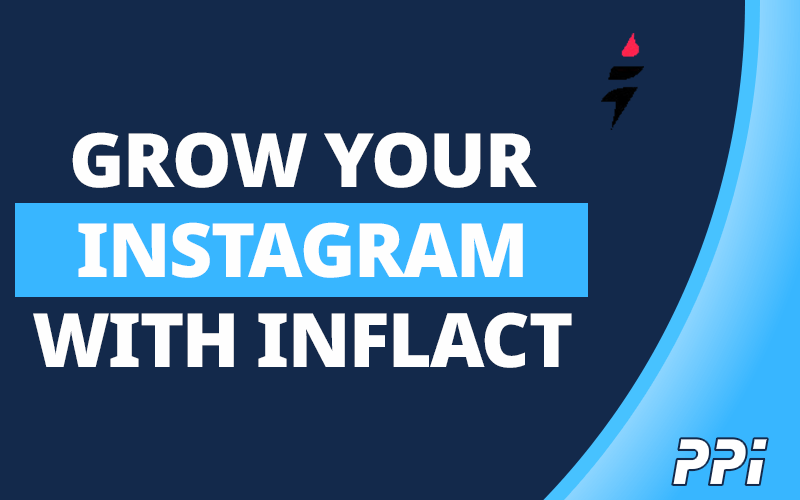 Disclosure: PPI is reader-supported and may receive commissions when you click through the affiliate links (which are great products we use and stand by). This site is not intended to provide financial advice and is for entertainment only. You can read our affiliate disclosure in our privacy policy.
We have all the answers throughout this complete Inflact review! Let's get into it.
What Is Inflact?
Inflact is a widely known AI-powered Instagram automation tool. From scheduling posts to finding trends and taking specific actions off your plate, this tool will help you put your Instagram growth on autopilot.
Whether you are an influencer, blogger, or casual Instagram user, Inflact offers a range of helpful solutions tailored to your specific needs. They offer free and paid services to help you grow your audience, manage content and communicate with clients.

Overall, we recommend Inflact as one of the most trusted Instagram automation tools on the market! For more information on the complete complement of services and more than 500 5-star reviews, be sure to check out the Inflact website.
Inflact Features & Benefits
Now that we know Inflact is one of the top tools available to Instagrammers, let's get into the specific features and benefits and talk about how it helps grow your following on Instagram so you can reach a wider audience and make more money.
The website promotes three main pillars of abilities: Audience, Clients, & Content. So what features does Inflact offer to help grow your audience, communicate with clients, and create more optimized content?
Promo
Promo is the flagship AI-powered service offered by Inflact that promises more engagement and more followers! It acts as a bot, complete with a free VPN to help protect you against violations of Instagram rules and regulations.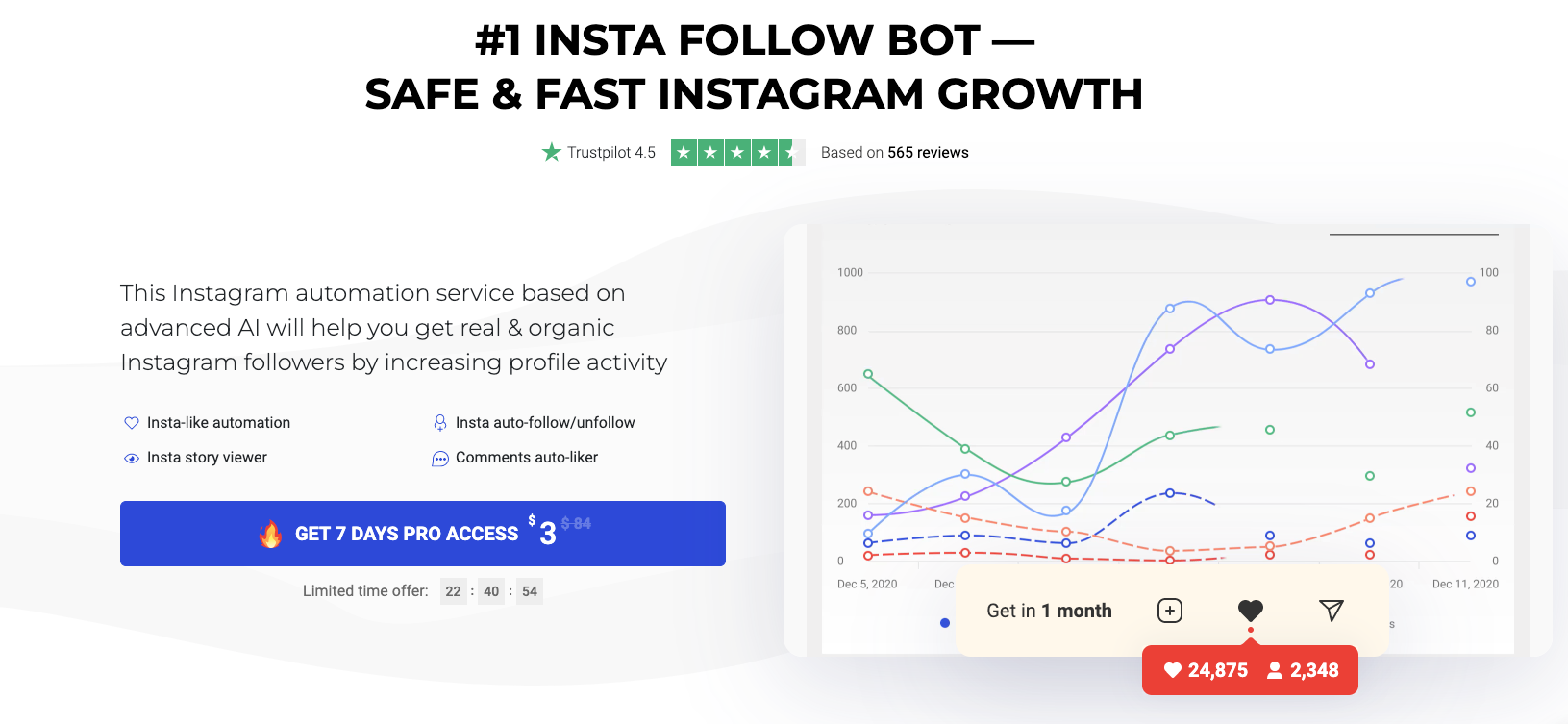 The Promo bot will like posts as soon as they are posted, complete follow/unfollow activities, like specific comments, and view Instagram stories. So how does this increase your engagement and following?
People love when you value their content. The more likes you give out in your niche, the more recognizable you are on the platform. When you're the first to like their posts, they are much more likely to like your posts in return.
The same goes for gaining followers. As more people see your Instagram handle in their recent activity tab, the higher the likelihood they will follow your account.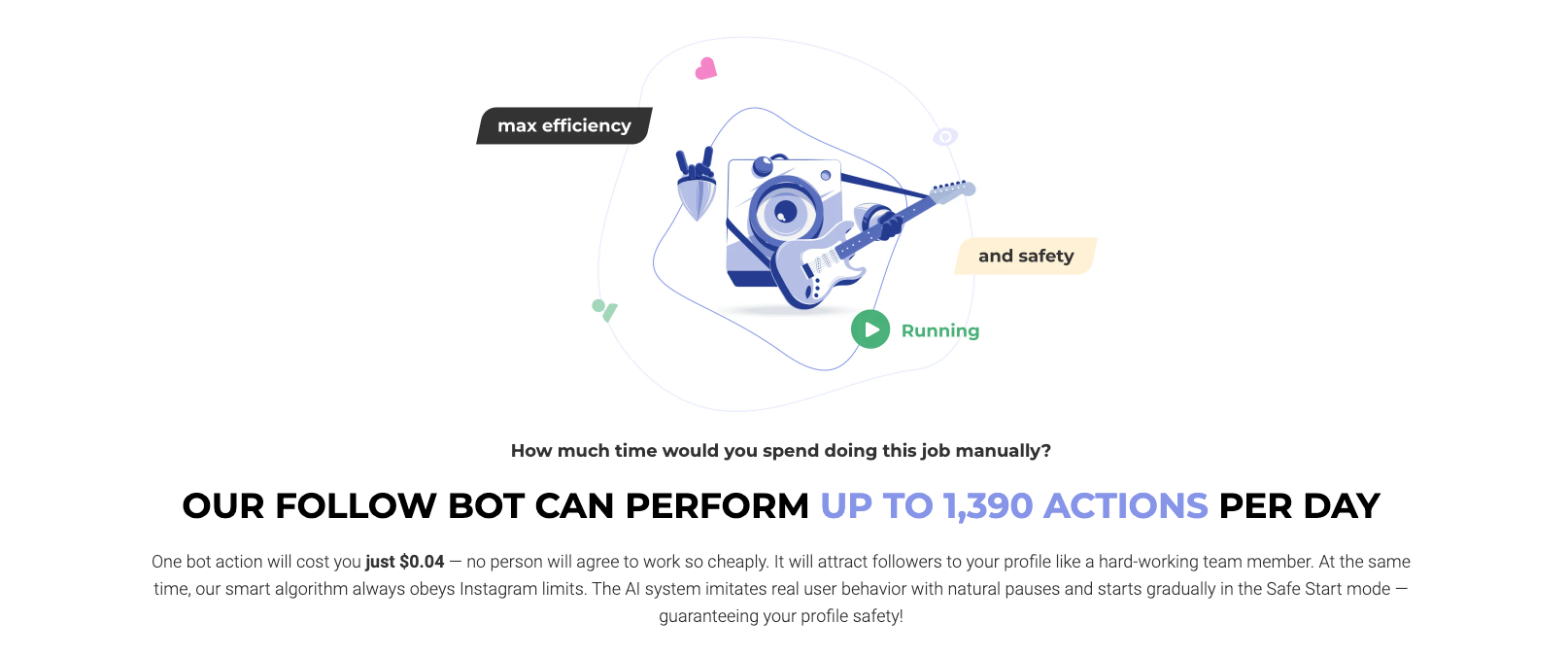 Inflact's Promo service will automatically follow and unfollow accounts to expedite the growth of your follower count. The same principle applies here in that Instagram users are much more likely to follow your account once they see you follow them.
Inflact's follow bot can perform up to 1,390 actions per day, which starts to add up over a couple of months and can explode your follower count!
Direct Messaging
Next on the list of services is automated direct messaging. From sending welcome messages to new followers to broadcasting a mass message to all your followers, the direct messenger bot helps you deliver a personal touch that goes a long way when attracting new clients.
This service allows you to send custom auto-replies based on specific keywords and batch your followers with labels to categorize them into groups so you can send relevant messaging.
Scheduled Posting
We all need more time. Posting content to Instagram, or any social platform, is time-consuming and drains productivity. With Inflact, you can schedule your posts ahead of time so you can focus on other aspects of your business and life!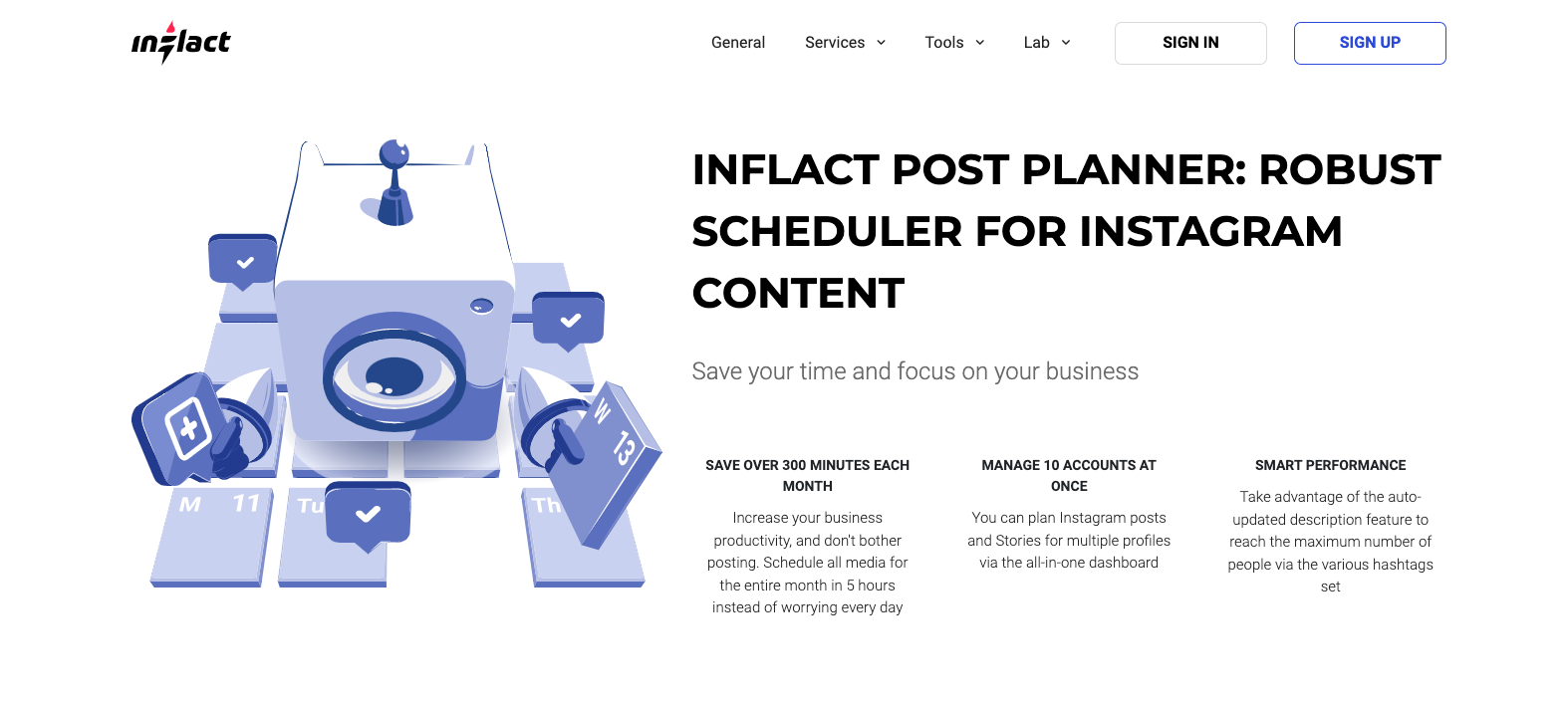 Batch all your content posting into the first day of the week or month, so you're free to focus on other growth activities. On top of that, the post planner allows you to run up to 10 accounts simultaneously without spending hours and hours each day posting new content.
Here are some added benefits related to the post planner:
Fully Automated
No Phone Required
Instant Preview
Instagram Approved
Run Multiple Accounts
Promotion via Location
Hashtag Generator
The hashtag generator is another AI-powered Inflact tool that helps you develop the best hashtags for your content. With over 100 topics to choose from, it will generate hashtags based on keywords, photos, or even a URL.
From there, click the copy button and paste the top 30 hashtags into your next post! How about that for saving time while improving your content strategy?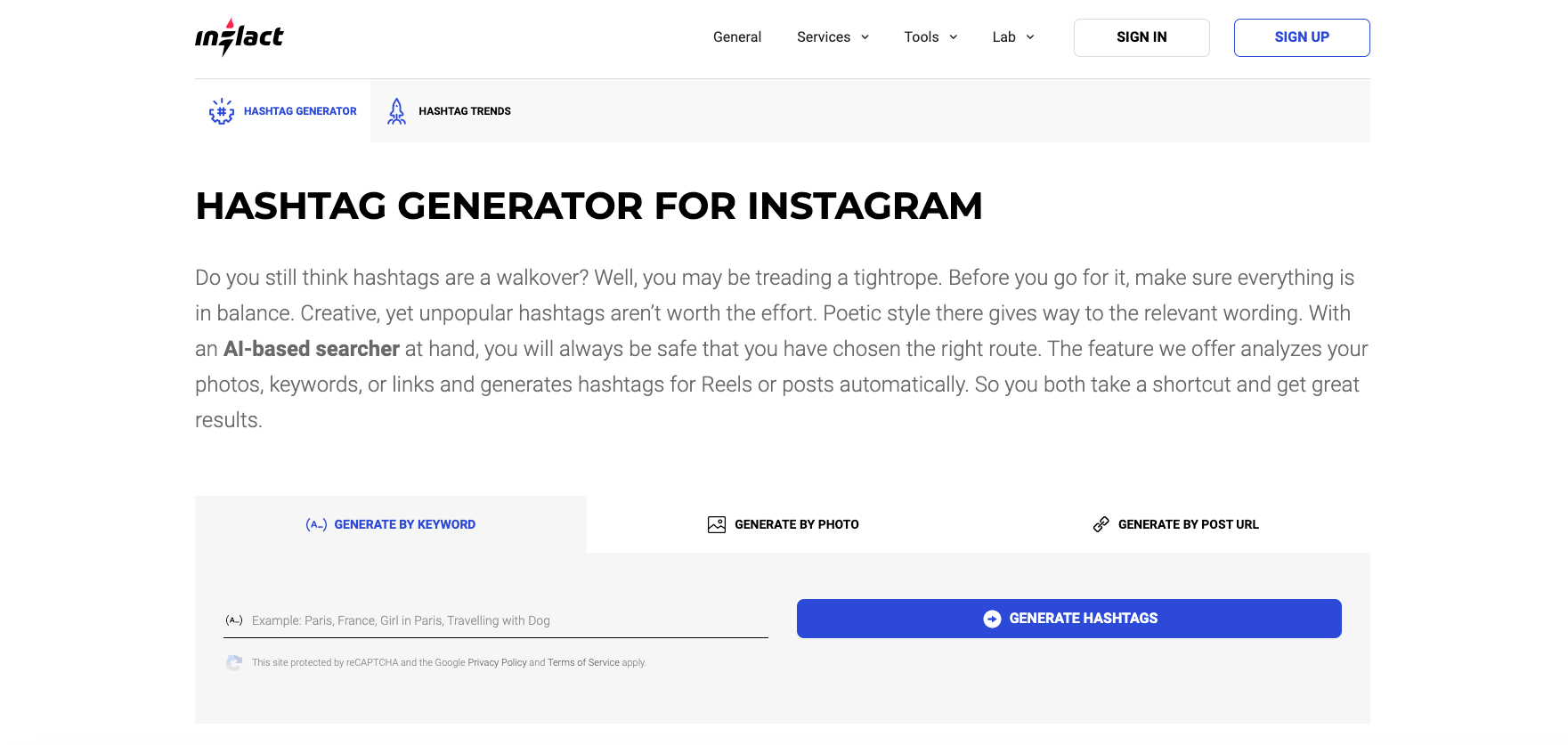 Hashtag Trends
The hashtag trends tool provided by Inflact is helpful in finding the most appropriate hashtags for your post. To utilize this feature, input a keyword specific to your niche and let the generator give you the top related hashtags and trending hashtags for that term.
The trends tool also provides the best available hashtags for gaining likes and attracting new followers, so whatever your goal is for your Instagram account, Inflact has you covered.
Downloader
Inflact provides the best downloader tool for Instagram, Facebook, and Twitter, which they call the one-size-fits-all universal social media downloader. From what we can tell, they're absolutely on point with that statement.
Depending on what you want to download, Inflact lets you import an entire profile and select which posts you want to download with one click. It also allows you to download specific posts and even gives you the ability to download stories, highlights, and IGTV videos.
This downloader is the best option for those looking to curate content, save content for future memories or inspiration, or repurpose content in future posts or on other platforms.
Profile Analyzer
The profile analyzer gives you an analytics snapshot of any public account on Instagram. This tool is essential for generating content ideas and lets you tap into the strategies and techniques used by the top Instagram accounts in your niche.
The tool compiles all the most valuable statistics and critical metrics into easy-to-read infographics to provide a quick snapshot for you to decipher. The profile analyzer compares and makes sense of these 13 metrics:
Number of followers
Engagement rate
Average user activity
Posts per day, week, and month
Uploads number
Most popular post time
Top hashtags used
Top caption words
Audience interests
Most commented posts
Most liked posts
Overall, this profile analyzer tool from Inflact is ideal for collecting snapshots of your competition and taking ideas from their best-performing posts so you can recreate similar content and grow your following quickly with the most effective content!
Instagram Search
If you think an Instagram search tool provides little value, think again. Inflact has it all. Their search tool is excellent for those doing competitive research to find other Instagram accounts in your niche. It allows you to filter by the number of followers, posts, location, and more!
A more useful function of the Instagram search tool is for existing brands to find potential influencers to promote their product or service.
Say Peloton is looking for influencers to promote their latest exercise bike. All they need to do here is put the word Peloton into the keyword section, filter the results to include accounts in the United States with over 100,000 followers, and reach out to each account that shows up in the results!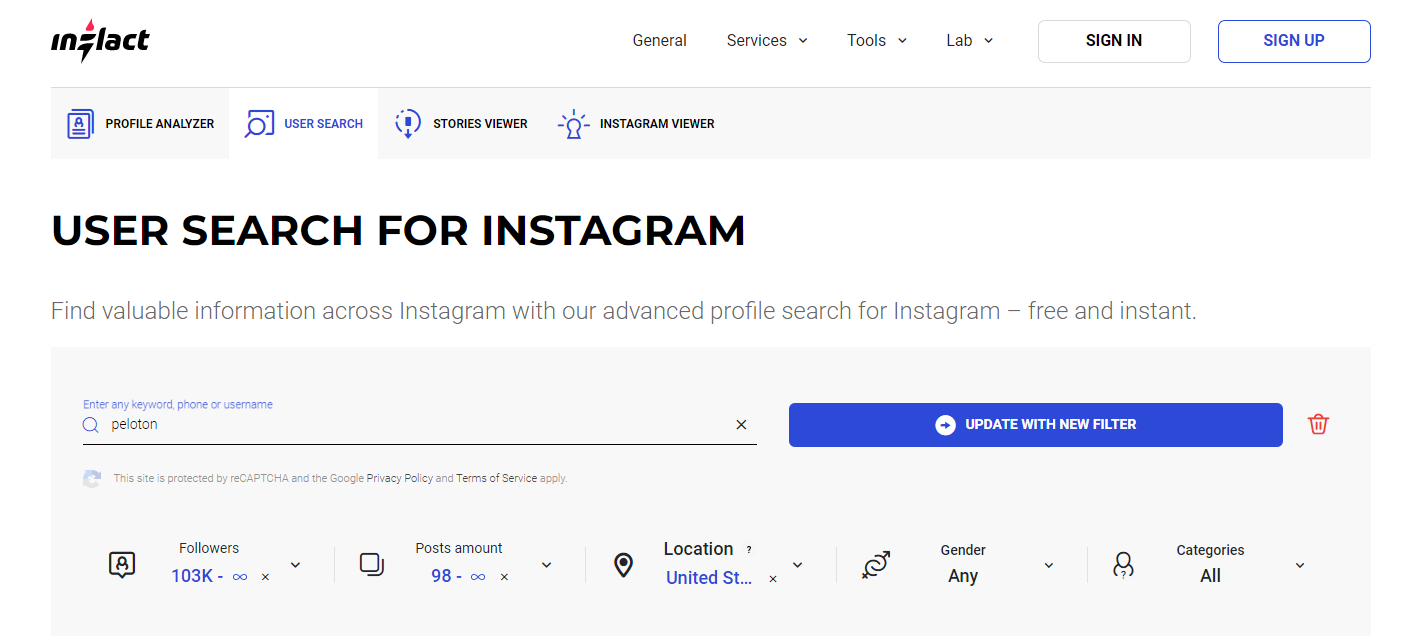 Stories Viewer
Finally, we have the Inflact stories viewer, which allows you to anonymously view Instagram stories and download specific stories you want to repost or save for later. The tool is accessible to view any public profile so long as you have an internet connection on any of your devices.
Pricing
Let's look at the different pricing options, including the Basic Plan, Advanced Plan, and Pro Plan. Inflact offers a 7-day trial of the Pro Plan for $3.00, which provides access to all features and benefits they have to offer.
Once the week-long grace period ends, here is what you can expect. Note that we will cover pricing based on the monthly payment plan for 1 Instagram account, but Inflact offers a 30% discount when you pay annually, and the service is much cheaper as you add accounts.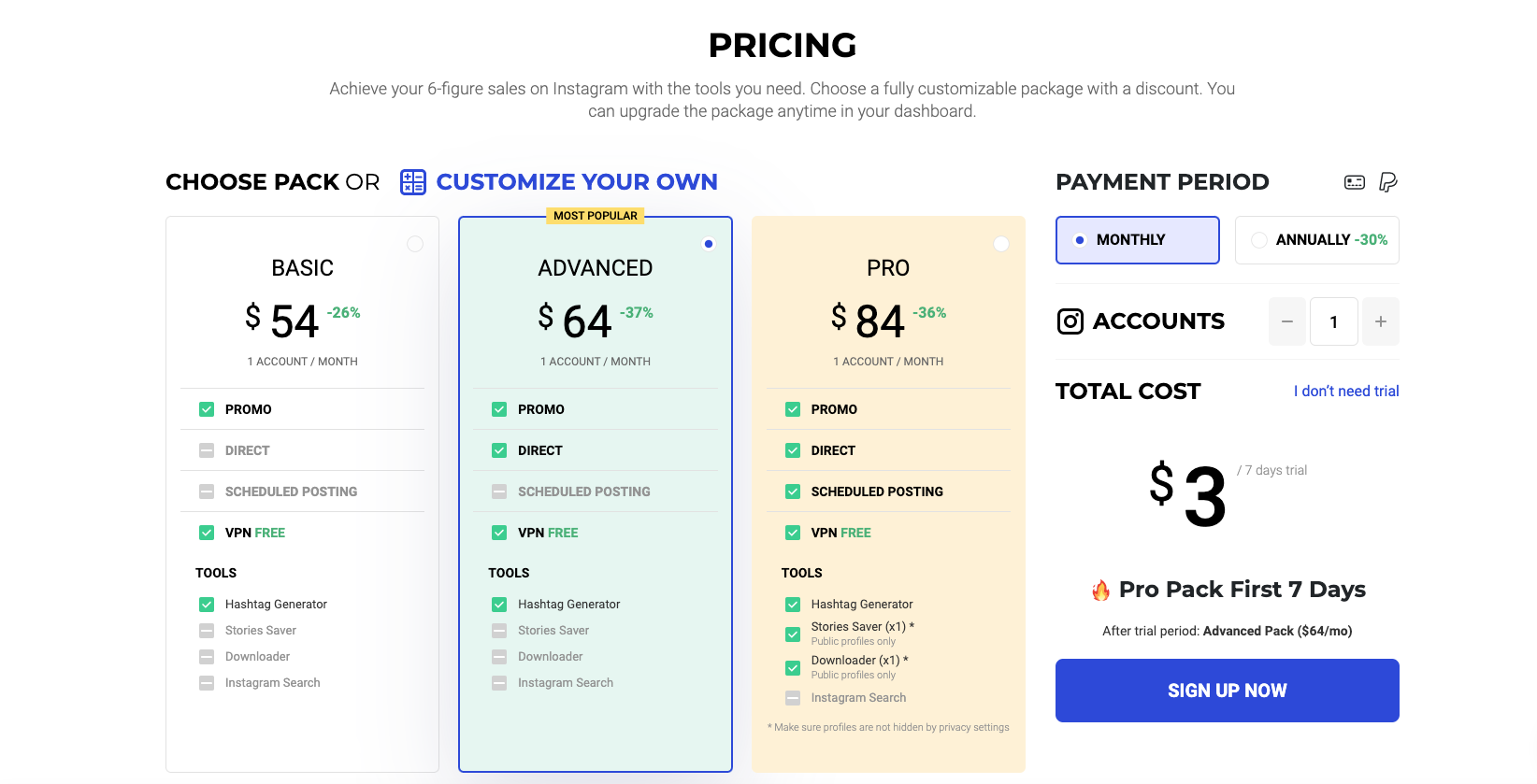 Basic Plan
The Basic Plan provides access to Promo for automatic likes and follow/unfollow actions and is a great starter option if you're starting with a new Instagram account. You will also get access to the hashtag generator to help you grow within your niche.
The Basic Plan will cost you $54 per month.
Advanced Plan
The Advanced Plan gives you access to all of the features included in the Basic Plan, plus the Direct feature. With Direct, you can set up a welcome message for all new followers and send direct messages to all of your followers at once, which is a great way to connect with and inform your audience about new products and services.
The Advanced Plan will cost you $64 per month.
Pro Plan
Lastly, Inflact offers a Pro Plan, our recommendation for anyone looking to get the most out of their Instagram following. The Pro Plan provides the complete array of services, including Promo, Direct, and Scheduled Posting.
We recommend spending a little extra money each month to access the post scheduler, as it will free up so much of your time by allowing you to schedule your posts ahead of time.
The Pro Plan costs $84, which we find well worth the investment!
Alternatives
Here are some alternatives for growing your Instagram and other social media accounts for those that aren't ready to invest in top-tier tools like Inflact.
Mr. Insta
If you're looking to use your Instagram account as a cover page for social proof, Mr. Insta is a good option for buying Instagram followers. The service allows you to buy 10K followers for $190 or 20K followers for $350, which can give you instant credibility on a new account.

With that said, you must be careful when buying followers. It is against Instagram's terms of service, and typically the followers aren't loyal fans, which will stunt your account's growth in the long run.
But if your brand needs an Instagram account to check a box, it makes sense to purchase followers rather than leave your account with under 100 followers.
TubeBuddy
At PPI, we talk about YouTube being one of the best options for growing your business or even starting your business.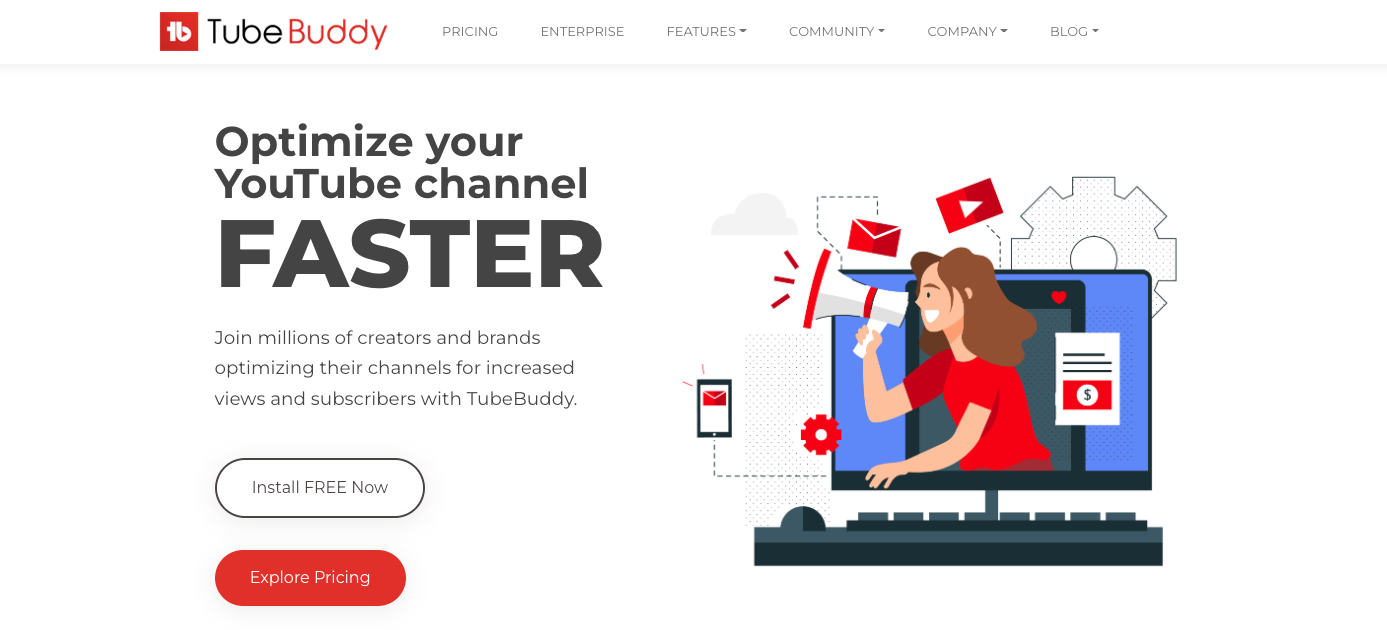 TubeBuddy is an essential tool for anyone serious about growing on YouTube that helps creators ensure their videos are optimized for SEO with the right keywords and tags. It's also an excellent tool for keyword research, so you know which videos to make based on search volume & the level of competition.
vidIQ
vidIQ is another YouTube tool we recommend for all aspiring creators. It helps with keyword research and gives you a complete complement of statistics and analysis of each video's performance.
YouTube is a statistics-driven business, and vidIQ gives you all the information you need in one place to focus on areas that need improvement so you can grow your business!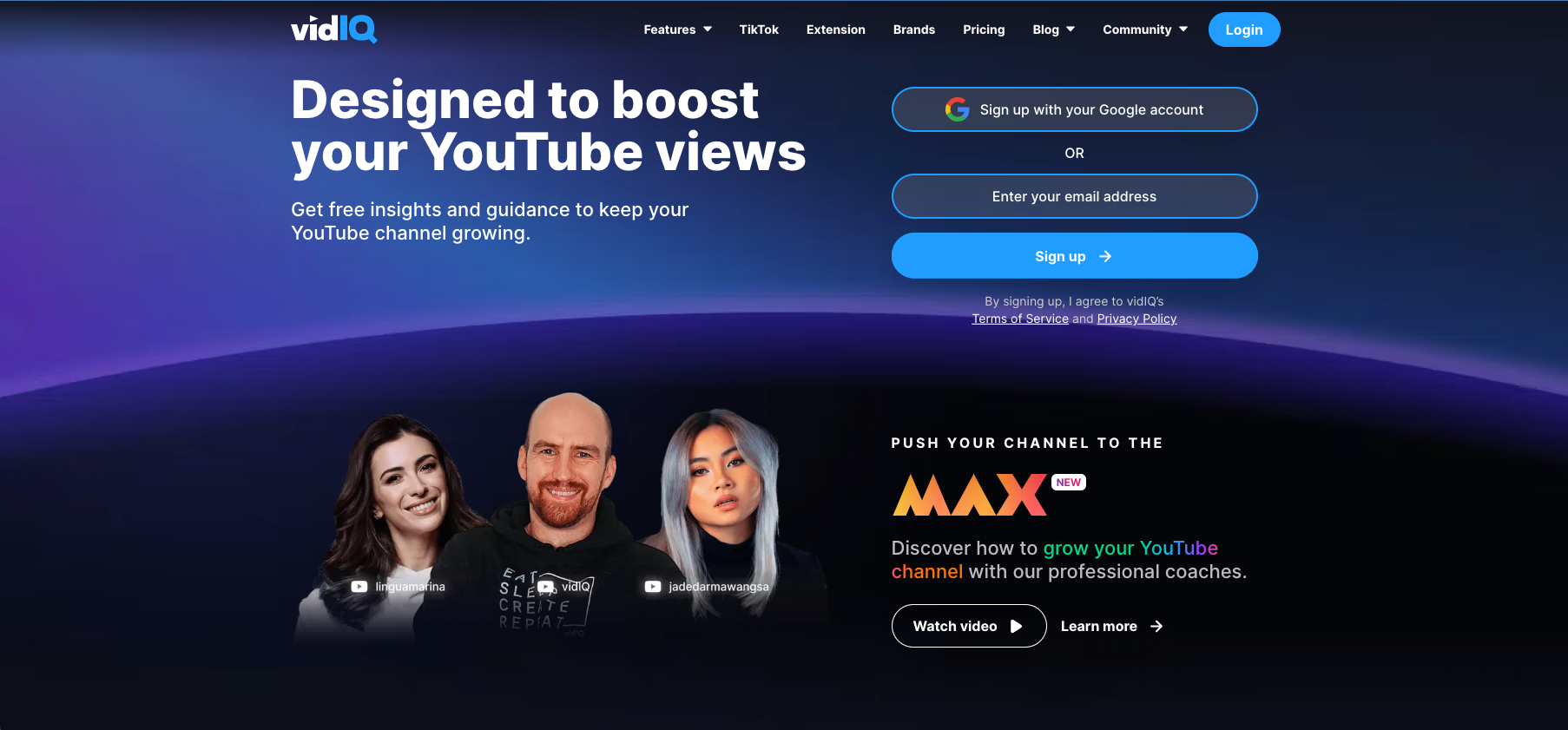 FAQs
What is Inflact?
Inflact is an AI-powered Instagram bot developed to help you grow your account and make more money in your business. With a full complement of automated actions, including follow & unfollow, likes, comments, direct messaging, and scheduled posting, Inflact is our #1 recommended tool for growing your Instagram following!
Is Inflact legit?
Yes! Inflact is the most legitimate Instagram tool on the market. It complies with Instagram's rules and regulations and helps you build a genuine following of targeted users rather than offering to import a bunch of fake accounts as followers.
Is Inflact safe?
Inflact is trusted by over 1.2 Million users globally and has 565+ positive reviews. 98% of its users are satisfied with the service, giving us complete confidence to agree that Inflact is 100% safe.
Is Inflact real?
Not only is Inflact real, it also provides numerous complicated services that make it our #1 recommended tool for Instagram. The list of features is impressive and unmatched by any other tool on the market!
Final Thoughts: Is Inflact Worth It?
Is Inflact worth it? The short answer is a resounding yes.
Most Instagram tools promise increased followers, but what do they actually provide? A bunch of fake accounts that don't engage with your content and will never buy anything from you. When Instagram realizes your followers aren't engaging with your content, the algorithm will take notice, and your growth will be stunted in the long term.
Inflact is the solution to this problem. Rather than delivering fake followers, it automates actions that attract real-life followers to your account with a full complement of valuable services.

Not only will this directly increase your follower count, but Instagram will view your account as popular and trending upwards, which will result in your content being pushed out to a broader audience.
As this happens, your success on Instagram (and hopefully in your business) will continue to build on itself, creating a snowball effect that will grow your account exponentially in no time!
So if you're on the fence about Inflact, we suggest you give it a try with their 7-day trial of the Pro Plan for just $3. From there, understand that it is an investment in yourself and in your business, but consider where you could be a year from now if you stick with it!
For those of you that pull the trigger or already use Inflact in your business, please let us know what you think in the comments!
Related Articles: