So you're ready to start a blog, or at the very least, you're aware that blogging is a legitimate business that offers the laptop lifestyle and unlimited income potential.
Not only is the ability to make money blogging more prevalent than ever before, bloggers enjoy all the benefits that come along with this lifestyle business model including consistent income, time freedom, and location independence.
In this article, we provide a complete guide on how to start a blog, from the technical setup and niche selection to content creation and monetization techniques. Keep reading to learn how to get your profitable blog up and running in the next 30 minutes!
Related: How To Start A Successful Lifestyle Business
How To Start A Blog (And Make Money): Follow These 10 Steps!
Disclosure: PPI is reader-supported and may receive commissions when you click through our affiliate links (which are great products we use and stand by). This site is not intended to provide financial advice and is for entertainment only. You can read our affiliate disclosure in our privacy policy.
There is a difference between running your blog like a business as opposed to a hobby. At Pursuit of Passive Income, our goal is to help you achieve financial freedom and create a life you love. To this end, here are 10 steps on how to start a blog and create a profitable long-term business.
How To Start A Blog: Everything You Need To Know!
What Is A Blog?
A blog is a collection of information that is carefully created, curated, organized, and made available to consumers. A profitable blog is a resource that provides information on high-value products and services and acts as a middleman between businesses and consumers.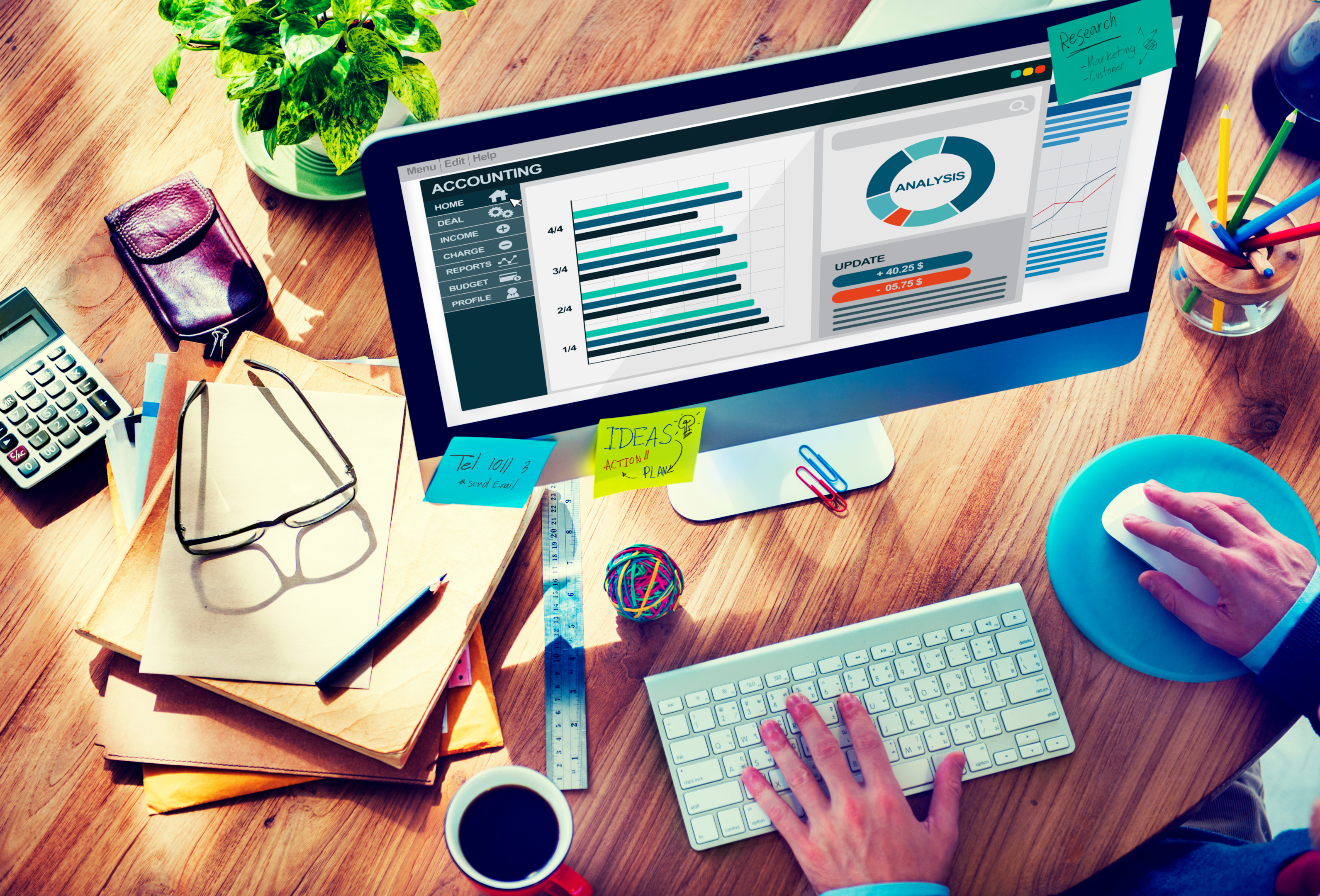 The more influence a blog has over purchase decisions, the more money it will make. For instance, a blog that provides information and recommendations on expensive financial services will outperform a recipe blog for which there is no purchase intent.
In short, blogs exist to provide consumers with answers to their questions. A person types their query into Google, gathers the information they are looking for from a blog, then takes action based on what they gathered from the article they read.
Why Start A Blog Business?
A blogging business is our #1 recommended business model for aspiring entrepreneurs for a number of reasons, but perhaps the most important is that blogging affords a lifestyle that is unmatched compared with other businesses.
A blog is a piece of digital real estate that exists solely online. There is no physical aspect to the business, which allows bloggers to work from anywhere with a laptop and an internet connection. We call this location independence.
Of course, to take advantage of this independence, you'll need to make enough money to support the lifestyle you want to lead. Whether it's to travel the world or spend more time at home with your kids, income is an important part of blogging bliss.
Related: How To Start A Successful Lifestyle Business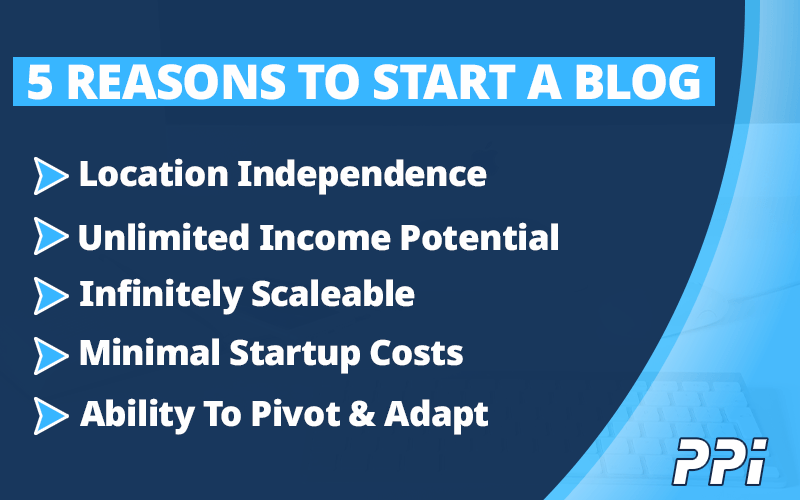 The second reason we recommend blogging is that it offers unlimited income potential. Not only are there countless ways to make money with a blog, but the business is infinitely scalable!
As you start making money with your blog, you're able to reinvest that money back into the business and become a real business owner. A blog is a collection of text-based content, so all it takes to put the business on auto-pilot is a few freelance writers and a content manager.
Finally, you can start a blog and have your business live online in the next 15 minutes for as little as $5. Of course, we advise you to leverage some tools and software to help you grow and scale your business, but even if you decided to purchase every tool we recommend, you can cover the first six months of your business expenses with $500 – $1,000. What other realistic business can you start with so little upfront investment?
Related: How To Make Money With Your Blogging Business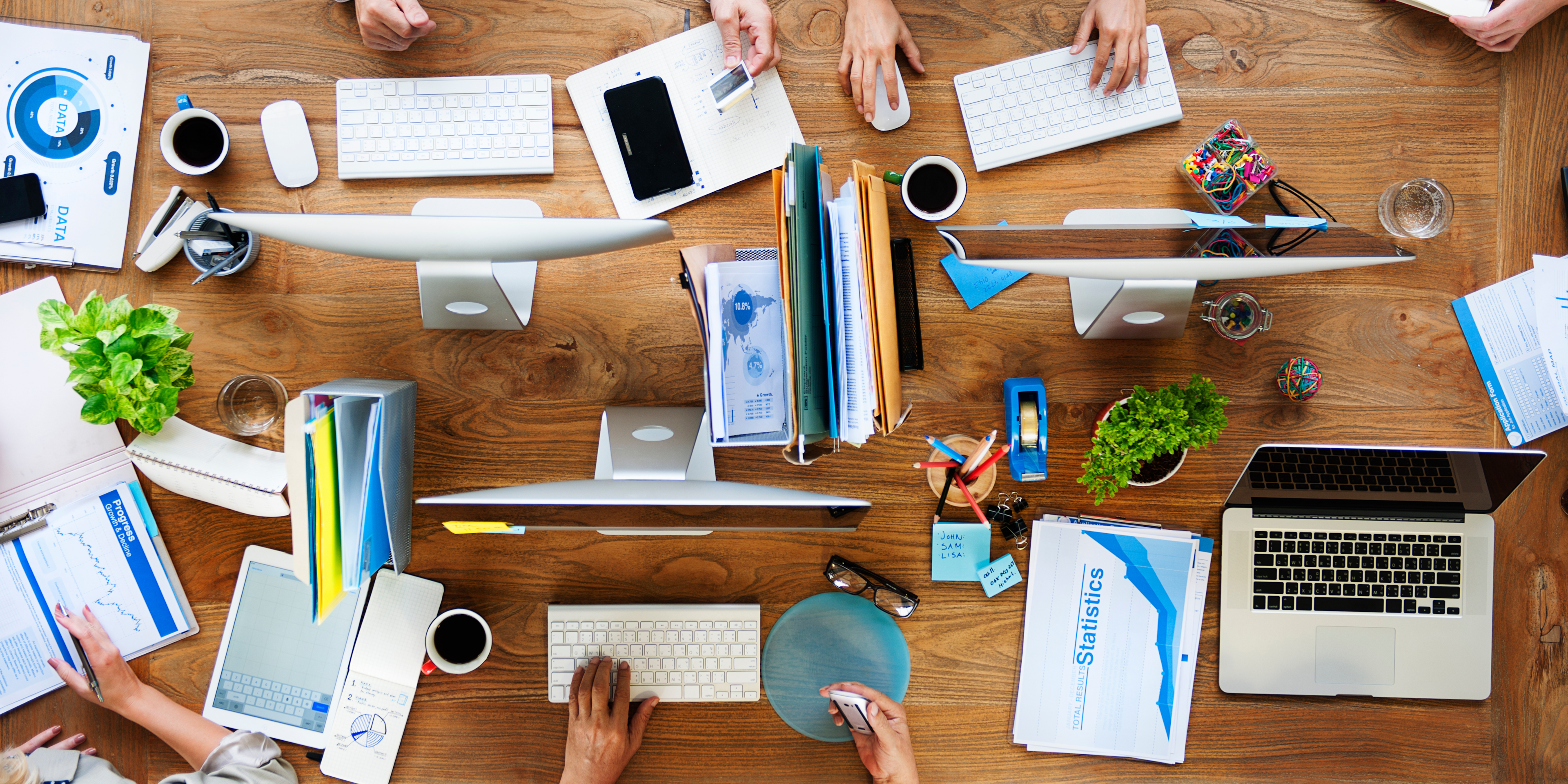 From there, your blog is infinitely pivotable to take whatever turn you may be interested in at the time. You could start writing about credit cards and lowering your credit score, then as you become more interested in travel, add a travel section to your site so you can write about your favorite destinations and experiences.
Once you've built an audience that trusts and respects you, there will always be opportunities to make money, which means you can shift or alter the focus of your business to cover topics you care about the most!
Do Blogs Make Money?
Yes, blogs make money. How much they make is a function of how much information they provide, the quality of that information, the influence they have over purchase decisions, the value of products and services they recommend, so on and so forth.
As with any business, the output will depend on how much you put in, but it is not uncommon for new bloggers to reach $10k-$20k per month in their blog's first year. Further, there are individual bloggers bringing in over $200k per month with their blog, and institutional blogs take in hundreds of millions each year!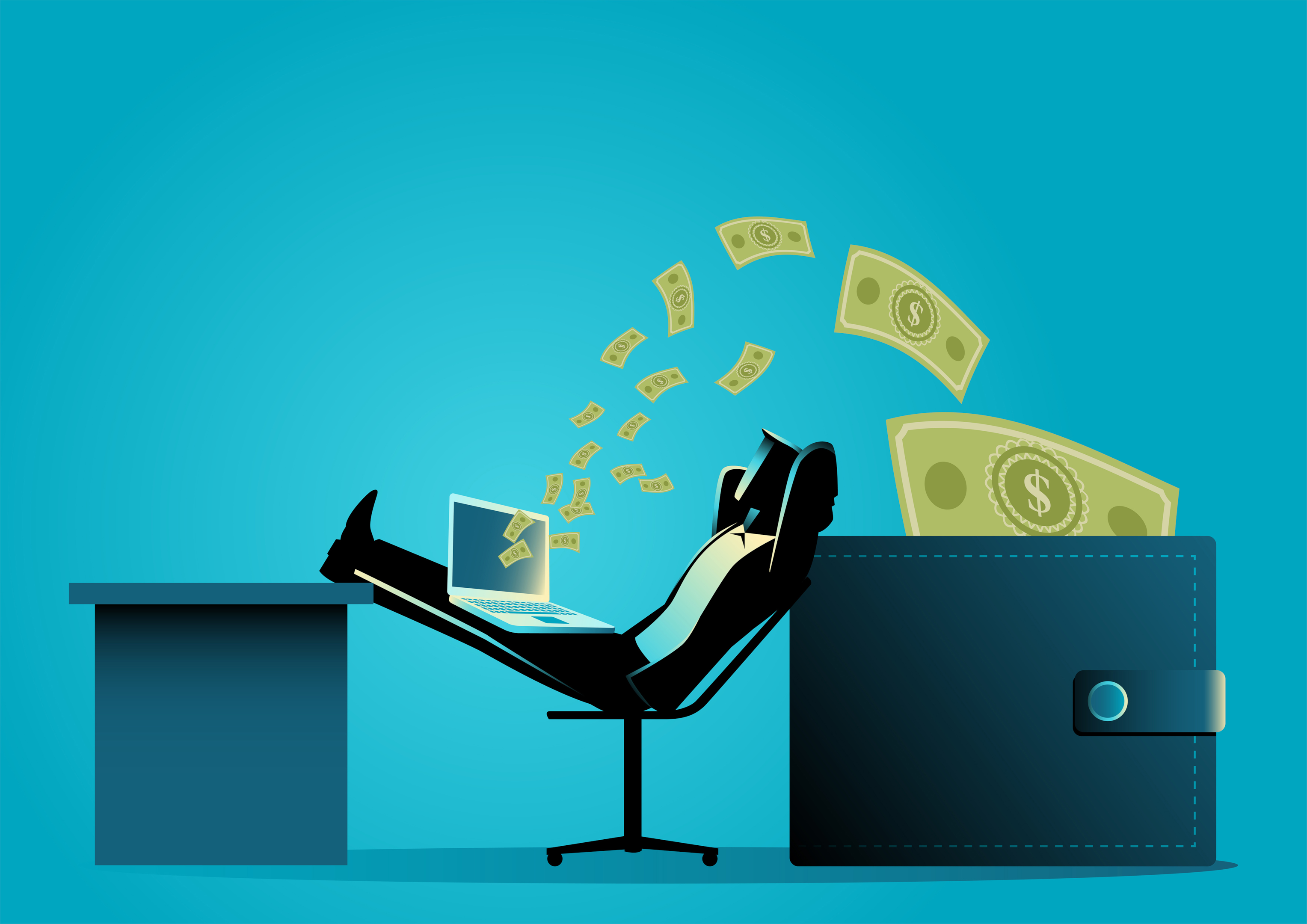 We have a full article on how to make money blogging, but here are some highly successful blogs to check out if you're looking for some inspiration.
High-earning individual bloggers:
Pat Flynn of SmartPassiveIncome last shared an income report in 2017. The report from over six years ago shows a monthly income of $125,000.
Alex & Lauren of Create & Go share their income reports showing they brought in just under $1 million in 2021.
Michelle of Making Sense of Cents earns over $100,000 per month with her personal finance blog.
Institutional blog earnings: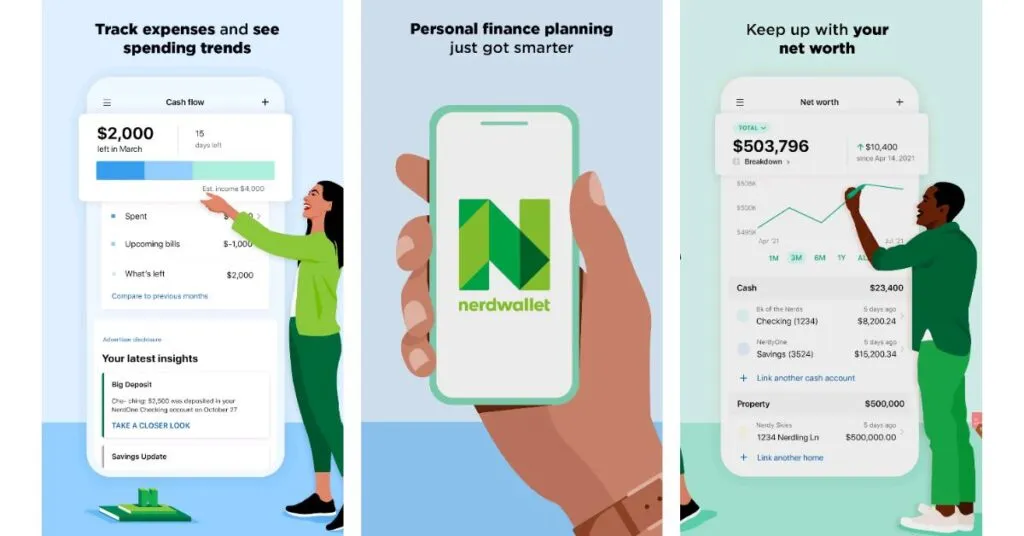 How Much Does It Cost To Start A Blog?
We've touched on this when talking about why starting a blog is our top recommendation for aspiring entrepreneurs, but the upfront cost to get your blog up and running is lower than any other sustainable business model that we know of.
In fact, you can have your blog online in less than 15 minutes for $2.95 with web hosting from Bluehost. From there, we provide a list of blogging tools and software that will help you grow and reach profitability more quickly.
Here are the tools we recommend you start with at an absolute minimum:
Bluehost. Your blog is not online without web hosting. We recommend the Choice Plus web hosting plan from Bluehost as the best option for beginners, which will run you $5.45.

WordPress. This is your content management system and is also essential to display your blog online. Bluehost allows you to automatically install WordPress with a single click for FREE.

WP Rocket. The best all-in-one web performance plugin. Google knows if your site speed is lacking, and will penalize you accordingly. WP Rocket will cost you $59 annually.

ConvertKit. It's imperative that you start collecting emails from your audience from day 1. We use and love ConvertKit, which is well-known as the best email provider for bloggers. It's also FREE up to 300 subscribers!

Surfer SEO. The goal is to rank on the first page in the Google search results. Surfer SEO ensures you use all the appropriate keywords and phrases for the algorithm to recognize you as an authority and move you up in the rankings. This will cost you $49 but is well worth it.

Ahrefs. I almost feel bad recommending Ahrefs because it is a little pricey, but you're not a serious blogger without it. Ahrefs is the best keyword research tool out there are has many other functions to help you along the way. It will cost you $99.

In total, you're able to start a blog the right way for $212.45!
I'm not sure who needs to hear this, but if you're not willing to invest $200 in your new business and in your future, you're probably not ready to be a business owner. In fact, I would recommend setting aside $1,500 – $2,000 to give yourself about 6 months of runway. If your new blogging business isn't making money by then, re-evaluate where you stand.
How To Start A Blog In 10 Simple Steps
Now that we've covered most of what you need to know about starting your own blog, let's break down the step-by-step process so you can get started today!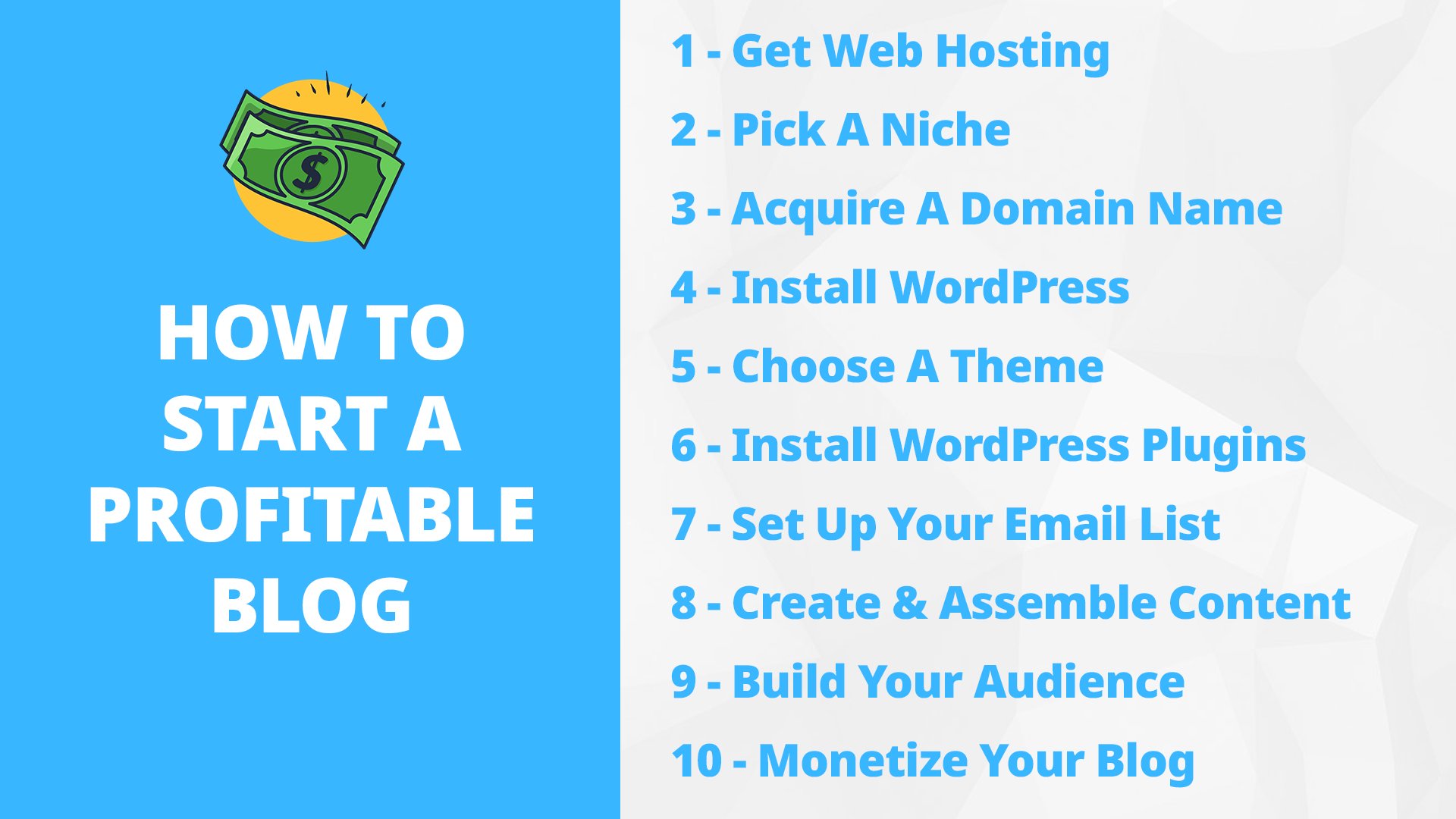 Step 1: Get Web Hosting
Step #1 is to actually get your blog online with web hosting, which is a service that stores and hosts all your content for distribution across the internet. Bluehost is the best web host for beginners with plans starting at as low as $2.95 per month.
To get started with Bluehost as your hosting company, follow these steps:
Go to Bluehost and click Get Started.
Choose the Choice Plus Plan.
If you have a domain name (i.e. pursuitofpassiveincome.com), include it here. Otherwise, opt to choose your domain later. More on this down below.
Input your account & payment information and hit submit.
Choose an account plan based on how long you want to pay. (Bluehost offers a 30-day money-back guarantee with all plans, so no risk!)
Uncheck the Package Extras (you don't need them.)
Complete your purchase, choose your password and log in to your Bluehost account.
Answer the onboarding questions or skip them, but choose "blog" when prompted.
Click "skip" when it comes to choosing your theme. (We'll get that sorted out later.)
From the Bluehost dashboard, click the WordPress button on the top right and you'll be taken to WordPress.

Well done! You now have a self-hosted WordPress blog! 😀
Step 2: Pick A Niche
The niche you choose will be the foundation of your blog. We recommend starting with something broad, which gives you the ability to pivot and narrow your focus as you go, as well as expand your offerings and content as you grow!
The old advice will tell you to choose something you're passionate about, but the point of this article is to create a profitable blog, not just to create a blog. Generally, it helps to have a passion for your subject, but you need to think about the demographic of your target audience and what they are willing to pay for.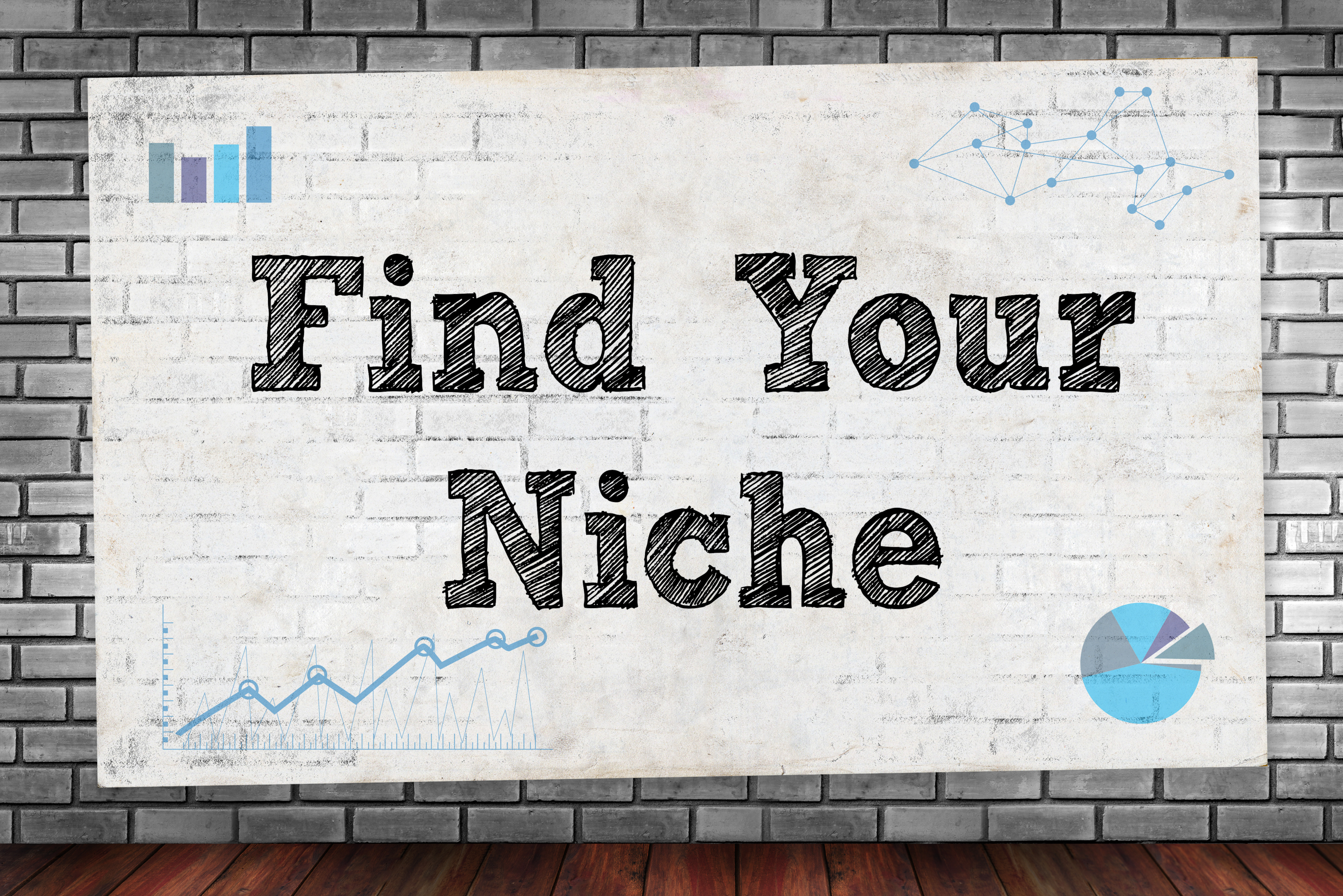 To get started, answer these questions:
What topics are you knowledgeable about?
What topics do you enjoy discussing?
What demographic would you like to target with your blog? (men, women, parents, etc.)
What interests your target demographic?
Your niche should also be something that has a large enough audience to support your blog. For example, if you want to write about a very specific topic like "how to make the perfect grilled cheese sandwich," there may not be enough people searching for that topic to sustain a successful blog.
So with this in mind, here are the 6 most profitable blog niches:
Digital Marketing
Blogging & Making Money Online
Health & Fitness
Personal Finance & Investing
Personal Development & Self Care
Recipes & Food
Next, ask yourself how you plan monetize this market? What goods and services are people paying for right now in your target niche?
These questions are important because ultimately you will make the most money if you can rank for keywords related to best selling products in your niche.
Let's take the fitness niche for example. Maybe you aren't able to rank for "best ab workout" or "most popular dumbbells," but if you can get traffic to an article ranking the "best tasting protein powder," that article has massive income potential.
Finally, make sure you consider any leverage you already have in your life.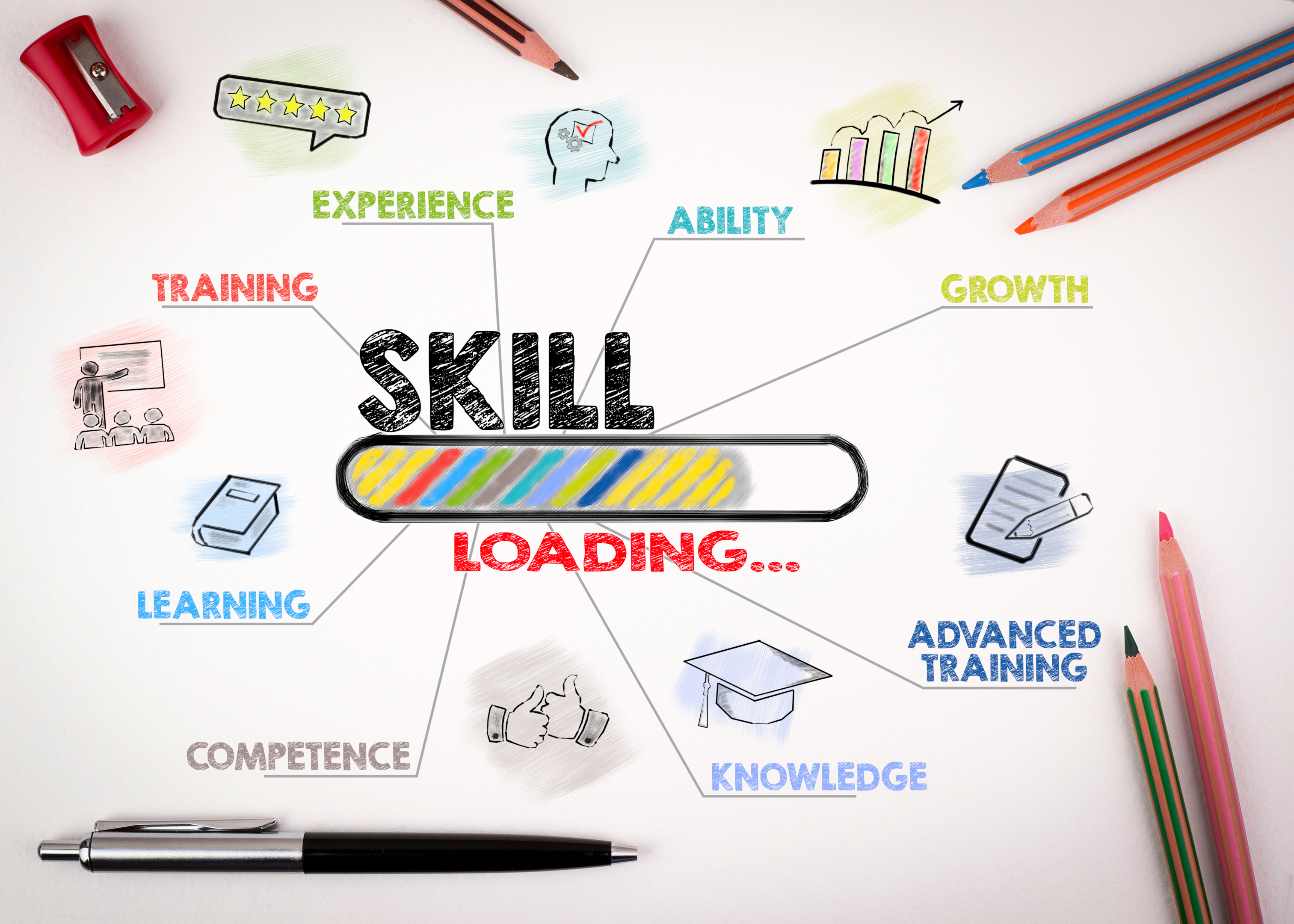 Here are some questions to ask yourself:
What levers can you pull?
Do you have connections?
Insider information on a market?
An incredible skill set compared to most people?
How are you uniquely positioned to leverage any and everything in your life that others wouldn't be able to keep up with?
All these things should be taken into account when deciding on your niche!
Step 3: Choose Your Domain Name
Your domain name is your brand, so choose it wisely and don't rush this decision.
You will want the domain to be relatively short, memorable, and end with a dot-com (.com) extension. What you decide on will ultimately be based on what niche you pursue as well as what you plan to do with your blog.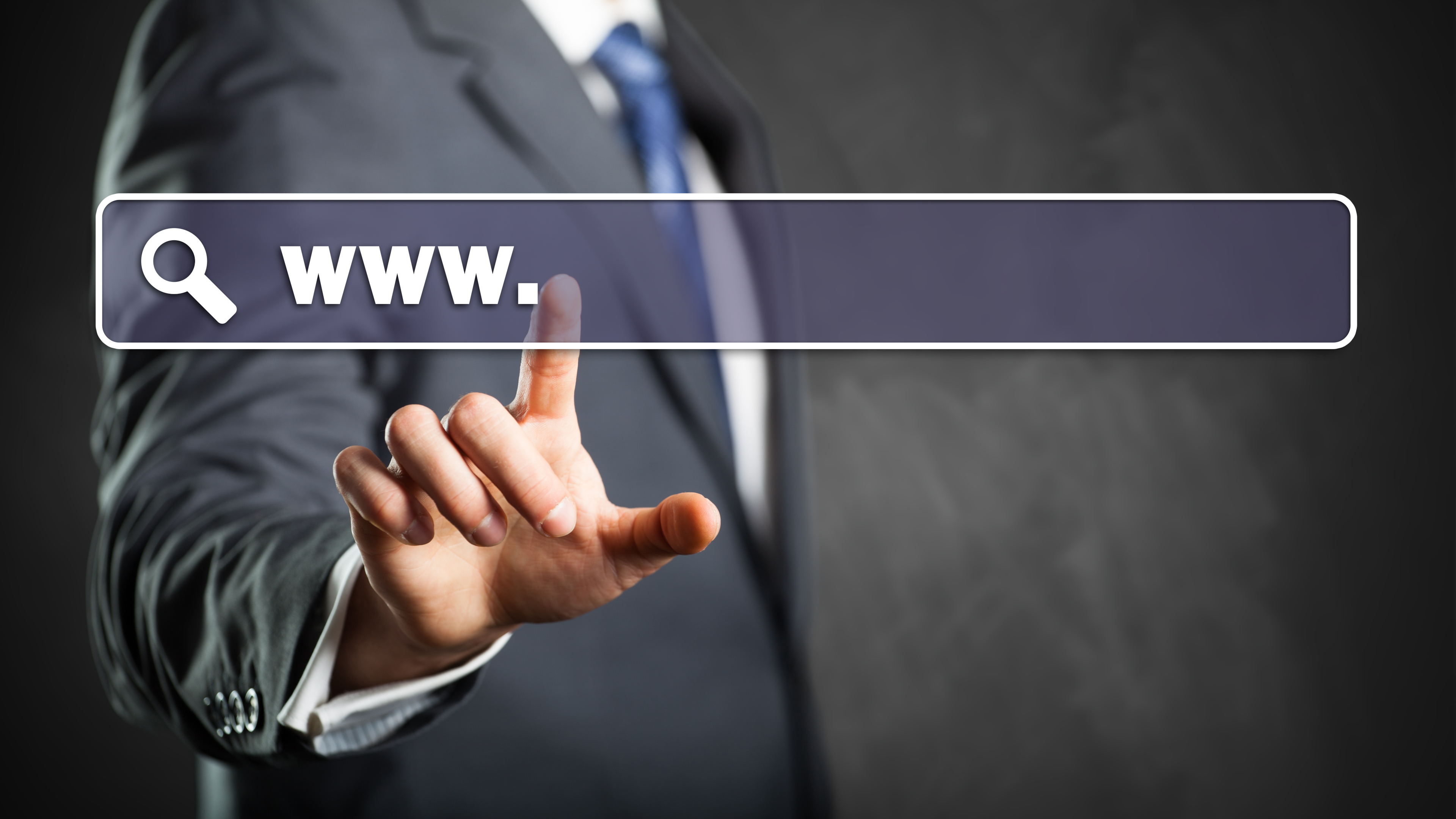 The Brand Of You
If you plan to use your website as an online resume, otherwise referred to as a personal blog, we highly recommend you aim to use yourname.com and build around the brand of you.
After all, people are much more likely to trust and respect another person as opposed to a new brand they know nothing about. Plus, you can't give up on yourself which means you'll never quit!
The other benefit to using your name as your domain is that you're not pigeon-holed into any specific niche. When you build a blog around the brand of you, you're able to create content on any topic under the sun!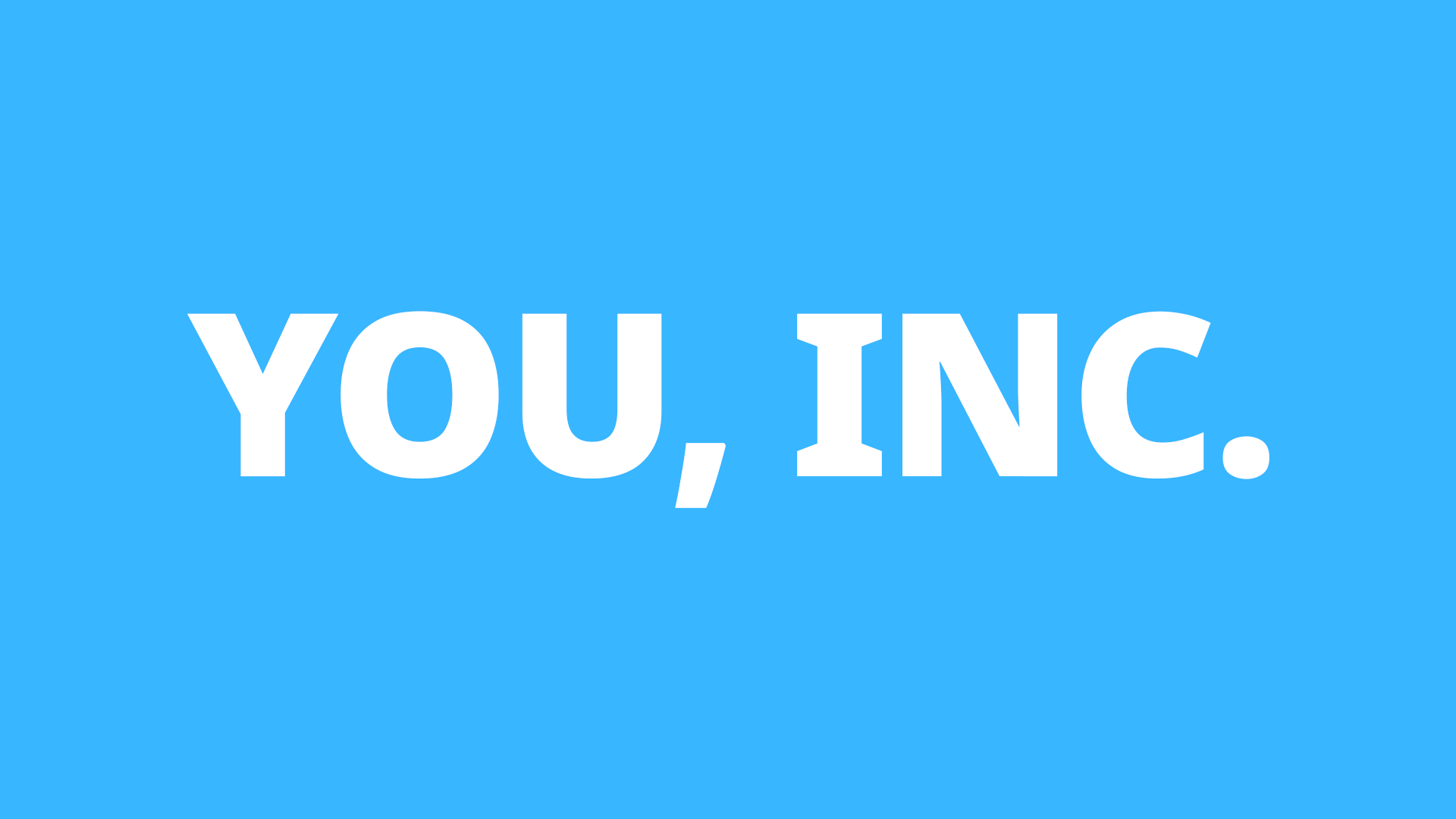 Product Specific
If you are starting a blog to promote a product, service or software you've created, of course you will want to feature your company name within the domain. The goal here is to help ensure that your website displays at the top of the Google search results when someone is looking for your company.
Of course, it is unlikely your site will show up as #1 in the search results when it first comes online, but as you continue creating content and building authority around your product or service you will move higher and higher in the results.
Niche Specific
If a personal blog isn't an option and you've chosen a niche to pursue, use a buzz word or identifier term in your domain name to clearly stake claim to your topic.
For instance, if you decide to pursue the personal finance niche, choose a domain name with the word "finance" or "money" included, such as friendlyfinance.com or greenleafmoney.com.

Domain Availability Checker
I came up with the options above on the spot, which brings me to another important factor when choosing your domain name, which is the availability of the domain itself.
Use Bluehost to try different options or another free availability checker like NameCheap to find one that isn't taken. Caution: This process can take a while and get pretty frustrating, but be patient and make sure you come up with something you really feel good about!
Here are some final tips for choosing your domain name:
Choose a .com domain name if possible.
Make it short, easy to spell, and pronounce.
Your domain name should be reflective of what your blog is about so that people can easily find it when they're searching for topics related to your niche.
Step 4: Install WordPress
Now that you've chosen your niche and domain name, it's time to install WordPress so you can start creating content for your blog. We recommend using WordPress because it's the most popular (and most powerful) blogging platform. Plus, it's free to use and trusted by over 30% of all websites that exist online!
Bluehost offers a one-click install of WordPress which makes the installation fairly straightforward, but here is what you need to know.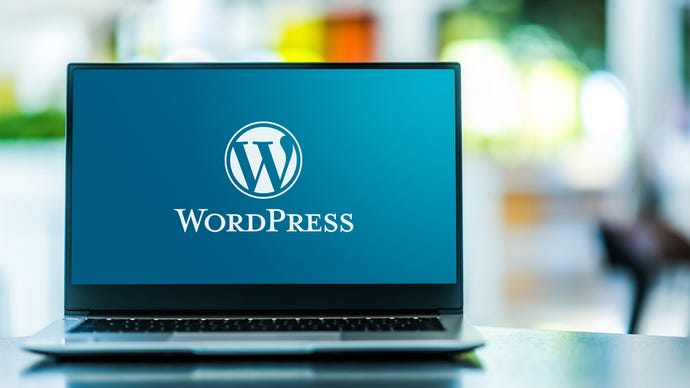 What is WordPress
First of all, Bluehost is your web host to store all of your blog's files, and WordPress is your content management system (CMS) that allows you to create, manage, and organize your blog's content.
The WordPress dashboard will be the page you visit most frequently as you create content and build your site. I can't emphasize the importance of using WordPress enough. It is the only content management system you should use.
Not only is it one of the most economical options for building your blog, it also offers the most features and is very nimble as far as customization, which will pay dividends down the road.
From your WordPress dashboard, you will be able to customize and improve your new blog using a large collection of WordPress plugins to help with things like search engine optimization and site speed.
WordPress.org vs. WordPress.com
ALERT: WordPress.org & WordPress.com are two very different things!
I have no idea why they make this so unnecessarily confusing, but make sure you install WordPress.ORG.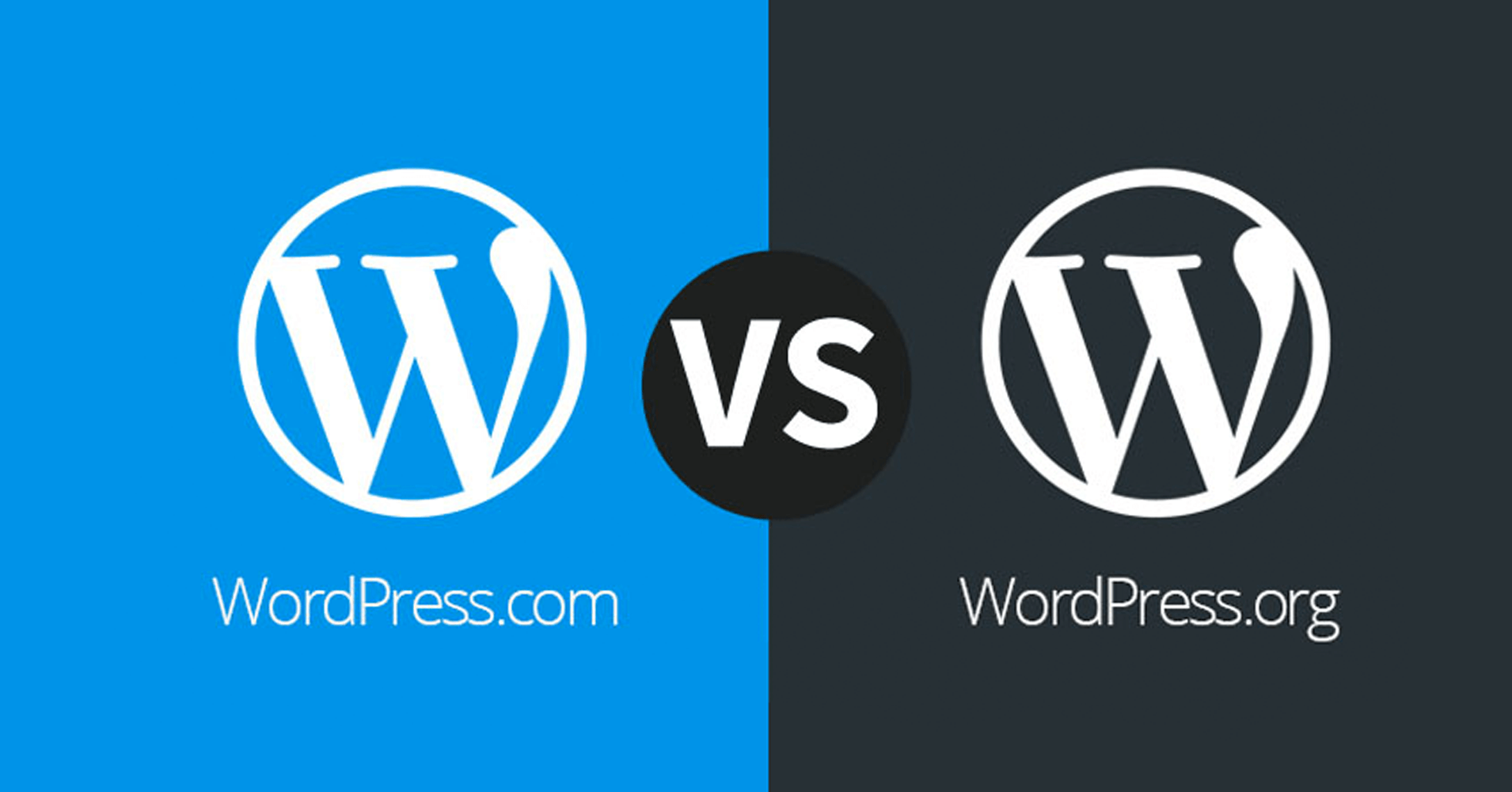 Here are some of the different capabilities of WordPress.com versus WordPress.org:
WordPress.com:
Is free to use (with heavy restrictions)
Doesn't let you pick a custom domain name (i.e. 👉 yoursite.wordpress.com)
Has very limited monetization options (you can't sell your own ads)
Doesn't let you upload plugins (for email capture and other things)
Has limited blogging theme support so you're stuck with very basic designs
You have to pay to remove WordPress branding and get your own domain like yoursite.com
Limited SEO (Search Engine Optimization) and analytics
WordPress.org:
Fully customizable design (using WordPress themes), unlimited plugin options, and no branding
Your own custom domain name for your blog to run on (like ryrob.com)
Total control over your own monetization efforts
Powerful SEO features with great plugins (so people can find your site easier)
Let's you start or add an eCommerce store or membership site
Small monthly fee (from the cheap hosting plan you use to get your blog online)
A free domain name during sign up (with most blog hosting platforms)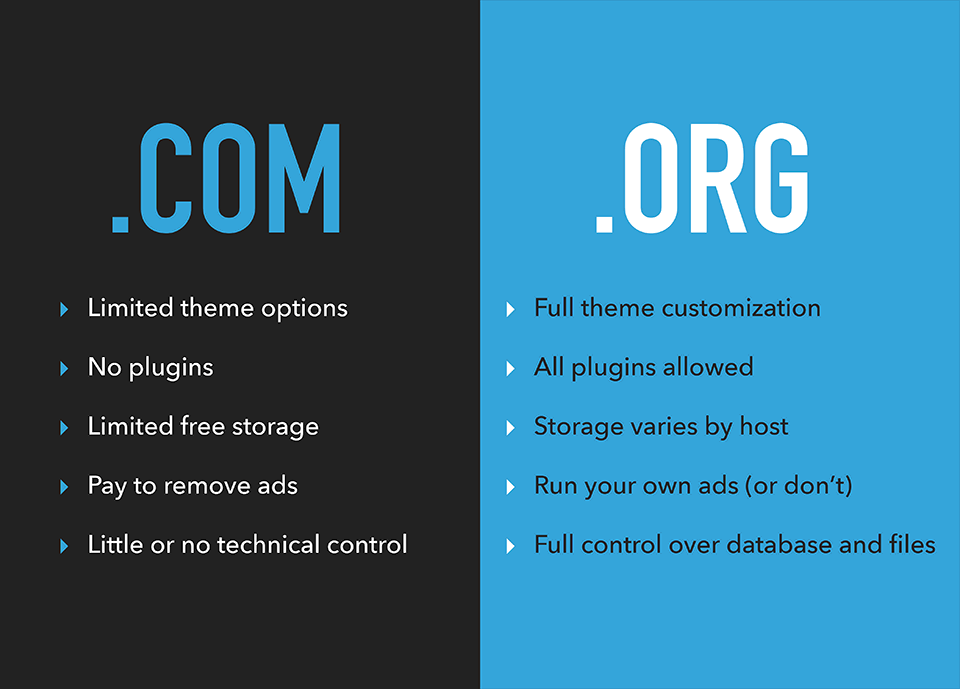 For the life of me, I can't figure out why WordPress.com is even offered as an option. So make sure to install WordPress.org and don't ask any more questions!
Install WordPress
We mentioned this earlier, but Bluehost makes it easy to install WordPress with its one-click Install.
When you log in to WordPress, click "Start Building" and choose "Business" for the type of blog you want to create.
Then, enter your "Site Title" and "Site Description."
Once you have WordPress set up, play around with the dashboard and familiarize yourself with the platform. Again, this is the control center for your blog where you will create and manage all the content that is displayed on your live website.
So make sure to get started with Bluehost if you haven't already and utilize the one-click WordPress install to get your blog up and running today!
Step 5: Chose A Theme
Next, it's time to design a visually appealing website.
This is your only chance to make a positive first impression, which is increasingly important when it comes to your online presence.
People are quick to make judgements online, and they are increasingly aware of scams and other illegitimate money-making schemes online. Any spelling errors or design flaws will likely result in your website visitor leaving and never coming back.
The solution to this potential disaster is to install a WordPress theme.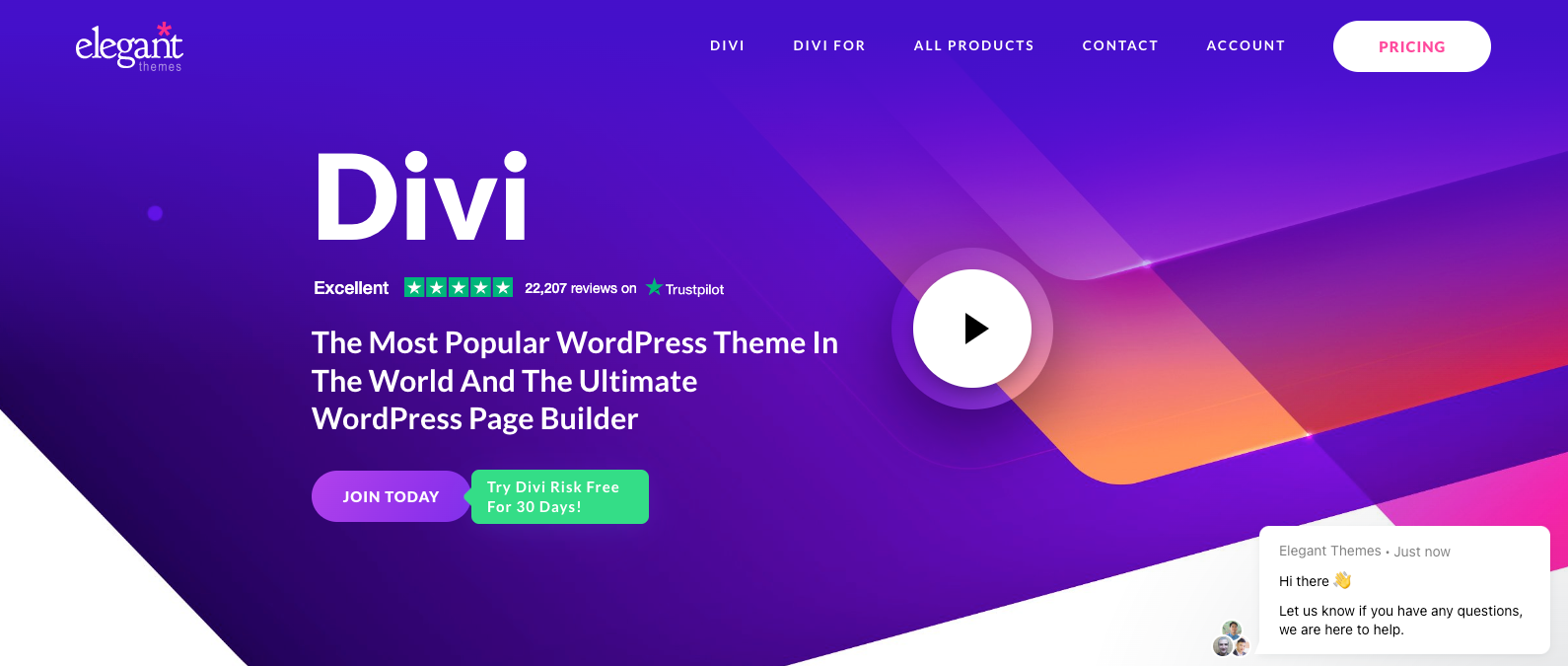 We will cover both free and paid themes, but I'm going to try to save you some time and prevent a never-ending headache: Invest in a paid theme!
Feel free to ignore my advice, but don't be surprised when you have the same horrible experience I put myself through.
I installed the free Kadence theme and spent about 8 hours pulling my hair out trying to make it work until I finally broke down and paid for the Divi theme by Elegant Themes. To this day, it may very well be the best decision I've made in my business.
Free Theme
For those of you that want to give it a go with one of the free WordPress themes, we recommend Kadence. It is a very simple theme that is serviceable if you are ok with your site having a plain look to it. Of course, there is nothing wrong with keeping things simple and it can be done.
If you want to check out other free themes, click the 'Appearance' tab on the left hand side of your WordPress dashboard and click 'Add New Theme' to browse available options.
Paid Theme
If you're in a position to go for a paid theme, we highly recommend making the investment.
As I said, we use the Divi Theme for Pursuit of Passive Income and couldn't be happier. As the most popular WordPress theme in the world, it offers an easy-to-use visual webpage builder complete with custom elements to drag and drop into your website.

To get started with Divi, use this link and try it risk-free for 30 days!
Install Your Theme
Once you purchase your theme, you will need to install it in WordPress, which is super easy.
From your WordPress dashboard, select "Appearance" on the sidebar menu and click "Themes".
Next, click "Upload Theme" at the top of the page and upload the zip file that you downloaded from Elegant Themes when you made your purchase.
That's it! You're ready to start creating a beautiful design for your new blog.
Core Four Pages
A good theme allows you to customize your website to make it visually appealing to your visitors. For those of you that are working from scratch with a brand-new website, you want to start with your core four pages.
These are your home page, about page, blog archive page, and post template.
Your home page is pretty straightforward. It should be strikingly simple and give a clear indication of what your blog is about. We like to feature some top content at the top, then give a snapshot of the blog's founder, and fill in the rest of the page with some other useful links. Again, don't overcomplicate your home page.
Your about page provides information about you, why you're writing about the niche you chose, lists any background you have on the subject, and gets personal to explain why you started your blog and how you aim to help people. Try to be transparent and as open as possible – people will relate better.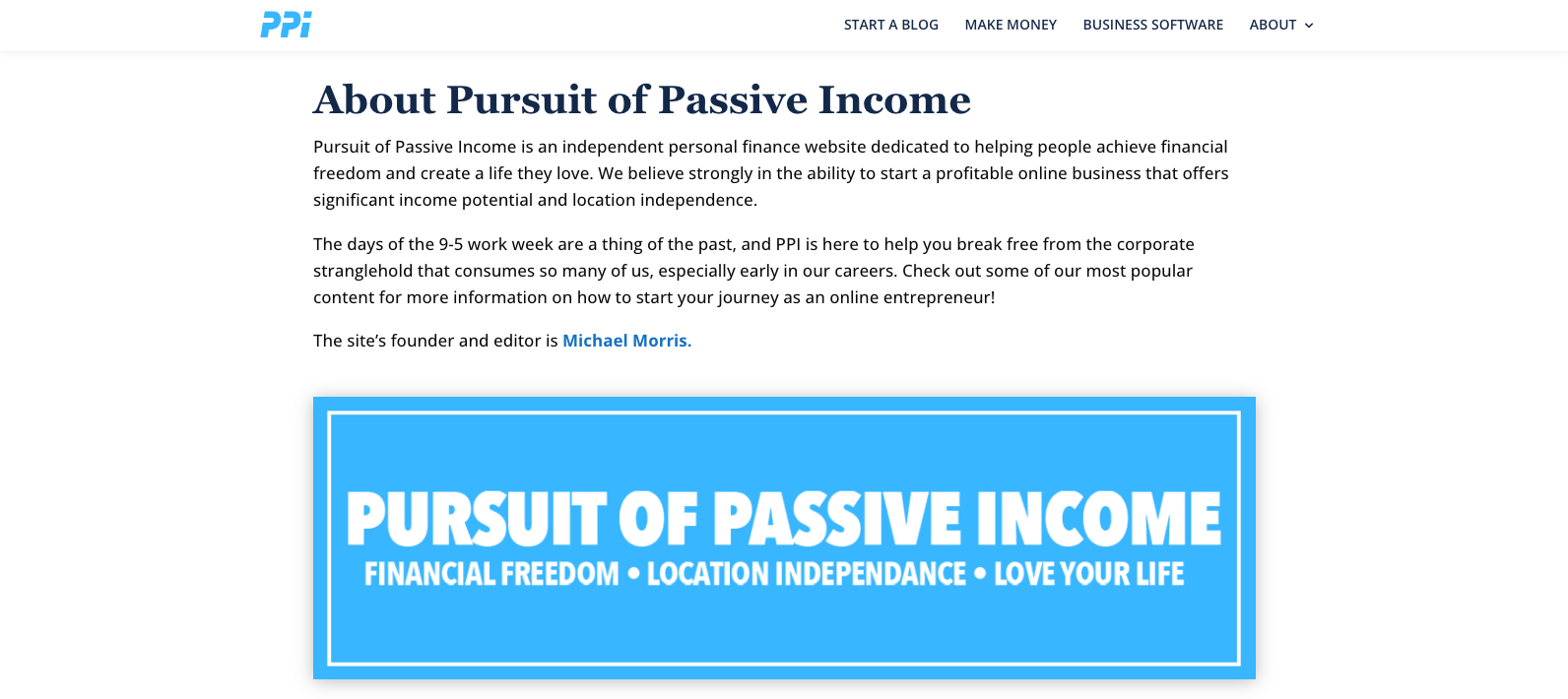 The blog archive page is a feed of all the blog posts you publish to your site. WordPress allows you to do this automatically, but you will want to play with the settings to make sure the posts display the way you want them to look.
Finally, you will create your template for writing blog posts. You want all your blog posts to have a similar feel and design them for readability, so your first blog post should be similar to your hundredth blog post. What we mean here is that your text is properly spaced out, headers are clearly defined, and the page is spaced out properly. Check out some other blogs you like and emulate their style if you need inspiration!
Step 6: Install WordPress Plugins
Ok, so your blog is online with web hosting, WordPress is your content management system, and you've installed a theme to customize the design of your website. Next, it's time to install WordPress plugins to boost the performance of your site.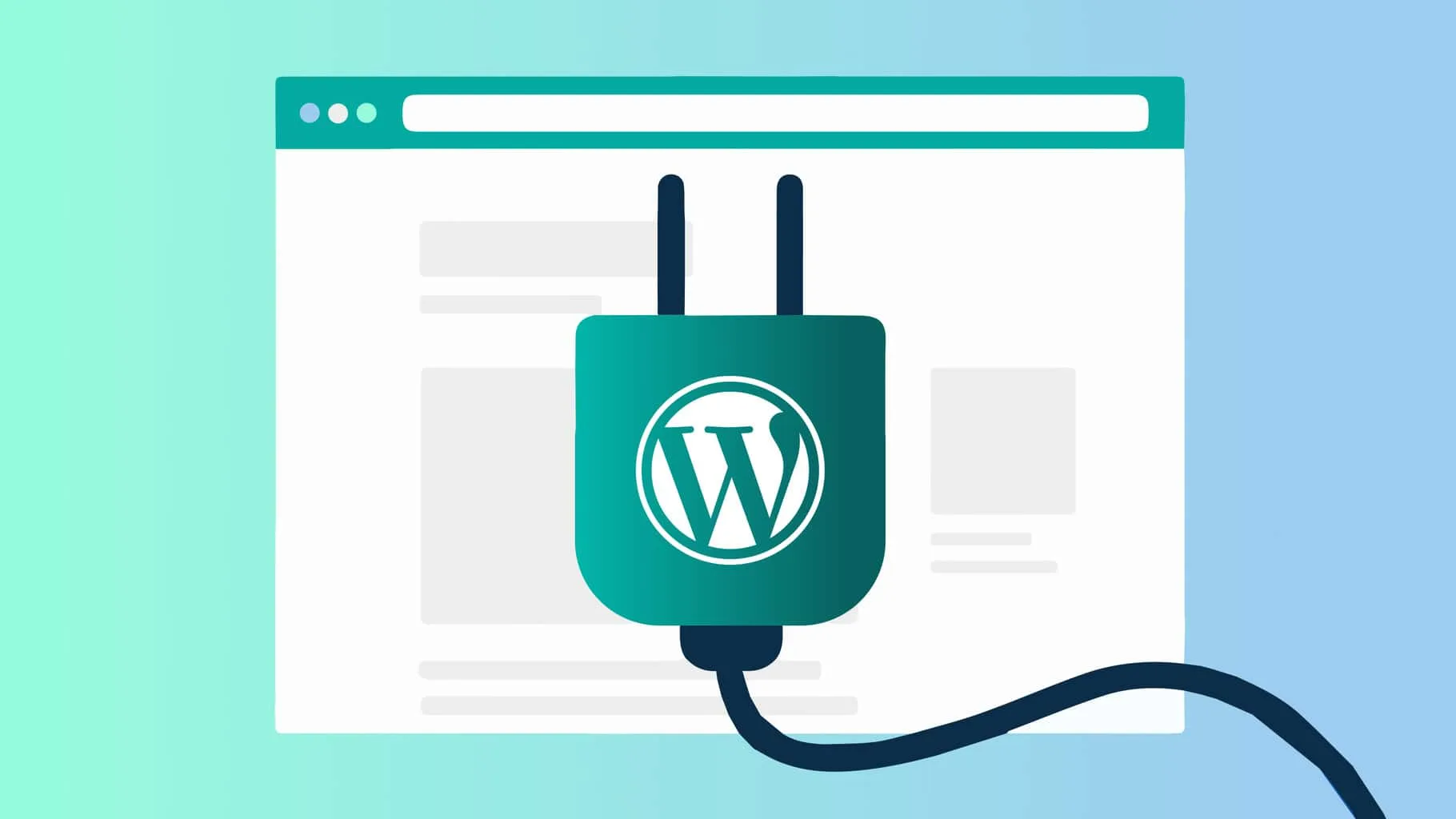 Here is a list of our best WordPress plugins for your new blog:
The Best WordPress Plugins For Your Blog [Most Are Free!]
Step 7: Set Up Your Email List
Your email list is one of your most prized assets as a blogger. As such, you will want to start building your list from day 1.
Email marketing is the most lucrative digital marketing channel, with an average return on investment of $40 for every $1 spent.
Sending an email is free, and the data suggests that the value of each email subscriber is $1 per month. In other words, if you have a list of 100,000 subscribers, you can expect to make $100,000 over the course of each month.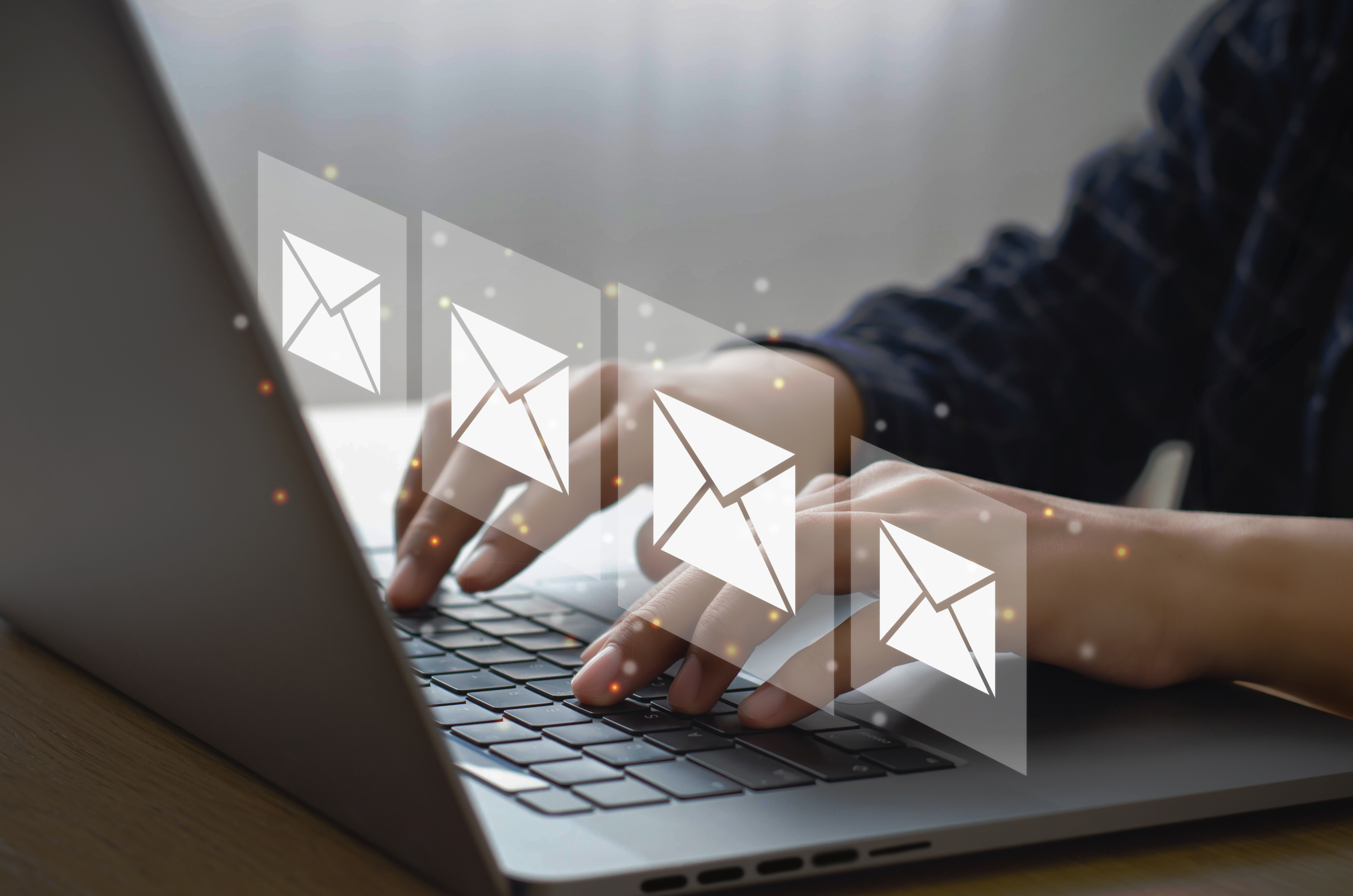 Importance of Your Email List
We can't stress the importance of your email list enough. As a blogger, your email list is the safety net for your entire business.
Yes, you will want to build the authority of your blog and optimize posts for search engines to rank on the first page of Google. Yes, you will want to increase traffic using Facebook, Instagram, YouTube, Pinterest and more. And yes, you will want to be featured on other well-known blogs and publications to help drive visitors back to your site.
The difference here is that you own your email list and have full control over its well-being.
Google can kill your traffic because they feel like it. Instagram can suppress your content. TikTok can (and will) delete your account for no reason! If you rely on one of these social media traffic sources to make money in your business, you're at serious risk.
But your email list will always be there to fall back on. The money is in the list, whether you're driving traffic to a new blog post, recommending a product through an affiliate link, or promoting your online course.
Long story short, do not overlook the importance of this asset that is your email list!
The Best Email Provider For Bloggers
ConvertKit is universally considered to be the best email hosting provider for bloggers.
On top of the basic functions of any email provider, ConvertKit makes it easy to create visually appealing opt-in forms that integrate directly into your website and segment subscribers based on specific actions and behaviors.

Sending emails to your lists is extremely simple and straightforward, and the visual automations make it super easy to set up a profitable email sequence.
At Pursuit of Passive Income, we implemented ConvertKit from the beginning and couldn't be happier with how easy and effective it is to use.
Offer A Free Email Course
Our top recommendation for collecting emails is to offer a free email course.
There are other lead magnets you can use to collect email such as ebooks and templates, but we like the email course for a couple of reasons.
First, any five to seven day email course provides a ton of value. People are protective of their contact information, so in order to increase your opt-in rate, you need to provide something of major value if you want them to actually subscribe.

Second, an email course trains your new subscribers to interact with your emails.
As they start receiving the course emails, they are excited to open them. As long as you're providing great value, the anticipation for the next day's email will continue to build. This is how you start building an engaged list of email subscribers.
Third, it's actually pretty easy to make money from a free email course.
In all likelihood, your course will be teaching some sort of skill. This allows you to offer helpful products and software along the way, and when your students make a purchase through your affiliate link, you earn a commission!
For example, we offer our free Beginner Blogger email course to our website visitors as a way to provide value and earn access to their personal email address. Once they subscribe, ConvertKit adds them to our Beginner Blogger sequence and automatically sends the course information over the course of the next 7 days!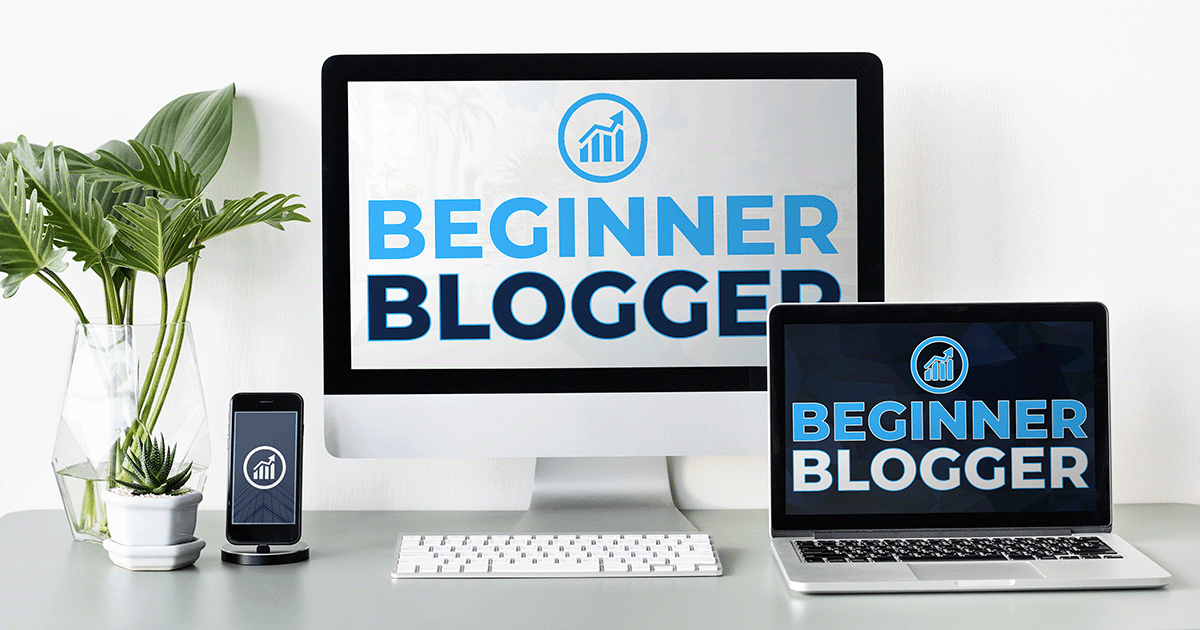 Throughout the sequence, we recommend services and software that any new blogger will need to get their business up and running such as Bluehost & ConvertKit! This is a win-win as it helps new bloggers start their business and it helps us offset the cost of creating the free course and pay for our email provider.
Of course, we only recommend products and services we use and feel represent the best solution for new bloggers.
Step 8: Create & Assemble Great Content
Now that you have the backend of your blog all set up it's time to start creating great content for your audience. The saying among bloggers states that content is king, distribution is queen.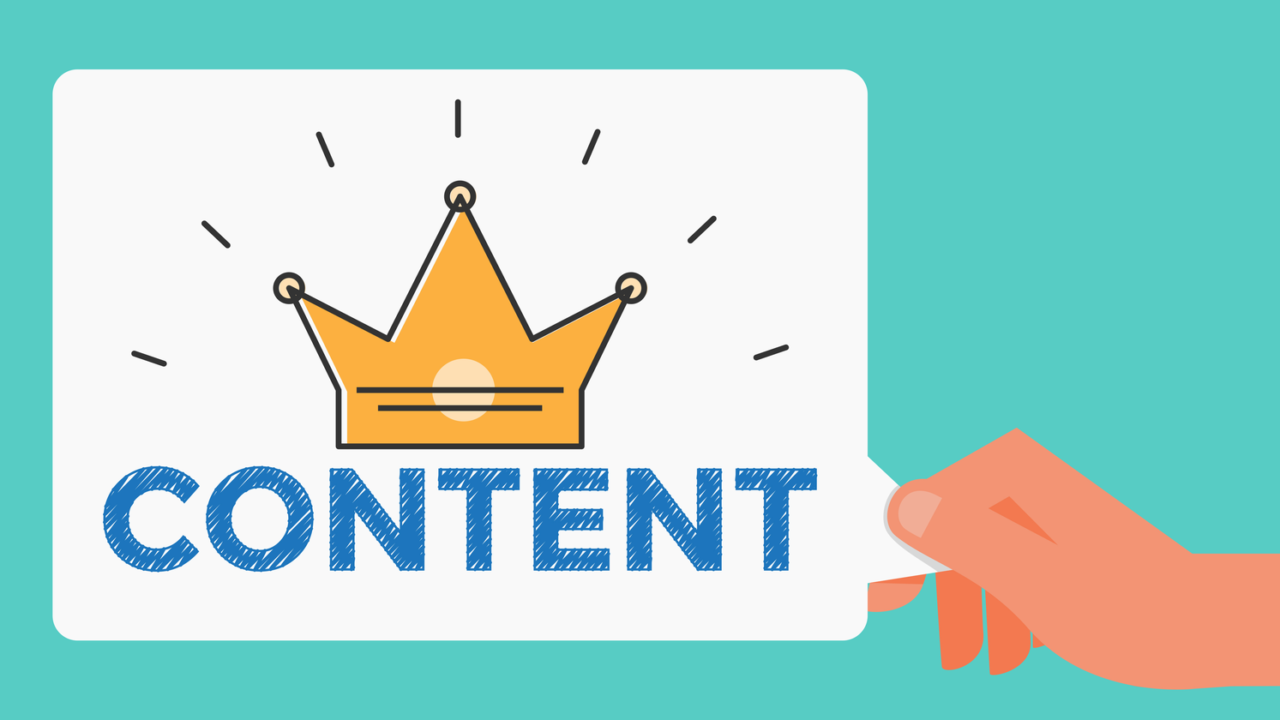 We will get to distribution later in this article, but for now, let's focus on content as the most important aspect of any blog. You will never make it without great content, which makes it priority number one.
With that said, we need to be careful here. We've talked about this already, but as bloggers, we want to be business owners and avoid becoming a tortured writer.
So first, let's cover the different types of content you should be creating for your blog, then give you a full step-by-step overview of how we assemble (not write) content at Pursuit of Passive Income so you can grow your blog quickly and efficiently.
Pillar Posts
Pillar posts are the foundation for your blog. These are generally longer, well written posts that are packed with information and action steps related to your main niche.
In fact, you are reading a pillar post right now.
At Pursuit of Passive Income, we teach people how to start their own online business and create a life they love.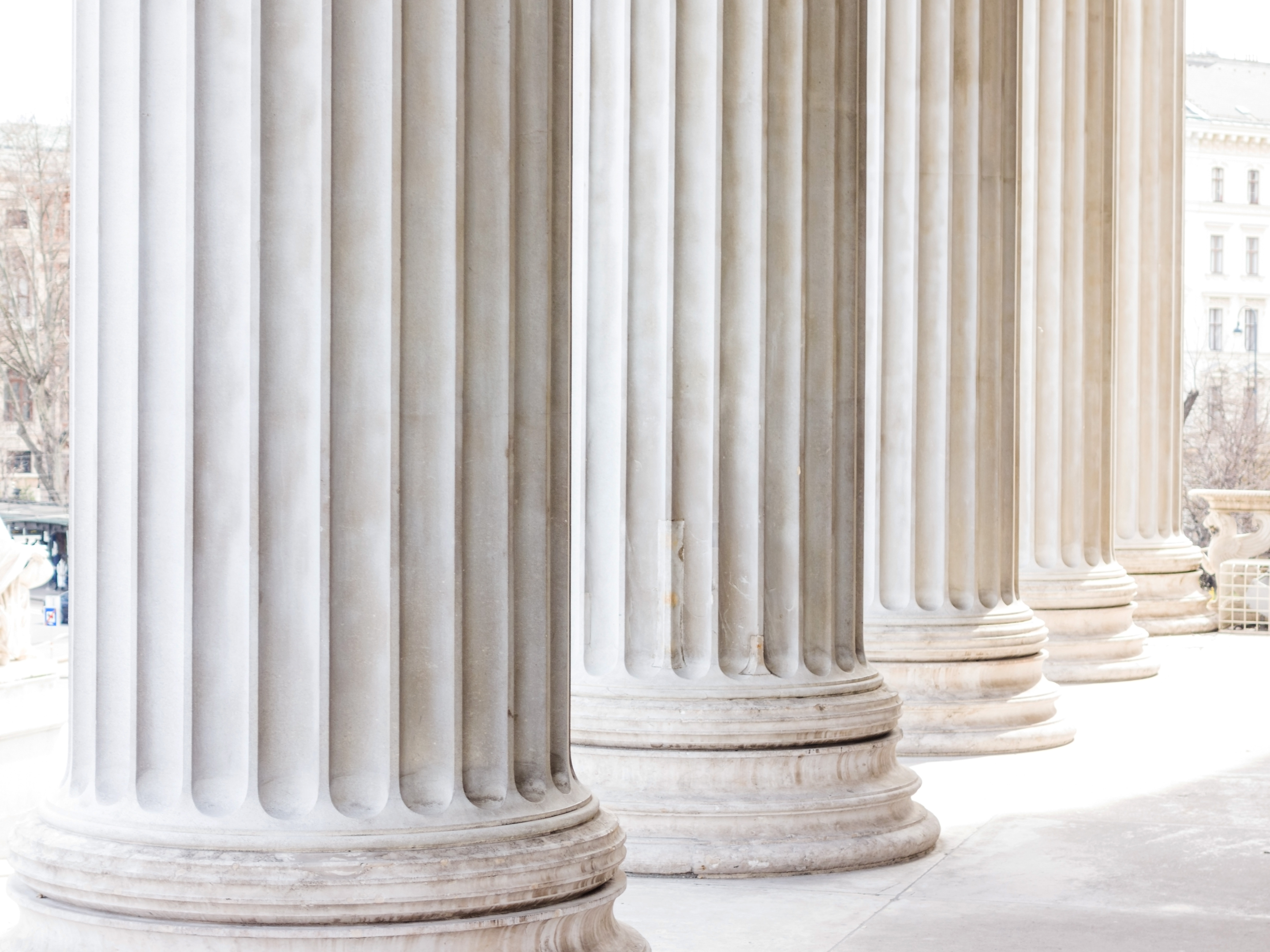 This post on "How To Start A Blog" is written to give our readers a step-by-step guide to starting a blog, which is our #1 recommended online business model for aspiring entrepreneurs.
As a pillar post, much of our other content points back to this post, which is likely the best resource we provide to our audience. We hope you like it!
Informational Posts
Once you have your pillar posts created and published, there are two types of articles you will produce for your blog going forward. These are informational posts and transactional posts.
Informational posts are 'how-to' posts that provide answers to specific questions people are asking online.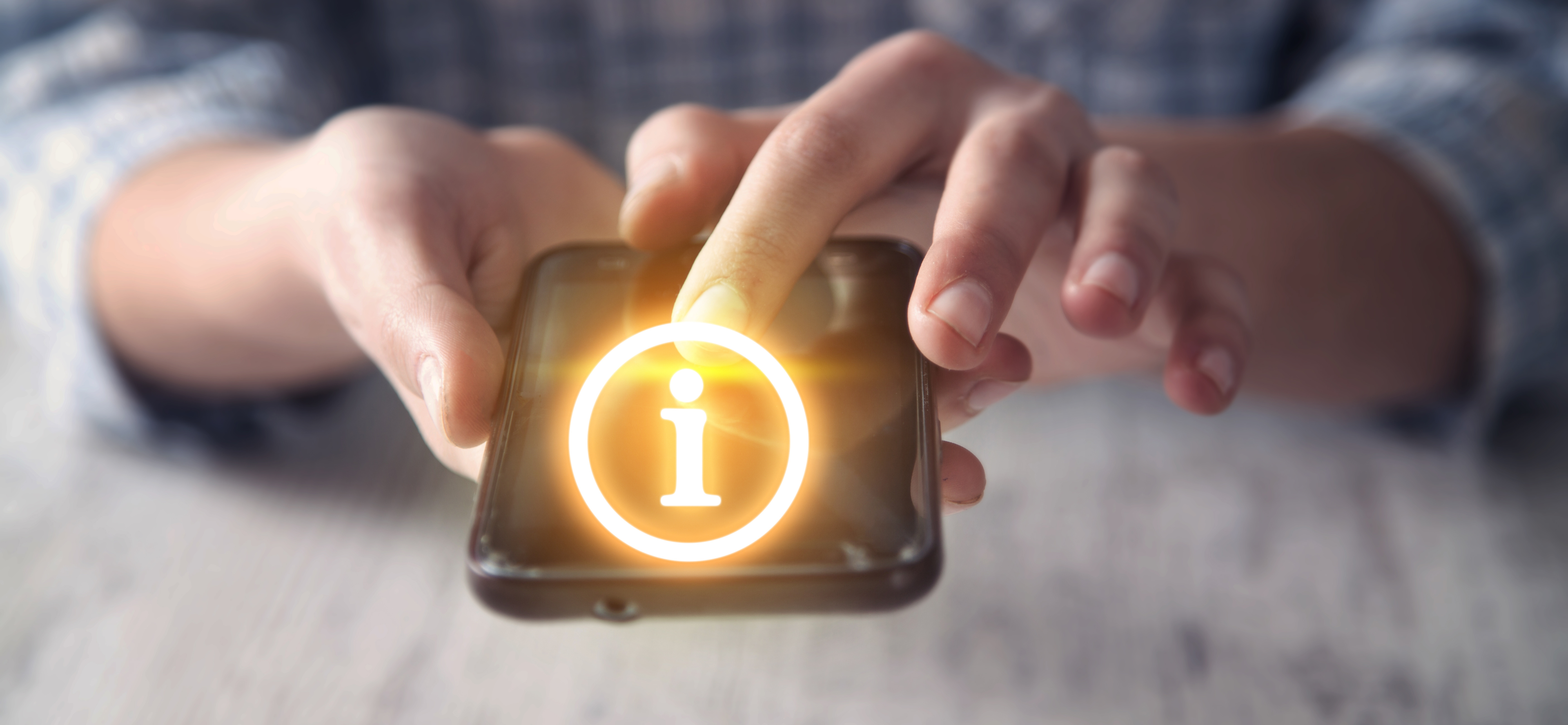 For instance, a travel blogger might write an article for the keyword "how to pack for the Amalfi Coast." Your article should provide the best information for packing and traveling to the Amalfi Coast to answer all of your readers' questions.
Informational posts should be written for keywords with high search volume and low competition, and are monetized primarily with display advertising within the post.
Transactional Posts
On the other hand, transactional posts are written to recommend products and earn affiliate revenue for your blog.
These posts drive your income as a new blogger, and should be the focal point of your content strategy from the beginning. So what do you need to know about transactional posts?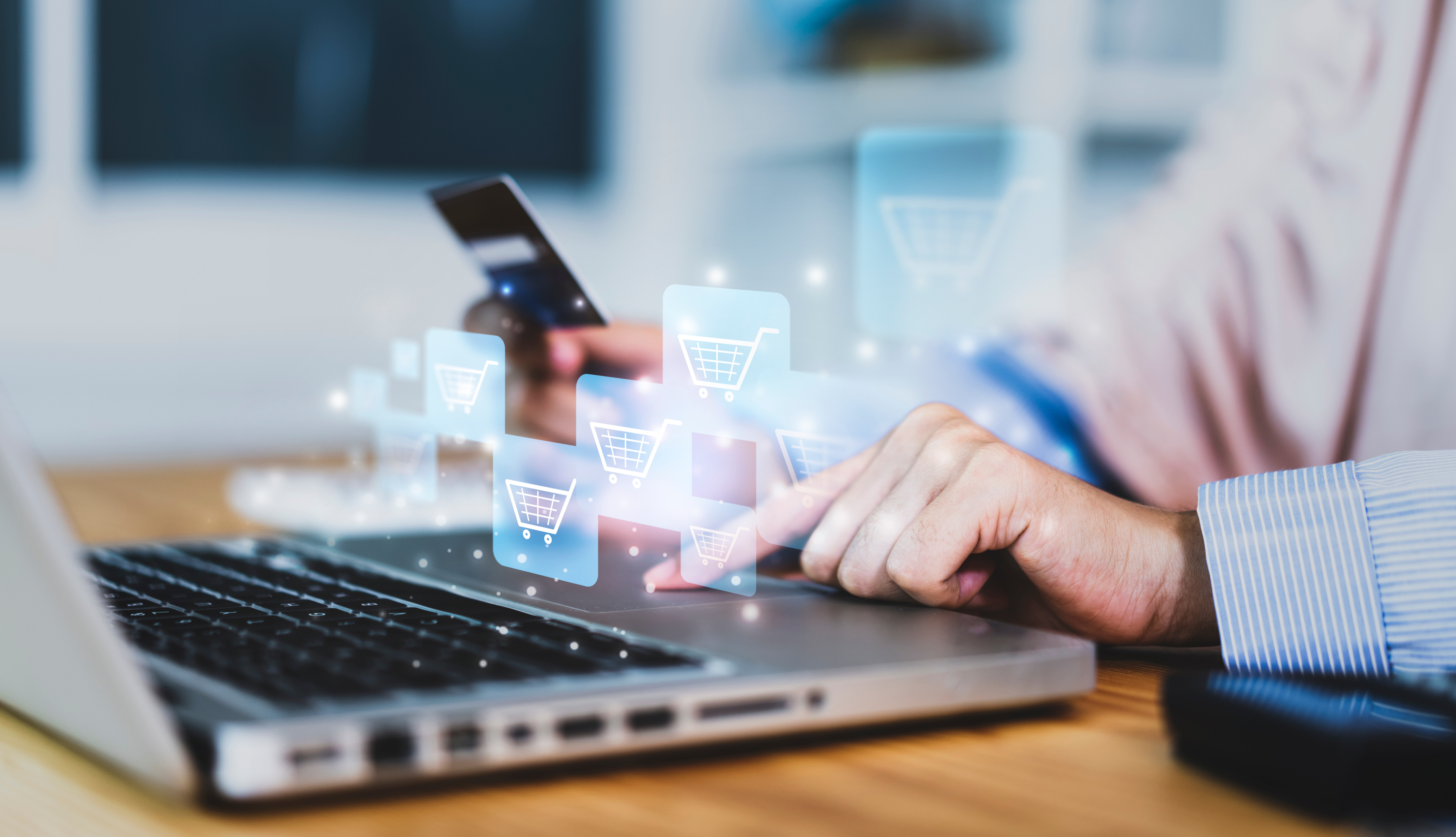 First, there is one thing that makes these posts so profitable – purchase intent.
When someone types "best AI writing tools" into Google, they have a very specific need. They need and want an AI tool to improve their writing. In other words, they are actively seeking a solution to their problem, which is a massive opportunity for a blog to make money.
Blogs exist online as a third party intermediary between companies and consumers. The consumer searches for the best AI writing tool, and our blog offers them a complete guide on the best available AI tools to help them make an informed decision.
Related: Best AI Writing Tools To Improve Your Content Creation Process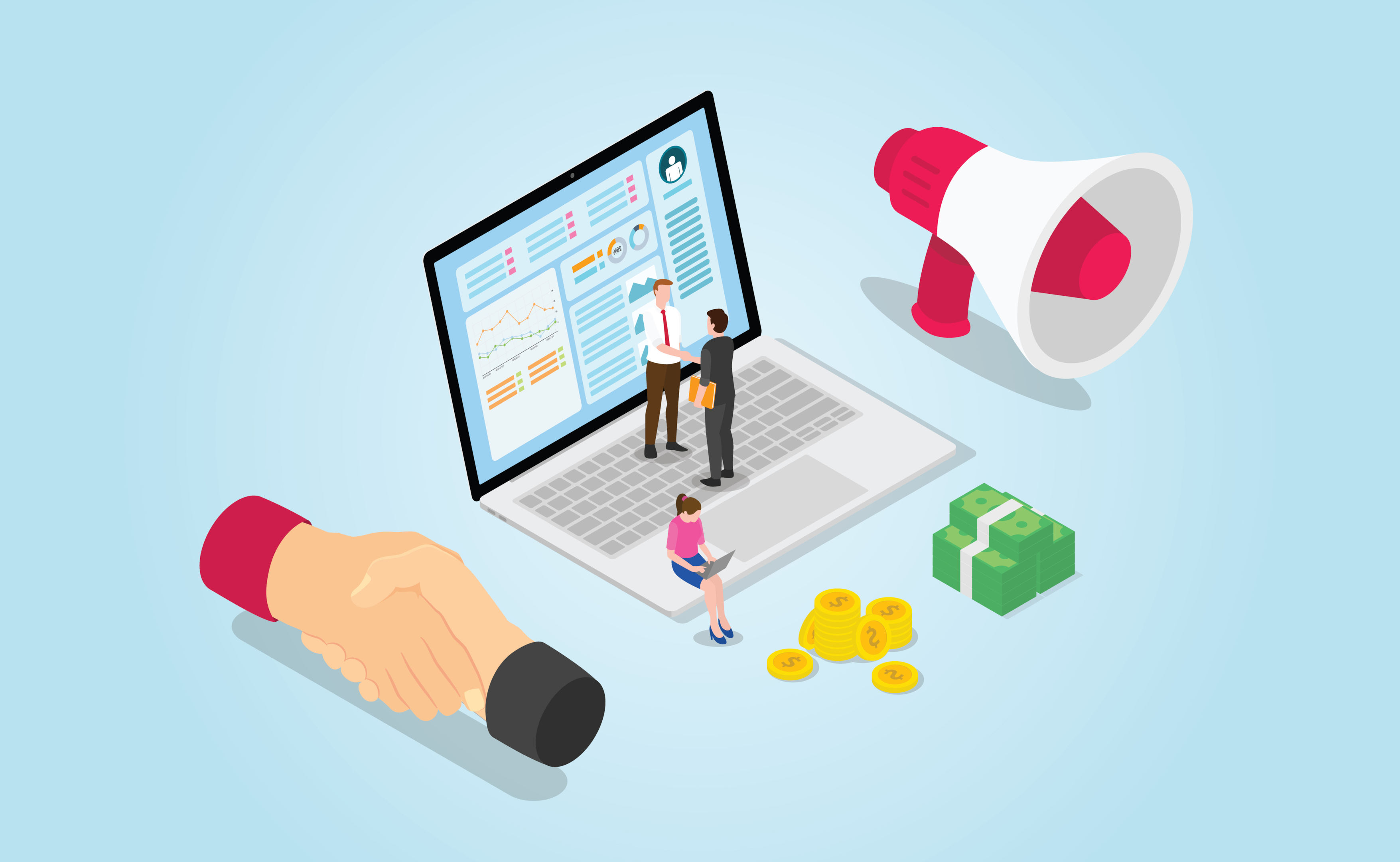 When the consumer then clicks through and purchases the product that best suits their needs, the company compensates the blogger for helping them make that sale.
This is called affiliate income, and is the income stream we recommend you start with as a new blogger. More on affiliate marketing later.
Related: How To Start An Affiliate Marketing Business
Keyword Research
What do you write about? How do you come up with blog post ideas? Well, first you need to understand that every blog post is written for a specific keyword or phrase. One blog post equals one keyword.

With this understanding, you need to know what keywords people are putting into Google, and we use a tool called Ahrefs to search for keywords with high volume and low competition.
Let's say you want to write an informational post in the golf niche. Again, we want high search volume and low competition.
So we come into Ahrefs and type "how to golf" into the keyword research tool. Select "matching terms" to get a full list of great keywords to write articles about:
How to hold a golf club (Volume: 13K Difficulty: 22)
How to swing a golf club (Volume: 11K Difficulty: 35)
How to grip a golf club (Volume: 8.2K Difficulty: 23)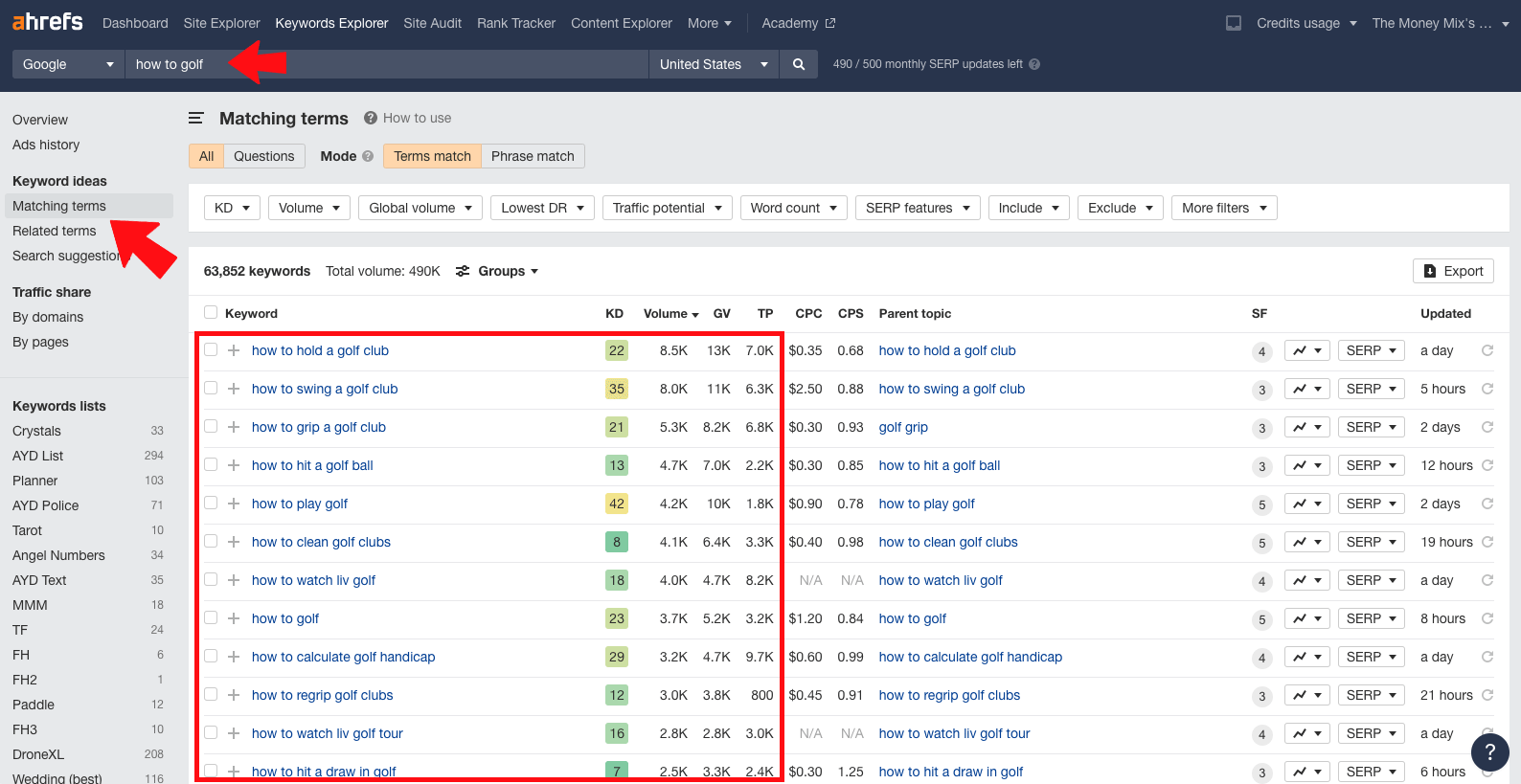 Typically, we recommend new bloggers start with keywords that have a difficulty score less than 40 until you build your blog's authority and start ranking for more difficult keywords.
If I were starting a golf blog, I would go down this list and write all of the articles shown here to start bringing traffic to my new site.
Of course, these keywords are great for creating informational posts that generate revenue from ad revenue, but you're probably wondering how to find keywords for transactional posts.
Let's take the same example and type in "best golf" into the matching terms tool in Ahrefs. Here are some great options for transactional posts to start generating affiliate income:
Best golf balls
Best golf shoes
Best golf clubs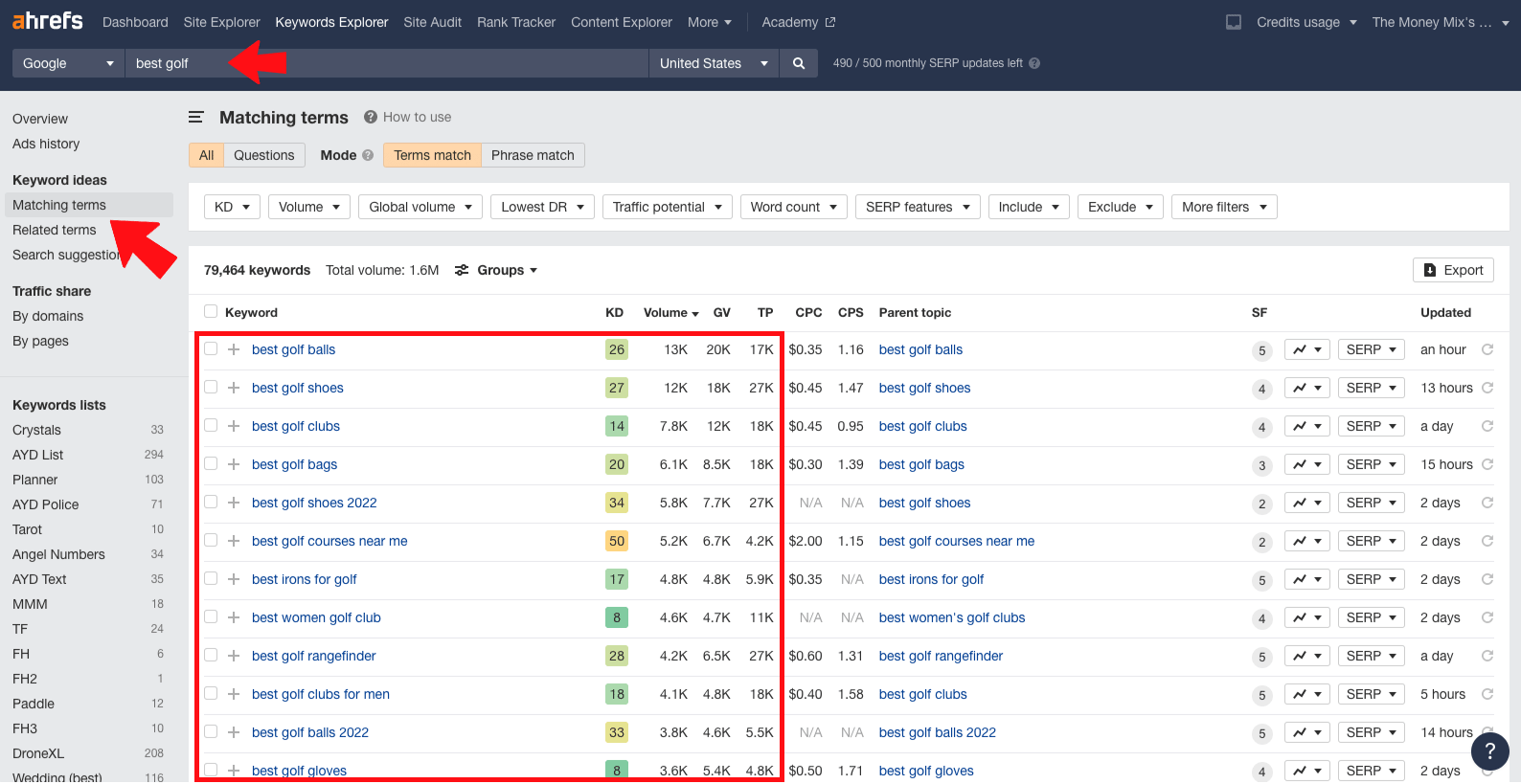 The word "best" implies purchase intent. When someone searches for best golf shoes, they're likely in the market to buy some new golf shoes.
Remember, the blogs that make the most money are the ones that position themselves between a product and a purchase!
The best way to do this is through successful keyword research and writing transactional posts on topics with high search volume and low difficulty.
Title
Once you choose a keyword for your article, the next step is to write a title and create an outline. The title should have your keyword included and be something that encourages clicks.
I like to look at the titles in the top search results for the keyword to get some inspiration to start. If we continue with the "best golf shoes" example, here is a title I really like and would click on: "Best Golf Shoes of 2023: 10 Shoes For Every Type of Golfer."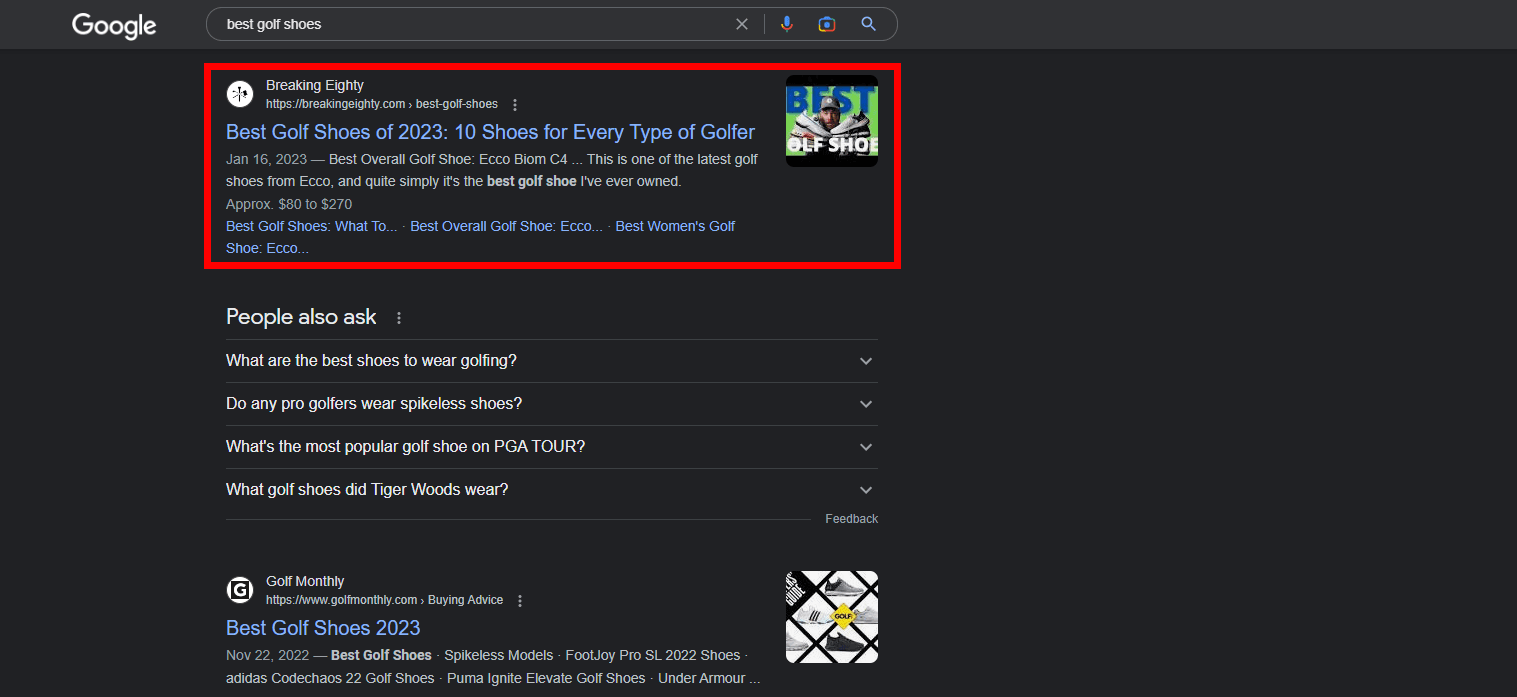 This is a common title format. It includes the keyword plus the year, then adds a quick phrase on who the post is for. 10 Shoes For Every Type of Golfer implies that anyone can find the shoe that is right for them, and will encourage clicks from every type of golfer!
Another avenue for title creation I follow is to use ChatGPT to come up with title ideas. I give it a prompt such as "Write 10 catchy titles for a blog post about 'Best Golf Shoes.'"
The ever-improving AI tool will then give me a good list of titles to work with. I like to take some of what I found in the Google search results and some of what ChatGPT gives me and combine them into a great title for my content.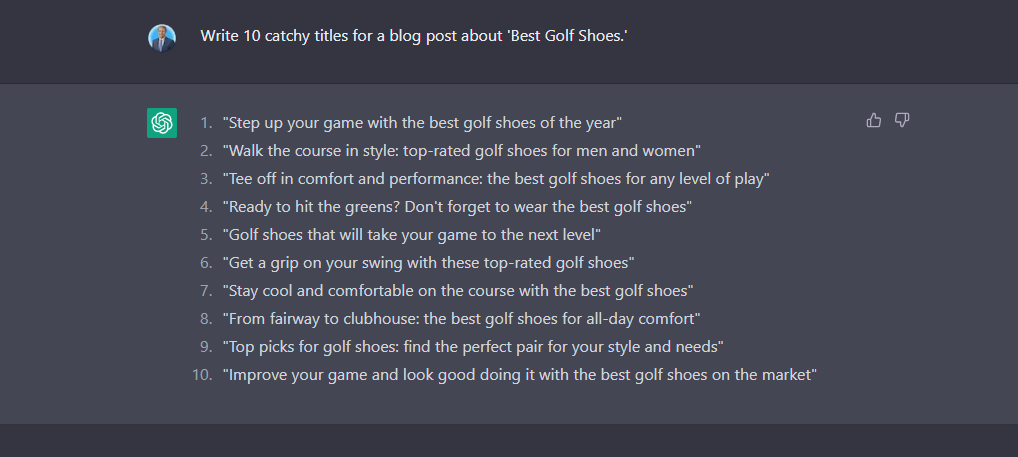 My three favorite titles provided by ChatGPT are as follows:
Step Up Your Game: The Top 10 Best Golf Shoes
Golf Footwear Essentials: The Top-Rated Golf Shoes of the Year
Put Your Best Foot Forward: The Best Golf Shoes for Improved Swing and Balance
Taking everything you come up with and combining it into a great title is an art. I would use something along the lines of "Best Golf Shoes: Put Your Best Foot Forward in 2023 With These 10 Shoes For Every Golfer."
Outline
Next we need to create an outline or content brief to provide to our writer. Again, I typically like to use ChatGPT to provide an initial template to work off of by giving a prompt such as "create an outline for a blog post about 'best golf shoes.'"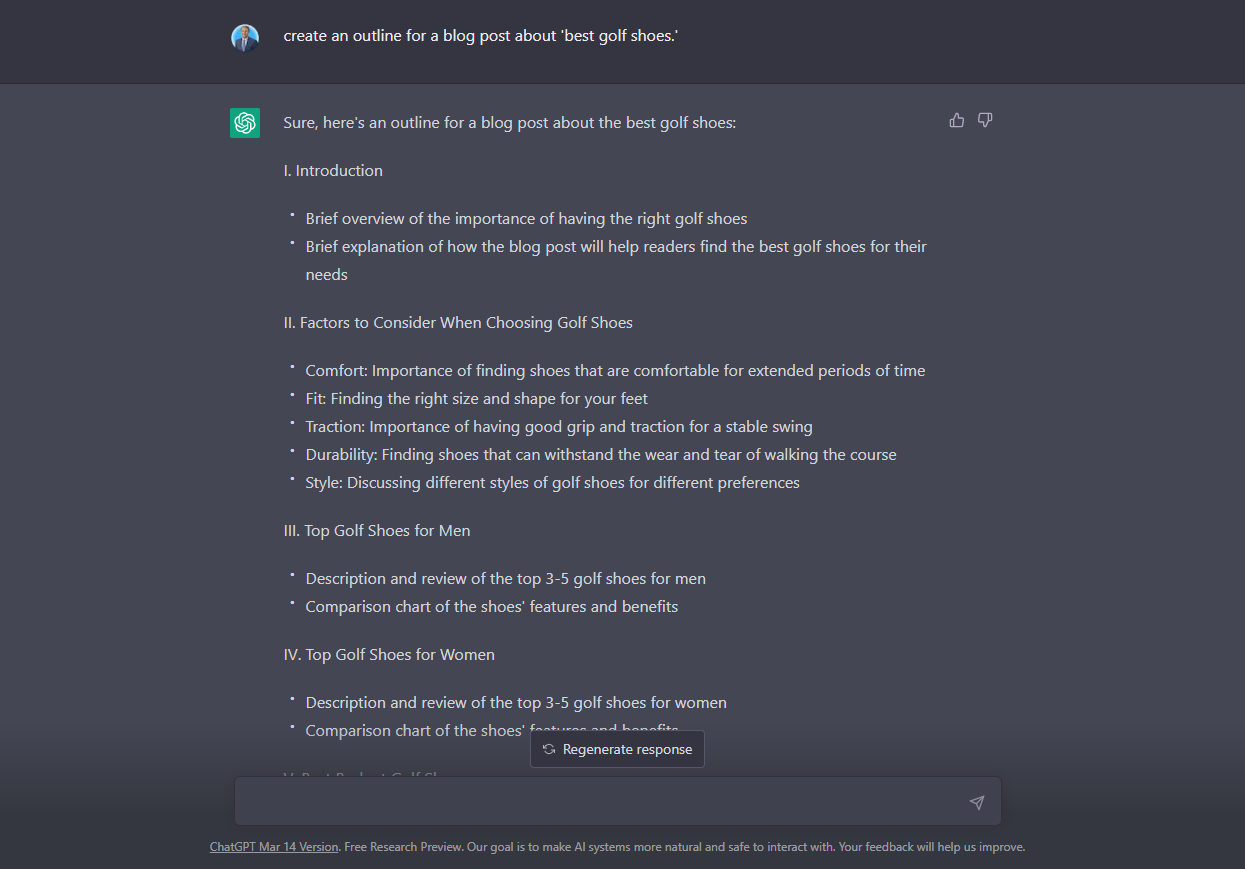 From there, I will look at the structure of all of the top ranking articles in Google and pick and choose which sections are a good fit for the article I am writing. This takes a little bit of time but the structure of your article is super important for SEO, readability, and promoting link clicks on affiliate products.
Write The Article
It's time to actually write the article! But remember, we don't want to become tortured writers. Instead, we want to run our blog like a business and produce great content using freelance writers and the latest and greatest AI writing tools.
For those of you that are late to the game on artificial intelligence, it's time to pay attention. Bill Gates recently said that AI like ChatGPT is the most important innovation right now. It's probably worth listening to Bill Gates when it comes to technology.
Freelance Writers
With that said, let's talk about hiring writers first. At Pursuit of Passive Income, our writers produce the first iteration of each article we publish. This is a business decision based on my personal preference.
I feel that people reading our blog should be reading articles written by humans that have very real experience and opinions to offer, rather than something written by a robot.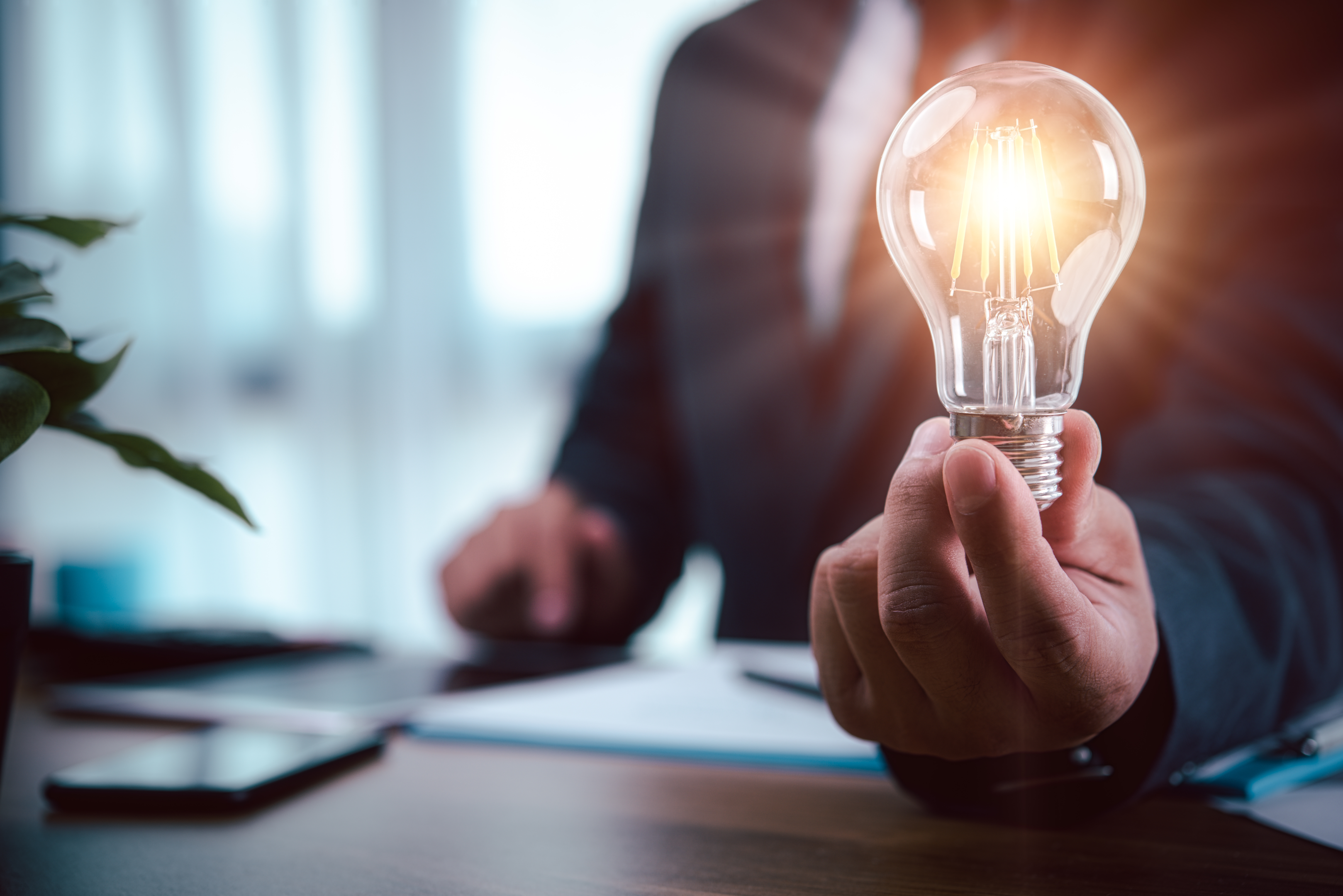 For example, I am personally writing this very article you are reading.
Sure, it would be easier to have one of our writers create this article using a slew of AI tools and software, but I'm the one with real experience starting and running a blogging business, and my entire goal with PPI is to help people like you start your own passive income business.
Long story short, it only feels right that I sit down and write a great article in an effort to help you start a blog and provide as much value as possible.
Of course, there is a balance here. Everyone is better off when we produce more content. This article took me over two months to write. Granted, it is a long article, but if we were only publishing 12 articles a year, we wouldn't be doing our readers much good!
So we have to ramp up our content creation strategy to produce as much valuable content as possible without sacrificing quality. Here is how we do it.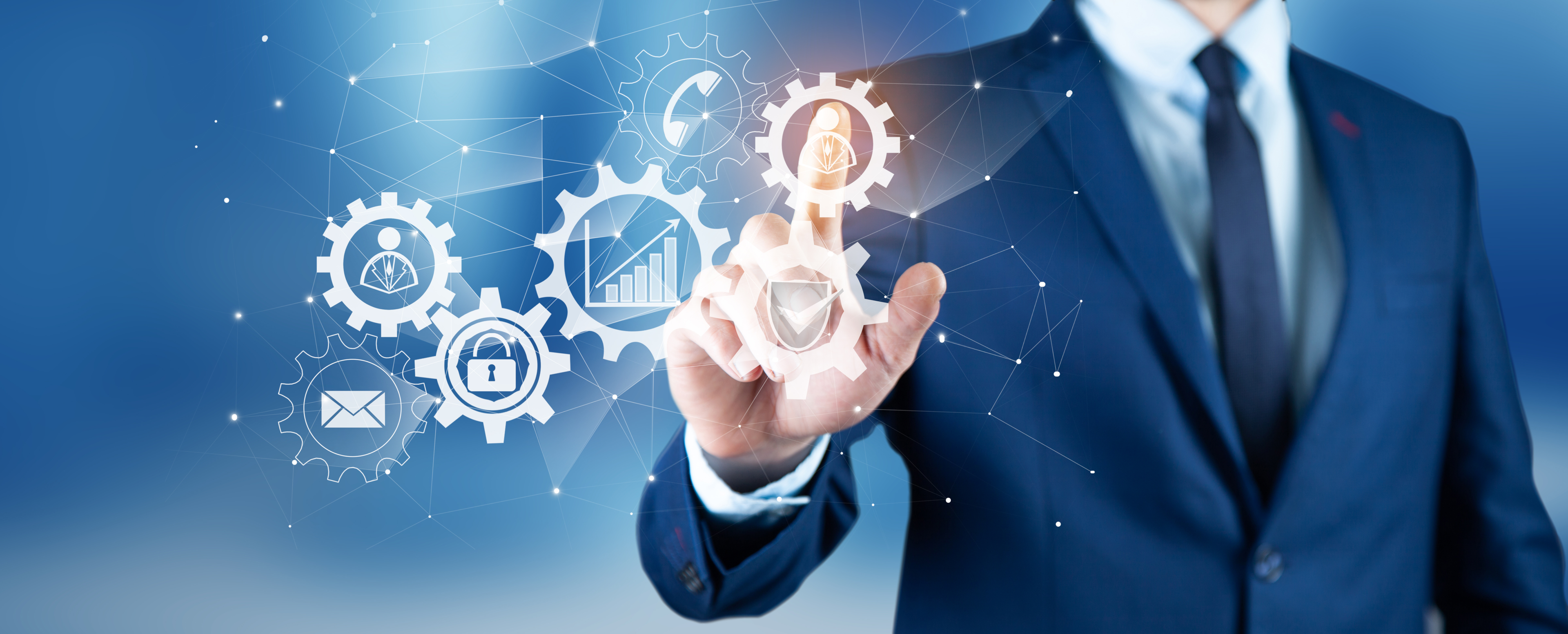 We hire freelance writers with a history of writing about topics we cover, and have them produce articles based on the keyword and content brief we provide. Yes, I do all the keyword research and outline work myself.
The best way to hire great freelance writers for your blog is through the job board provided by Pro Blogger or by visiting other blogs in your niche and contacting the freelance writers that are writing for those sites!
From there, it is up to you to make sure your writers are creating great content. You have no one to blame but yourself if they are sending you poor articles.
Train your writers and spend time working with them to teach them how to improve their writing for your site. This is a big part of being a business owner and you want these writers to be with you for the long term, so make the investment in them from the beginning – you'll be glad you did!
AI Tools & Software
Here's the thing about AI writing tools – they write better articles than a human ever could. Yes, it's easier for a blogger to have artificial intelligence write articles, but it's also better for the readers. The best blog posts are not the ones that are the longest, but rather the ones that provide the most value in a clean and concise manner.
So how do we leverage AI tools to help produce the best article we possibly can?
Related: Best AI Writing Tools To Improve Your Content Creation Process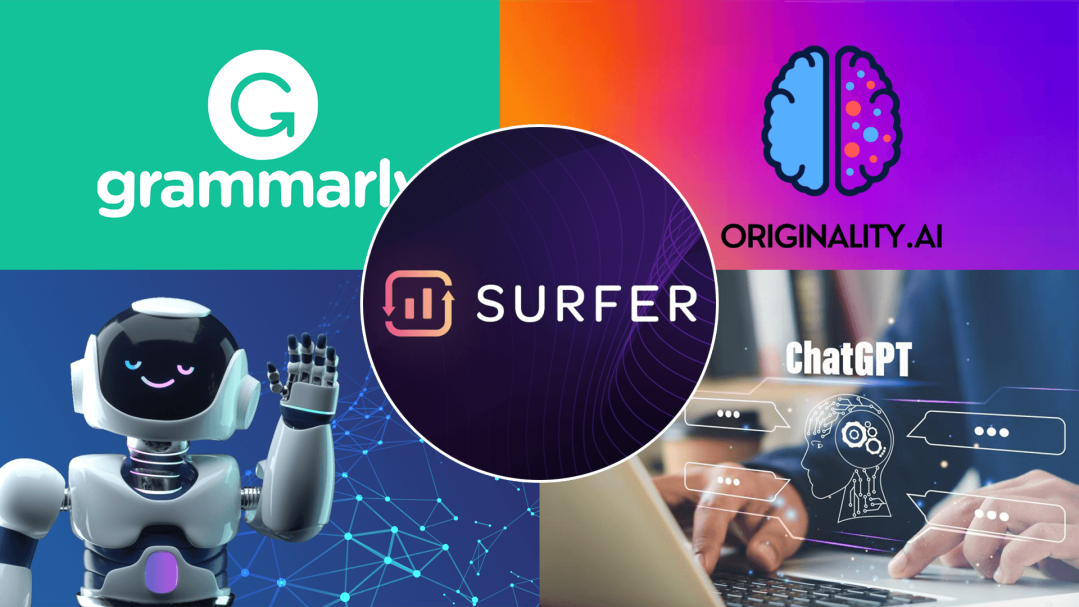 At PPI, we use AI to help create our titles and content briefs, and even use it to help with keyword research. From there, our writers create a first draft of the article. Next, we add to specific sections of the article using Jasper, which writes entire paragraphs at the click of a button.
At this point, we have a pretty good draft of our article. From there, we check for errors, run it through AI detection software, optimize for SEO, and add images, which we will get into down below. But first, here are some high-level considerations for producing your article.
A Few Tips To Improve Your Blog Articles
Here are a couple of suggestions when writing your content.
Always strive to over deliver on value to your readers. Keep the content clear and as concise as possible to offer the solution they are looking for.
We are all visual to a certain extent. Include photos, infographics, and other visual aspects that compliment and help explain your content.
Format your headings correctly with H2 and H3 tags, and use bulleted lists and images to break up long lines of text. No paragraph should be longer than 3-4 sentences.
Understand the search intent of those coming to your site. If your focus keyword is say "How to Grow on TikTok" don't begin the article talking about Instagram. Give them what they want.
Choose a font that is easy on the eyes and don't over-color your website. Simplicity is bliss!
Bullet points and appropriate headers will allow your readers to skim your article for the content that is most useful to them.
Utilize bold and italics to help emphasize important aspects of your article.
Keep in mind that a blog is static in nature but can always be updated and improved over time. Avoid overcomplicating your publishing in the beginning – get the content online, and continue to improve as you go along!
Check For Errors & Plagiarism
Nothing kills an article like errors and plagiarism. If people find errors in your content, your site loses credibility, so much so that your readers are likely to leave your site altogether. Google will penalize you for this, similar to how they reward you if you keep people on your site for longer.
Speaking of Google penalties, your articles need to avoid plagiarism at all costs. We use Grammarly to check and correct any errors or plagiarism within our articles before we publish.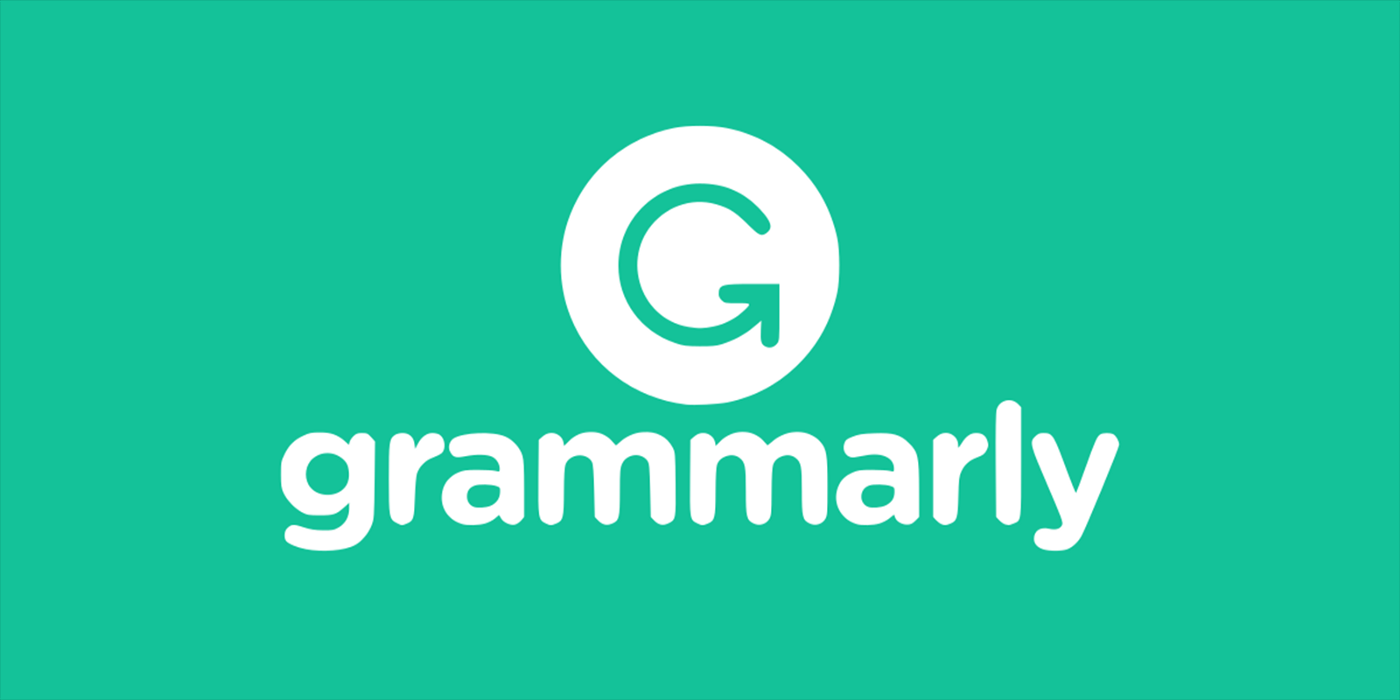 We cannot stress the importance of this enough. Grammarly makes it super easy, and we like to achieve a content score of 98 or higher coupled with less than 2% plagiarism. Grammarly also offers suggestions on things like clarity, engagement and delivery to help improve your writing.
AI Detection
We've talked about using new and improving AI tools to create great content for your blog. But we need to understand that Google and other search engines are cracking down on AI-generated content.
To avoid AI detection, we use Originality.AI to give us a sense of what percentage of our article is considered AI-generated content. We like to shoot for a score of 80% or higher being original content.

To help improve this score when we are failing, we use Jasper's paraphrase tool to rewrite paragraphs without losing quality of writing. Even though Jasper is an AI tool, making small changes here and there can make a big difference in achieving a higher original content score.
Optimize For SEO
Next, we put our article into Surfer, which is another AI software that helps optimize our articles to achieve higher rankings in search engines. Surfer and Ahrefs are the two tools we cannot live without.
My personal opinion is that you can't rank on the top page of Google search results without Surfer, which gives you a SEO score based on a number of key metrics.
It gives you a bunch of semantic keywords and phrases to include in your article, tells you how long the article should be with a word count range, and gives you a sense of how many images you should include.
For instance, if you are writing for the keyword "best ski resorts" Surfer tells you that your article needs to include phrases such as "mountain village," "vertical drop" and "gondola" as well as how many times each phrase should be used.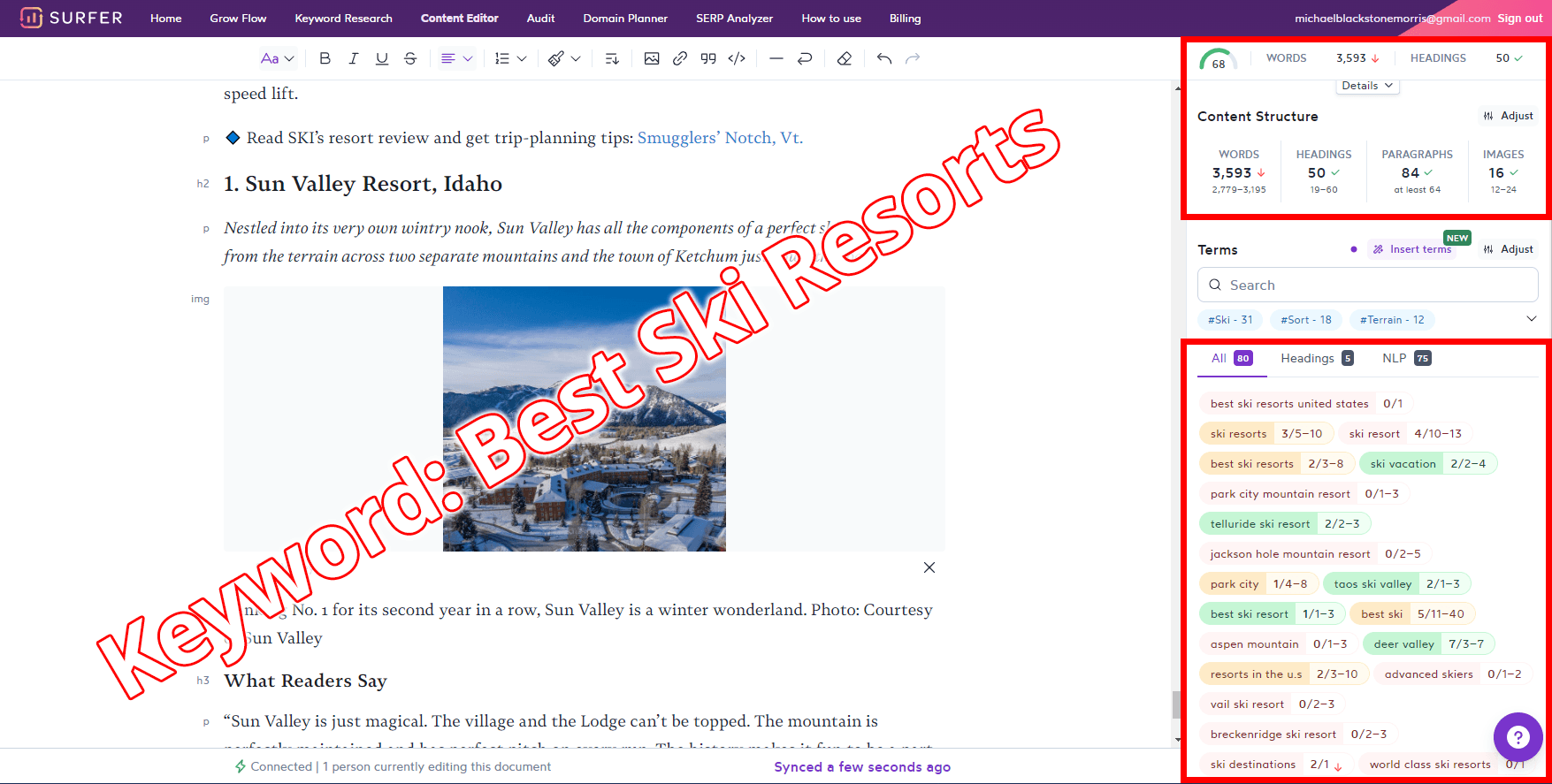 Again, Surfer is absolutely essential for any blogger, and we like our articles to achieve a minimum Surfer score of 90 before we publish.
Include Images
We just talked a little bit about this, but Surfer will give you a range of the number of images your post should include. You can take your own pictures, use screenshots of relevant pages, or utilize various free and paid stock footage collections to add great images to your articles.
Here are our favorite free stock images options:
Here are our favorite paid stock images collections:
There is no need to overcrowd your content with images, but make sure to add them where they provide value and enhance your articles.
Publish The Article
Finally, it's time to publish the article on your site! Note that this process is easier than we've made it seem, and as you continue to produce content for your blog, it will only get easier and eventually becomes second nature.
To publish the article, simply click "Add New Post" inside your WordPress dashboard, copy and paste the post into the editor, chose your URL slug (which should be your keyword), write a short meta description, and hit Publish!

Best Content Creation Tools
We covered a number of content creation and other writing tools throughout this section, so let's give you a quick recap on which tools we use to produce content for Pursuit of Passive Income.
Of course, you don't need all of these tools when you are just starting your blog, but my personal opinion is you can't be a blogger without Ahrefs & Surfer. Grammarly is free so you'll want to sign up for that as well, and from there we recommend investing in Jasper & Originality.AI when you are able.
Here is some more background on each of the tools we use to create articles for PPI.
Ahrefs. Ahrefs is a SEO software suite that is the best tool to evaluate the health & performance of your blog. It helps analyze all the key aspects of your website, to include domain authority, SEO health, link profile, and keyword rankings. It is also imperative for keyword research to grow your blog's traffic.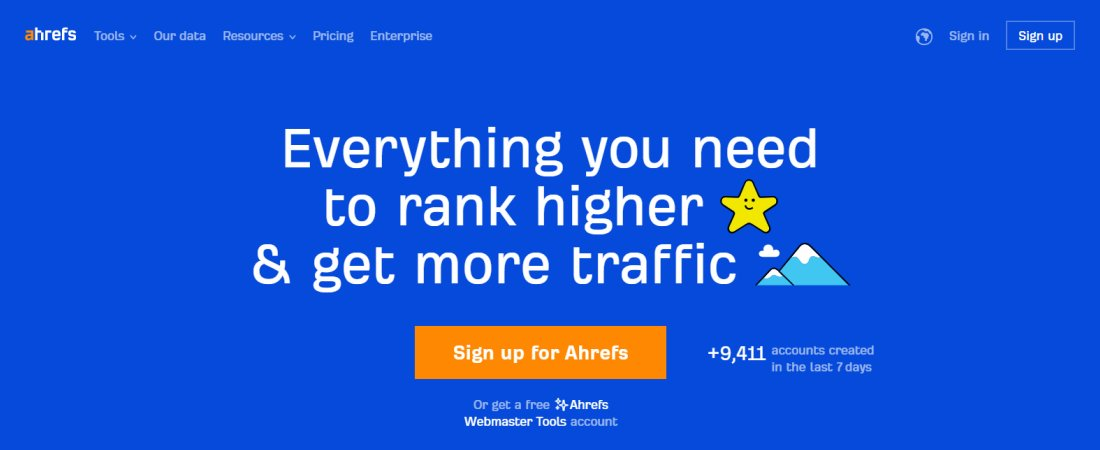 Surfer. Surfer is the other blogging tool we consider essential for new and experienced bloggers. It helps you optimize your articles for search engines. In fact, it's almost impossible to rank on the first page of Google search results for higher difficulty keywords without it.
Grammarly. Grammarly will increase your blog's ability to rank in search results. It corrects spelling and other errors, improves your writing style, and helps you avoid plagiarism with just a few clicks. It's also free, so don't forget to sign up today!

Jasper. Jasper is another AI writing tool that can really speed up your content creation process. It allows you to write entire blog posts and rephrase paragraphs in an effort to avoid AI detection.

Originality.AI. Google and other search engines are cracking down on AI-generated content. Originality.AI let's you scan your articles to ensure you achieve a certain level of originality before you publish.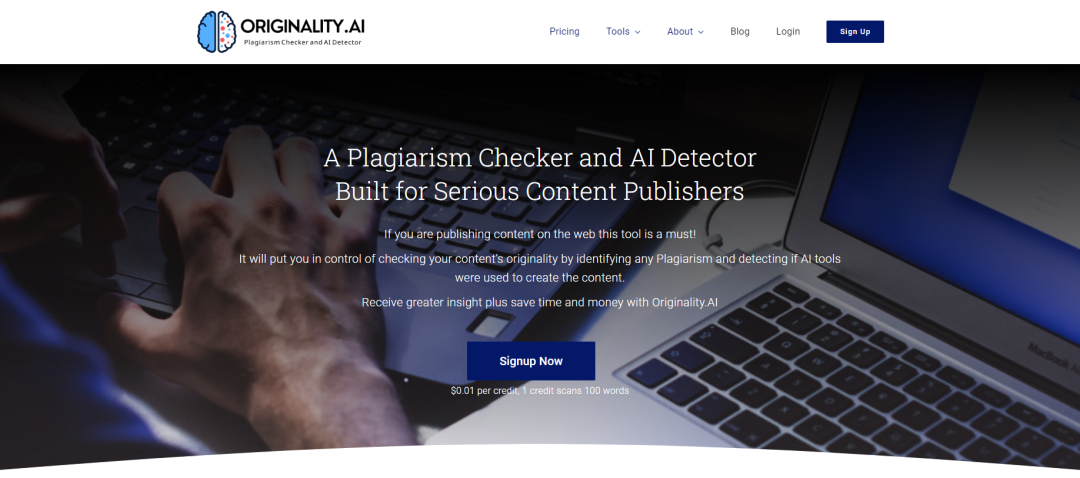 Step 9: Build Authority & Grow Your Audience
Once you've published the first few articles on your site, it is time to start building authority in your niche. Google and other search engines do not trust brand new websites, and therefore won't place your articles in the top positions in search results.
So how do you build this digital trust as a new blogger? We're going to cover the importance of authority online and talk about how to measure your site's trust in the eyes of Google. Then, we will talk about alternative sources of traffic to start making money quickly with a brand new blog that has no authority and no organic traffic.
Why Authority Is Important
Authority is everything when it comes to blogging. The more authority and trust Google places on your blog, the easier it is to rank at the top of search results. Here is why that is important.
The real money is made on the first page of Google search results for high volume & high value keywords. The best way to build a sustainable passive income machine is to rank for high value transactional keywords, drive organic traffic to your articles each and every month, and make commissions on products you recommend through affiliate marketing.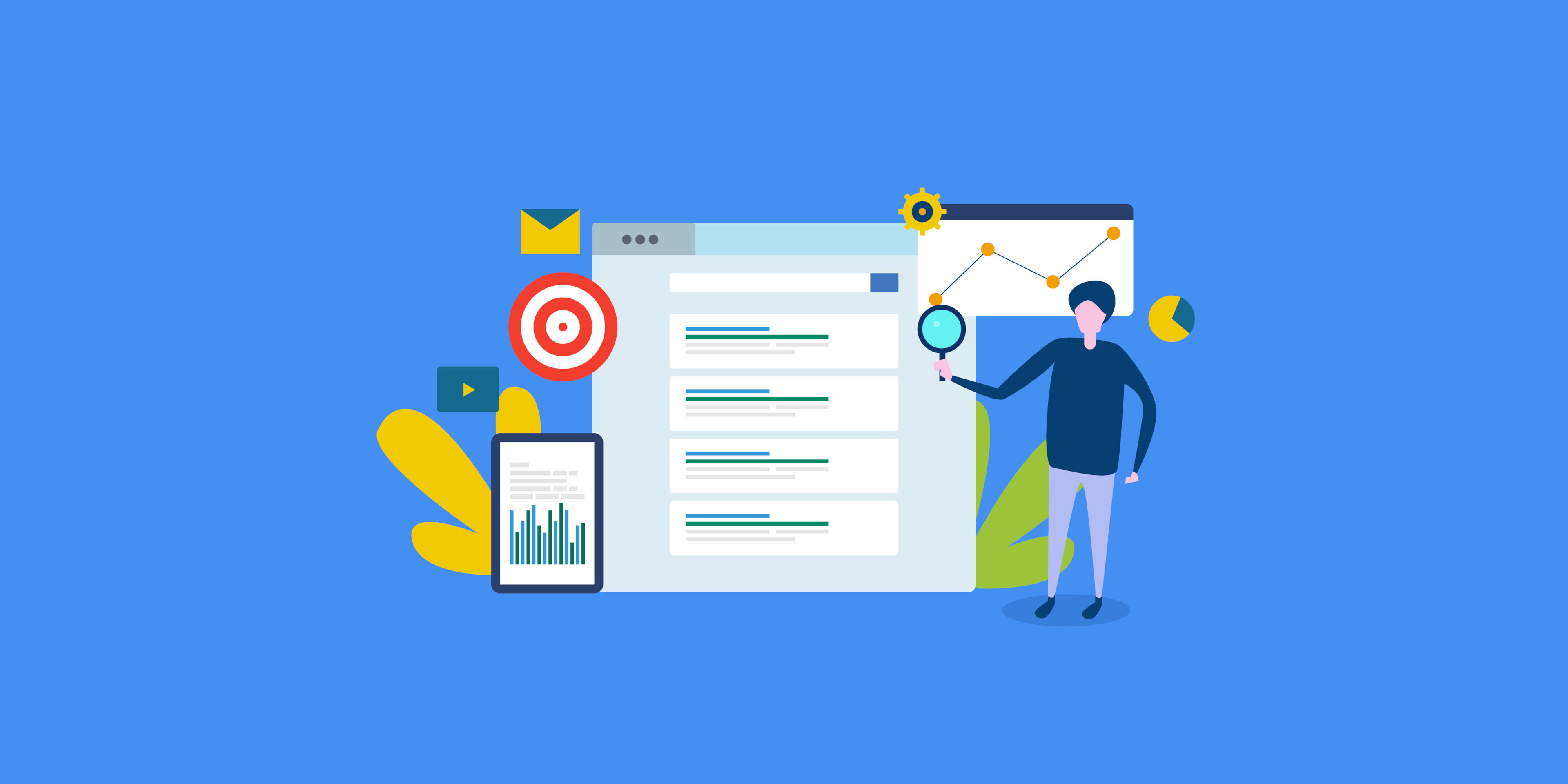 Here is an example to help you understand the value of authority:
Let's say you start a technology blog, and write an article for the keyword "best drones" which has an average traffic potential of 50,000 people per month. As an authoritative site, you rank #1 in the Google search results and therefore drive 30% of that organic search engine traffic back to your site, or 15,000 website visitors.
Of those people on your site, you can expect about 2.5% of them to make a purchase, which is the average conversion rate across ecommerce. This number should really be higher because the keyword "best drones" implies purchase intent, but let's continue with this conservative number.
The average sale price of a drone is around $1,000, which means your article is responsible for $375,000 worth of drones sales each and every month! This has real value to drone companies, who are more than happy to offer commissions on these sales you are responsible for.
Typically, commission rates for tech products hover around 10%, which equates to $37,500 in revenue for your blog each and every month!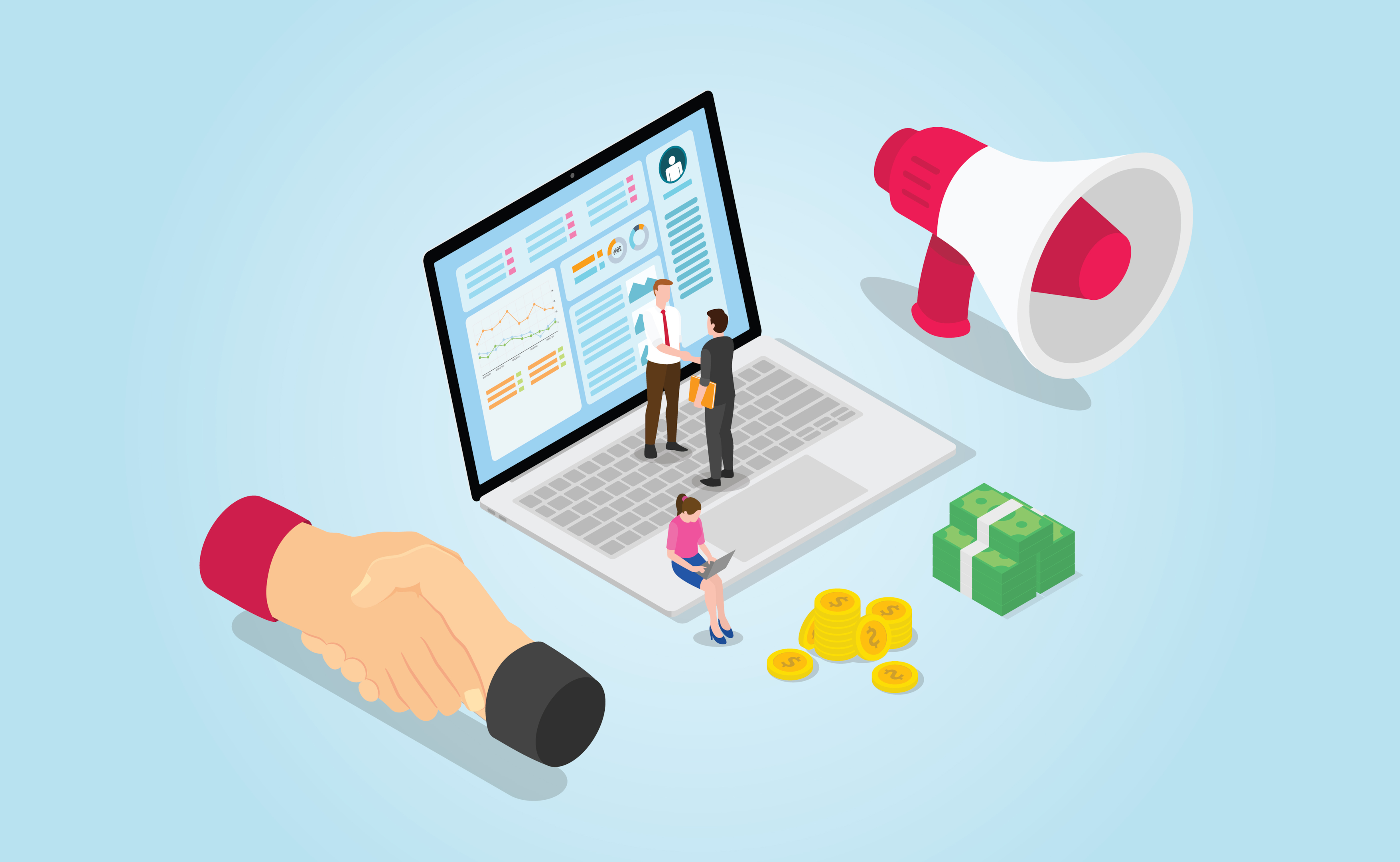 Of course, these high value keywords are competitive, which is why authority is so important. In this example, your blog would be making $37K per month from one single article!
The best part? Once you write the article and consistently rank high in the search results, this income is 100% passive!
Now that we've covered the importance of authority, let's talk about how to increase your digital authority and trust in the eyes of Google and other search engines.
Domain Rating
The domain rating (DR) of your site is a measure of authority from 0-100, which is determined based on the number of high quality backlinks to your site.
To give you a sense of this scale, let's revisit the example we just covered on the keyword "best drones." When we look at the top 10 search results for this keyword in Ahrefs, we see that most of the top articles are written by sites with a DR in the 80s and 90s.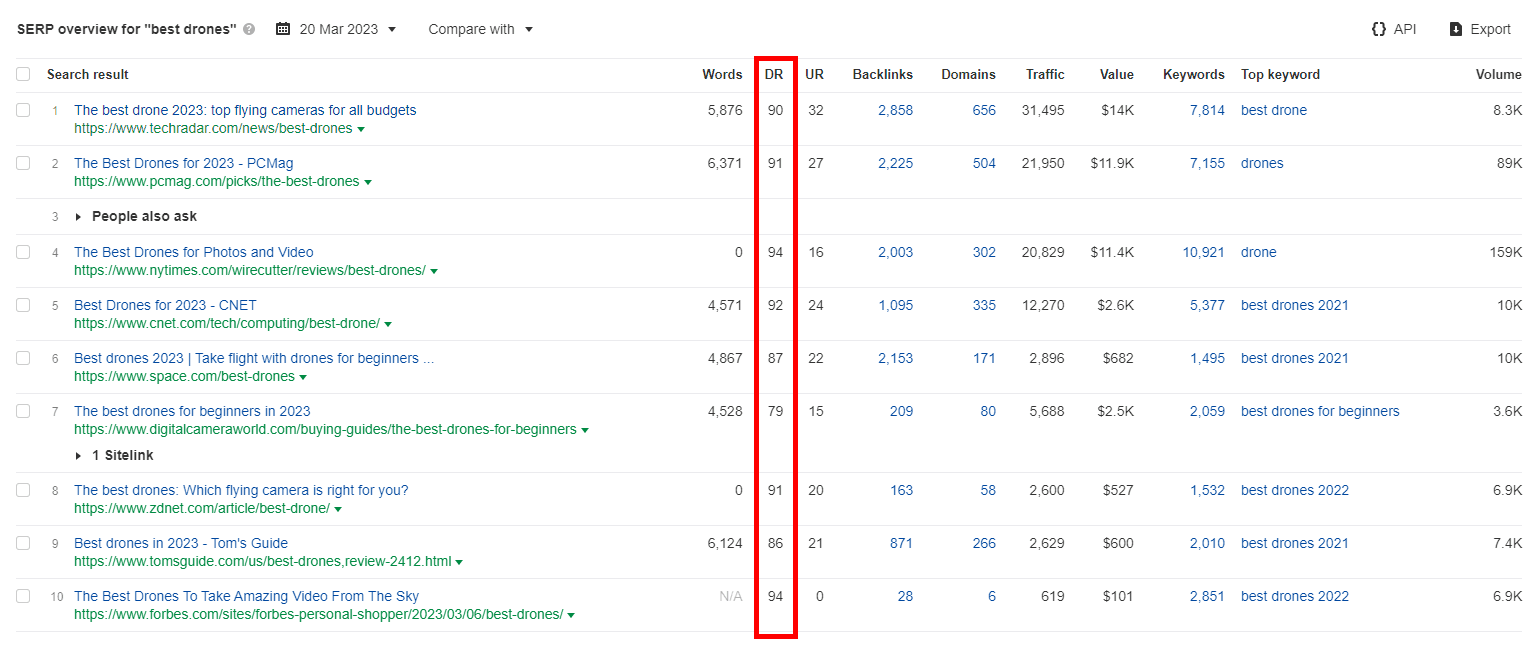 This is to be expected, as we know it is an extremely valuable keyword, and therefore very competitive. So as a new blogger you will want to focus on low competition, high volume keywords to ensure you have a chance of ranking your articles in search engine results.
Then, as you continue to build authority in your niche and increase your domain rating up into the 60s and 70s, you can start ranking for high competition, high value keywords and make serious money blogging.
So let's ask the all-important question – how do you increase your domain rating?
Link Building
The best way to increase the domain rating of your blog is through link building. This is the process of actively reaching out to other high authority websites in an effort to get a link from their site back to yours.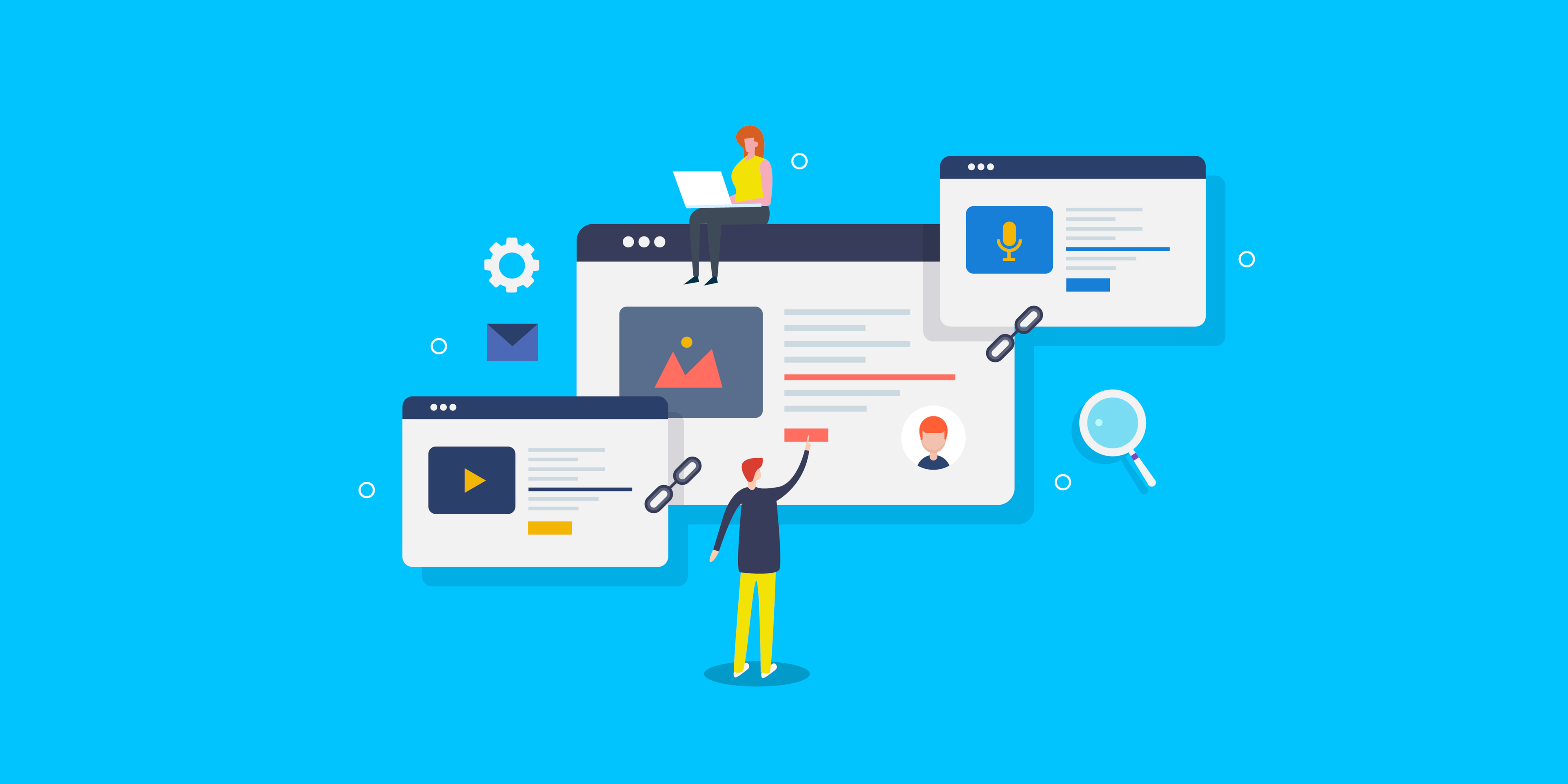 These links are the currency of the internet and carry real value, so the link building process is very nuanced.
We cover this process in more depth in our Beginner Blogger free course, but for now we want you to understand that websites pass authority to other websites which is what makes up the world wide web.
A link from a high authority website like Forbes, which has a DR of 94, is extremely valuable to a website, worth somewhere around $1,000. A link from a DR 80 site might be worth $800, and on down the scale.
Source: Linkbuilder.IO
These links are so valuable because they are the difference between ranking for lower value keywords making $10K per month and ranking for high value terms with articles making $100K per month.
Again, links are the currency of the internet, so make sure to implement a thought-out link building strategy for your blog from day 1 to increase your domain rating and build authority in your niche!
Social Media
Link building takes time and a lot of effort. As new bloggers, you're likely building your business on the side of a full time job, and a little bit of extra income can go a long way, whether to help afford necessities or to invest back into your business.
Social media is a great way to drive free traffic to your website with a little bit of effort. Here are a few social media platforms to consider to increase traffic to your blog:
Pinterest
Instagram
TikTok
Twitter
Facebook
YouTube
LinkedIn
Tumblr
Our advice is to go with what you know. Choose a platform you are familiar with and start creating content similar to other content that is working on that platform.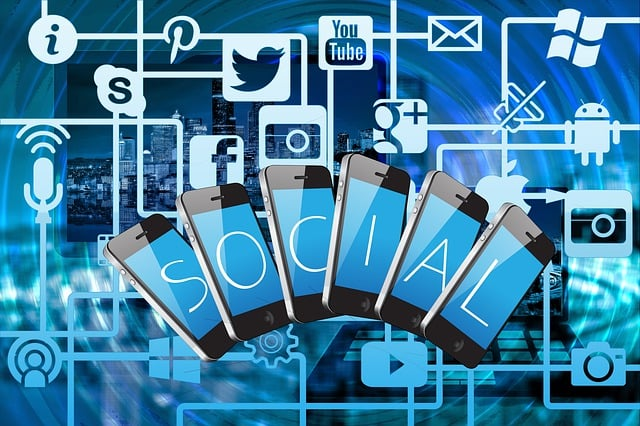 It is important to make your content creation process simple and effective on social media. Avoid spending hours on end designing and posting to a bunch of different platforms, otherwise you will burn out and quit.
Start with one platform and set a schedule you are comfortable with, even if it is only posting 3 times a week! As you get more comfortable with the manageable schedule you've set for yourself, you will find it easier to increase your posting frequency and drive more visitors back to your site.
Paid Advertising
Paid advertising is another option for driving traffic to your new blog, but proceed with caution. Big brands dominate the paid advertising realm with big budgets and advanced strategies.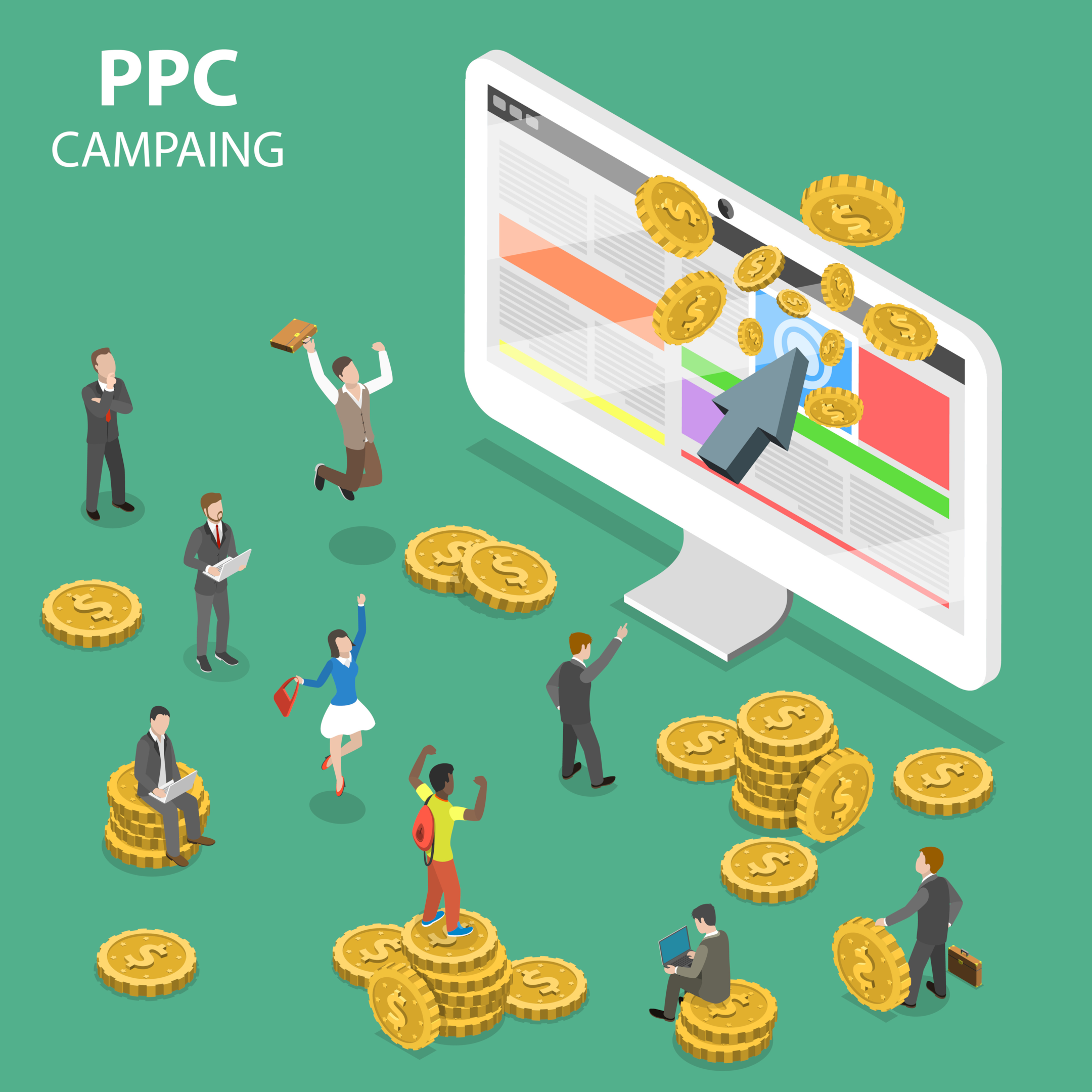 With that said, there are instances where this could make sense.
Product Promotion. For those of you that start a blog to promote your own product, write an article detailing the product, the features and benefits, how to use it, and more. Driving traffic to this article with paid advertising might make sense in an effort to increase the sales of your product.
Affiliate Articles. This can be tricky, but let's say you've written a pillar post for your new blog that has the potential to make you significant affiliate income on the back end. For example, let's say you have an article on the "top 100 artificial intelligence tools to grow your business." If you're able to spend $25 per conversion, and make $50 in affiliate income for each conversion, you have a successful paid ads campaign.
Online Courses. Finally, digital products are generally very profitable and may support paid advertising. If you're selling your online course for $1,000 per student, you can afford to spend $900 on ads per sign up and still have $100 profit. Keep in mind, however, that selling online courses requires an advanced sales funnel. With that said, the results can be huge if you can make it work.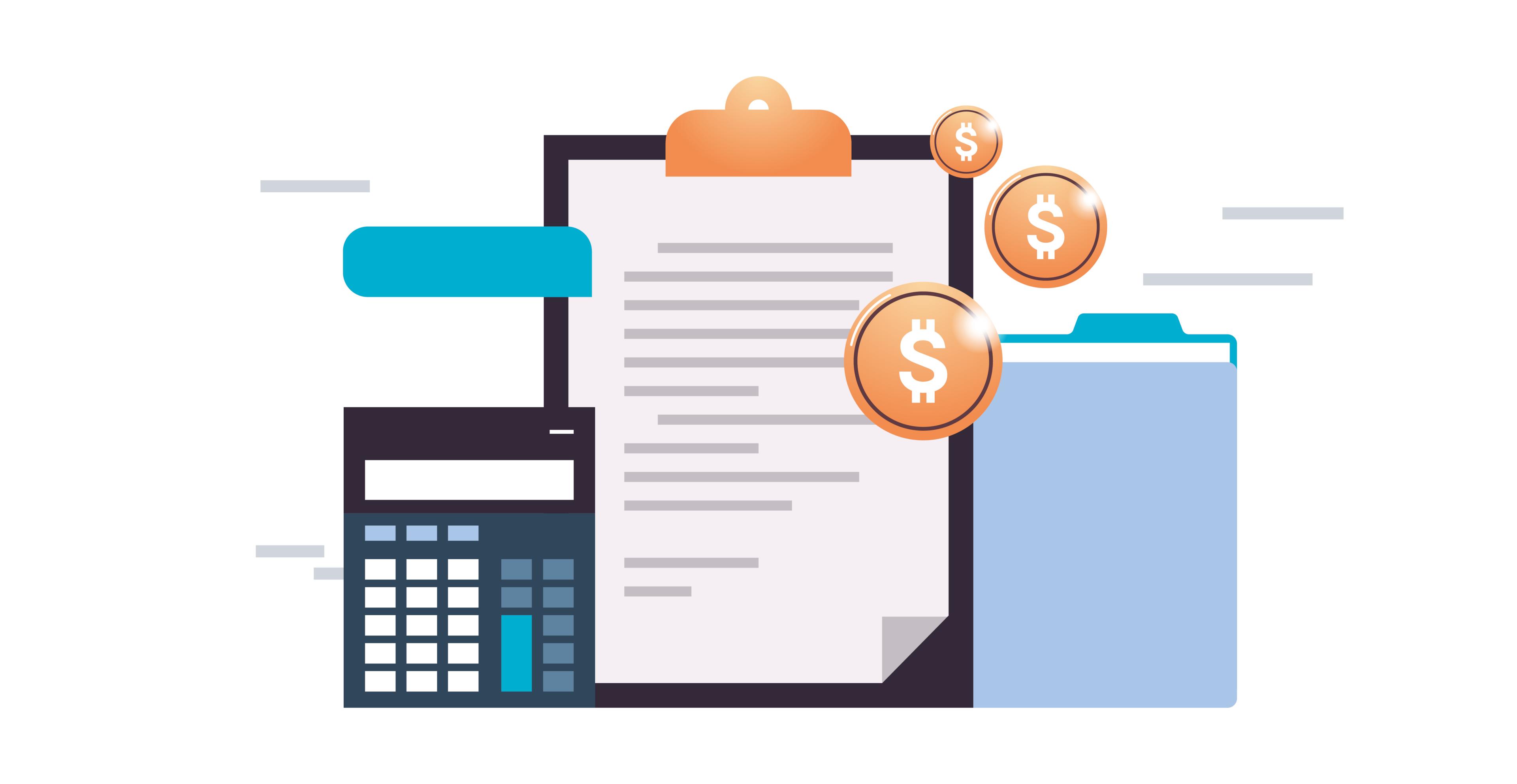 When it comes to paid advertising, make sure to test your strategy relentlessly before increasing your budget. There is plenty of risk to consider when implementing paid ads for your blog, but with this risk comes a big reward if you get it right.
If you can spend $1 on advertising and make $2 back, you will never have to worry about money again!
Step 10: Monetize Your Blog
Finally, it's time to monetize your blog. There are infinite opportunities to make money blogging, but there are a few ways that stand out as the most common, especially for new bloggers.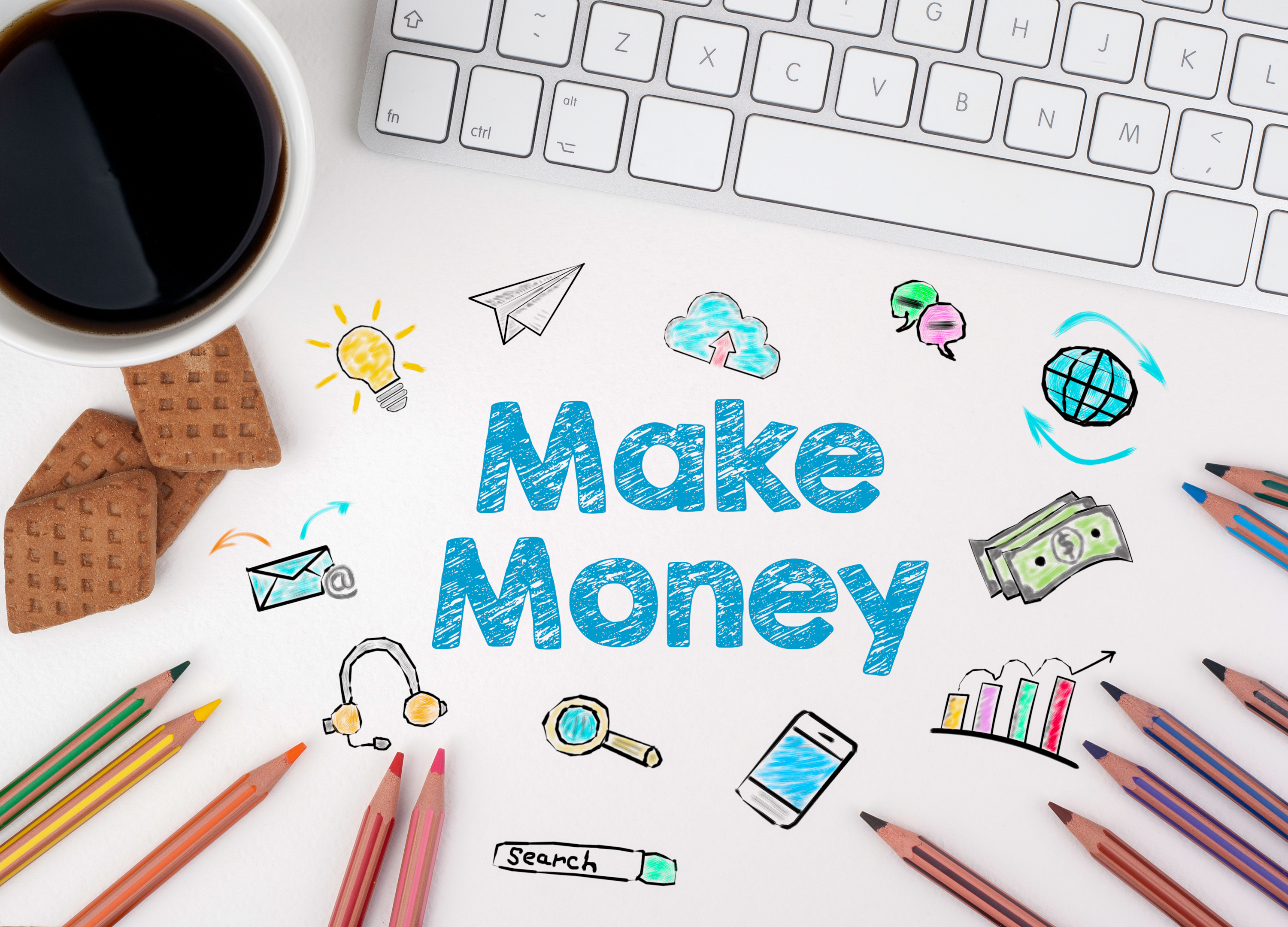 Keep in mind that we have a full article on how to make money blogging, which provides more monetization options and covers each method in more detail, so make sure to check that resource out as well.
Related: How To Make Money With Your Blogging Business
Another important thing to note before we get into our top recommendations for making money with your blog is that once you've built your audience and have an engaged email list, it's fairly easy to automate your blog with a content manager and some freelance writers so you can focus on other business lines such as podcasting, starting a YouTube channel, building other social media influence, and more.
So while we'll cover monetization for your blog, know that the opportunities to build additional streams of income by leveraging your blog's audience is the ultimate goal. With that said, let's talk about the best ways to make money from your blog.
Affiliate Marketing
Affiliate marketing should be your #1 priority when it comes to monetization of your new blog. We've covered this some throughout this article, but affiliate marketing is the process of promoting a company's products or services in exchange for a portion of the sale.
Related: How To Start An Affiliate Marketing Business | A Step By Step Guide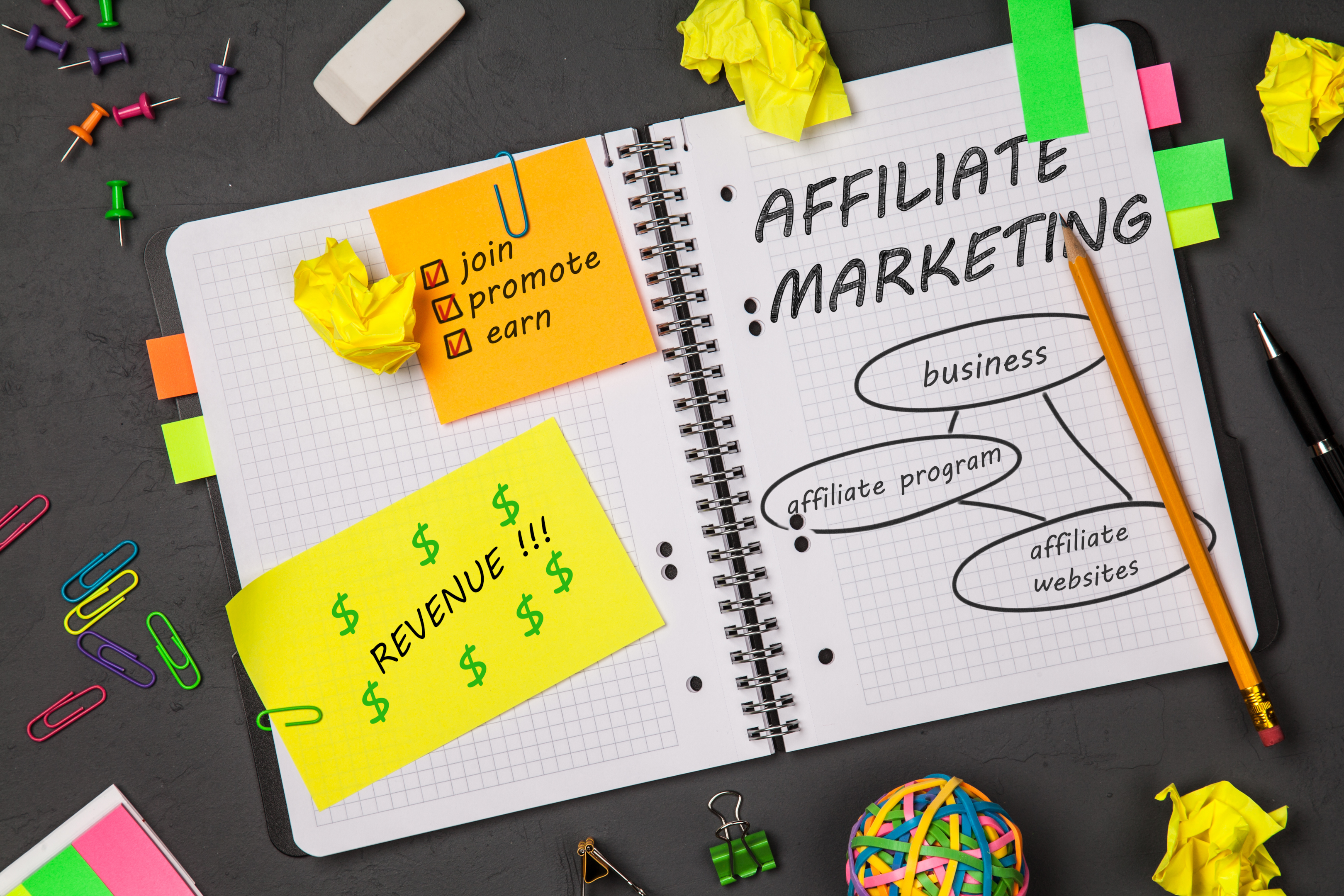 For example, let's say you start a blog in the golf niche and write an article for the keyword "best golf irons" that ranks and reviews the top five sets of irons. Anyone searching for best golf irons has purchase intent – they are actively looking to purchase a set of golf irons.
So when they come to your blog and see you recommend a set of Titleist irons for intermediate golfers, a portion of the people that land on this article will click through your affiliate link and buy the clubs. In exchange for promoting this sale, Titleist is more than happy to attribute this sale to your blog and pay you a commission.
For higher priced products, the commission rates are usually lower, around 10% or so. But consider that the traffic potential for the search term "best golf irons" is over 21K per month. If you can manage to get just half of this traffic to your article, you stand to make around $30,000 each month on autopilot from this one single article on your blog!

Here's the math. Half of the 21K people searching for best golf irons click through to your article. Of those 10,500 website visitors, we use an average conversion rate of 2% to estimate that 210 people will ultimately make a purchase of a $1,500 set of golf irons. Take 10% of the $315,000 in sales attributed to your blog, and you've earned $31,500 in affiliate income for your blog!
The best part? Once you're able to rank your affiliate articles on the first page of Google search results for keywords with high purchase intent, these sales will continue to come in month after month without much effort at all on your part, other than a few updates here and there as new clubs are released.
Affiliate marketing income is completely passive once you write and rank your article. Of course, this example covers one single article on your blog. Each article is its own mini-business. Once you have one profitable article, you move on to the next and keep building your catalog of income-generating content!
Advertising
Placing advertisements throughout your content is a popular way to monetize your blog's traffic. There are a couple of ways to make money with advertising, to include Google AdSense, sponsored content, and ad networks.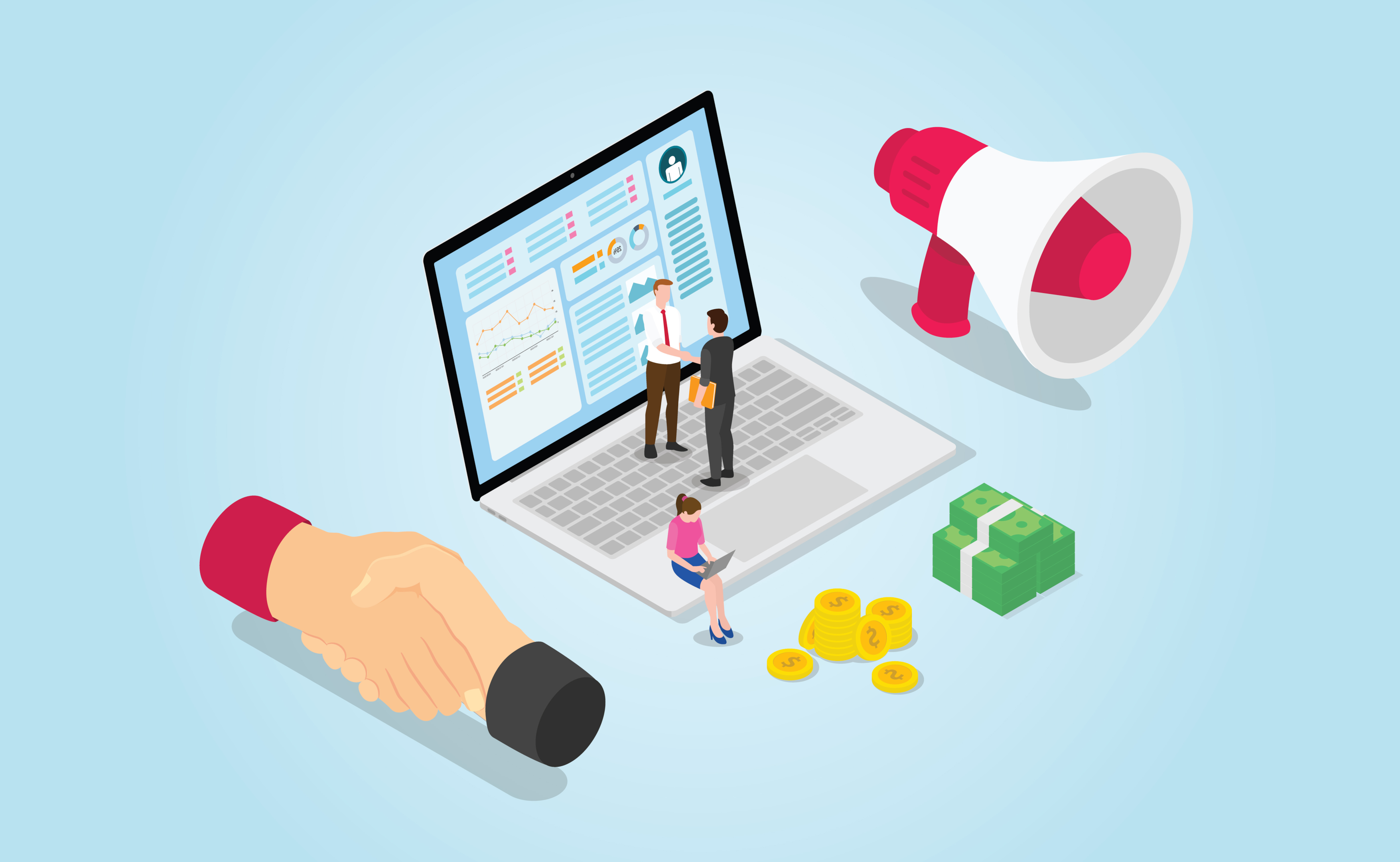 Google AdSense is a platform to connect websites with advertisers to display ads on your site. Simply connect your site with Google Adsense and they will match advertisements with your content, and pay you a share of that ad revenue when visitors click on the ads.
Sponsored content is when a company pays you directly to promote their product or service. This might be in the form of a dedicated article on your site, or they might pay you to increase their position in a review post.
For instance, say you have a set of TaylorMade golf irons in the third position as part of your "best golf irons" article. TaylorMade stands to make more sales if they are moved up to the #1 recommendation, so they might reach out and offer to pay you a flat fee each month to remain in the top spot.
Finally, ad networks offer a similar service to Google AdSense, but with better payouts and increased customization. The best ad networks typically require you achieve 10K-15K website visitors per month, and will set everything up for you to the point where you click a button to turn ads on or off for each article and page on your site.

We recommend skipping Google AdSense at the beginning and signing up with a good ad network such as Mediavine or AdThrive once you've built your traffic to 10K+ monthly visitors.
It's important to consider the user experience when placing ads on your blog, as too many ads or poorly placed ads can turn off readers and hurt your traffic. Additionally, it's important to disclose any sponsored content or affiliate links to comply with FTC regulations and maintain transparency with your audience.
Online Courses
Monetizing a blog with online courses is another highly effective way to earn income from your blog. Online courses provide value to your readers by offering in-depth knowledge on a particular subject, and they allow you to generate revenue from your expertise and experience.
The key to success is to create online courses that address the needs and interests of your audience. Consider conducting market research and analyzing the traffic and engagement on your blog to determine the topics that would be of most interest to your readers.
Related: Join Beginner Blogger | Free Course On How To Start A Profitable Blog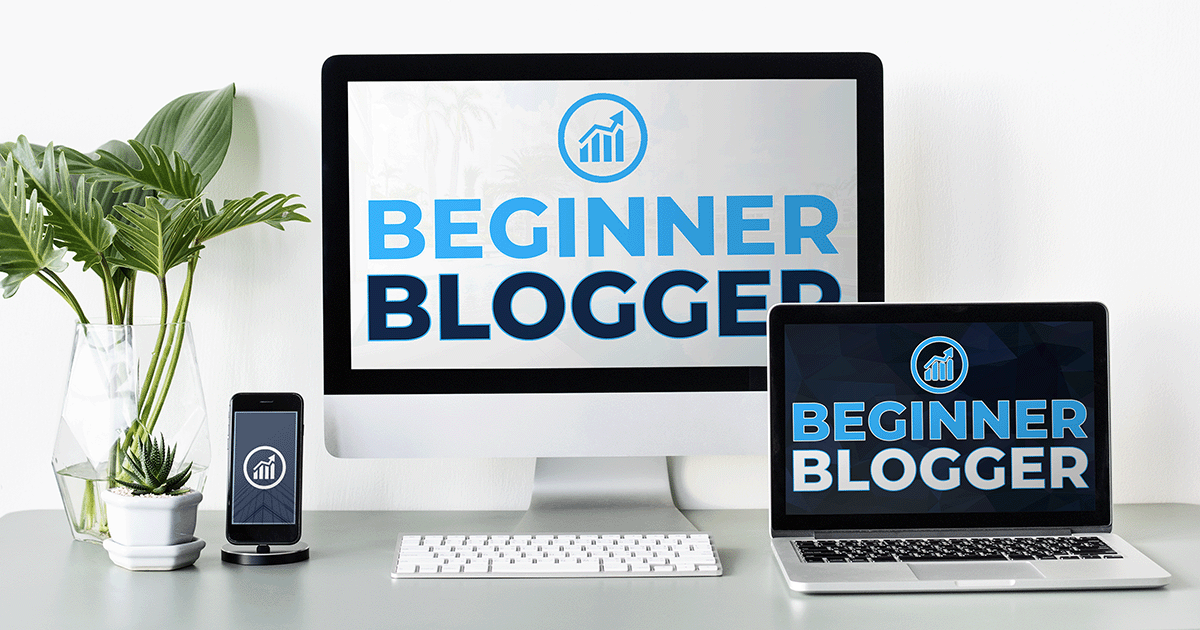 From there, you can develop course materials and determine the appropriate pricing strategy. Additionally, consider offering promotional discounts to incentivize early sign-ups or encourage repeat business.
To further maximize the potential revenue from your online courses, consider collaborating on content or co-hosting webinars or podcasts to increase exposure and establish credibility in your field. By leveraging these strategies, you can turn your blog into a thriving online course business that provides value to your readers and generates revenue for you.
Books & Ebooks
Books and eBooks are great products to offer to your audience and an effective way to turn your blog into a profitable business. Writing a book or eBook can establish your credibility and expertise in your niche, and it provides your readers with a more comprehensive and structured source of information.
Consider analyzing your blog's most popular posts and identifying topics that could be expanded into a full-length book or eBook. This could be a how-to guide, a collection of essays, or a deep dive into a particular topic.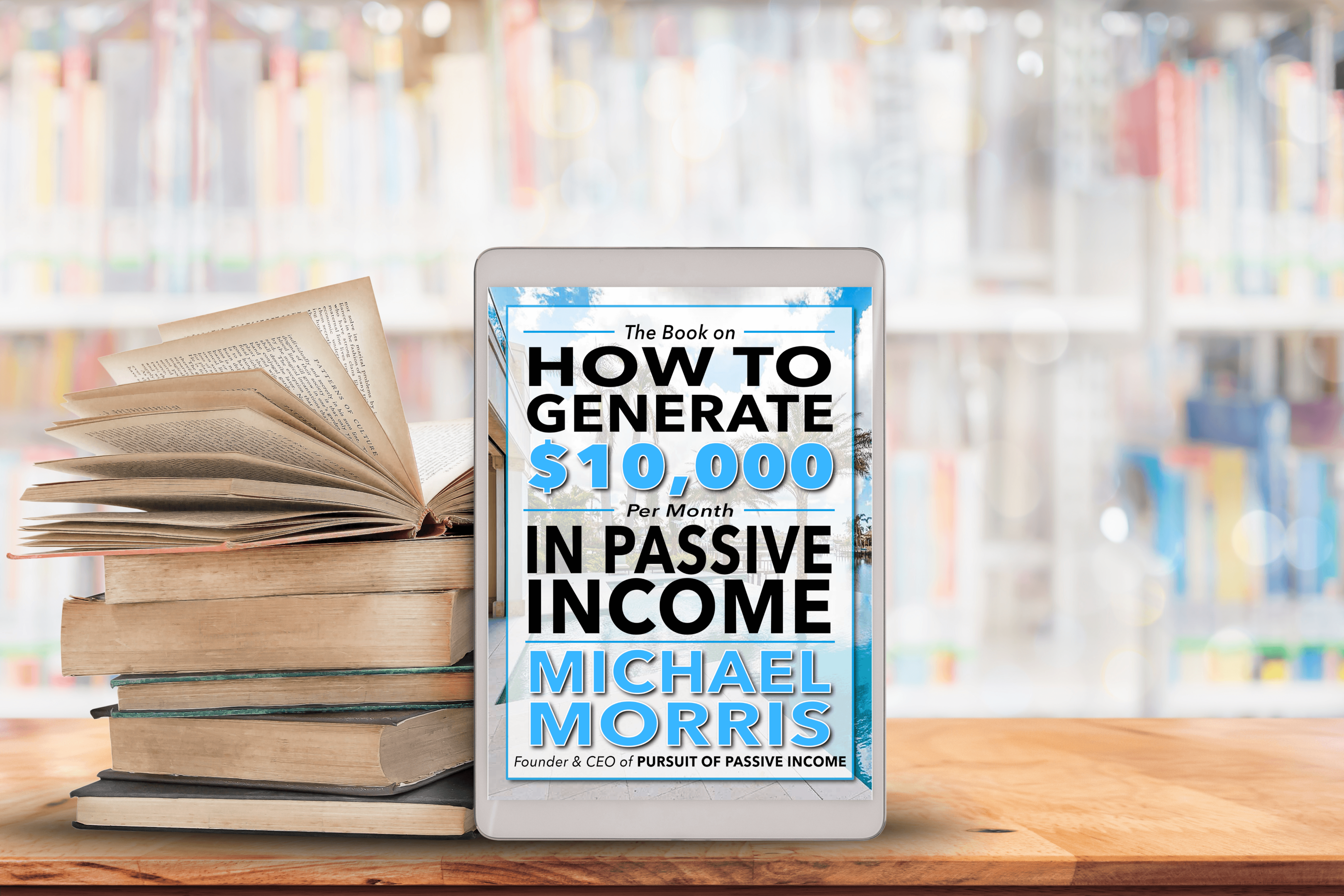 To successfully monetize your books and eBooks, you will need to develop a marketing strategy that includes promotion, pricing, and distribution. Consider leveraging your blog's existing audience by promoting your books and eBooks in your blog posts and on your website.
When it comes to pricing, consider conducting market research and analyzing the pricing strategies of similar books or eBooks. Finally, consider self-publishing your books and eBooks to maximize your profits and control over the distribution process.
Consulting
Consulting is a great way for your blog to earn income from the very beginning.
By providing consulting services, you can help your readers solve problems or achieve their goals and earn income in the process. To get started, consider identifying the most common problems or challenges your readers face and the areas in which you have the most expertise.
Another angle to consider is working with other bloggers to help them grow. After all, you will be working on growing your own blog every day, so why not offer a service you are already doing to other bloggers that are in a similar position as you.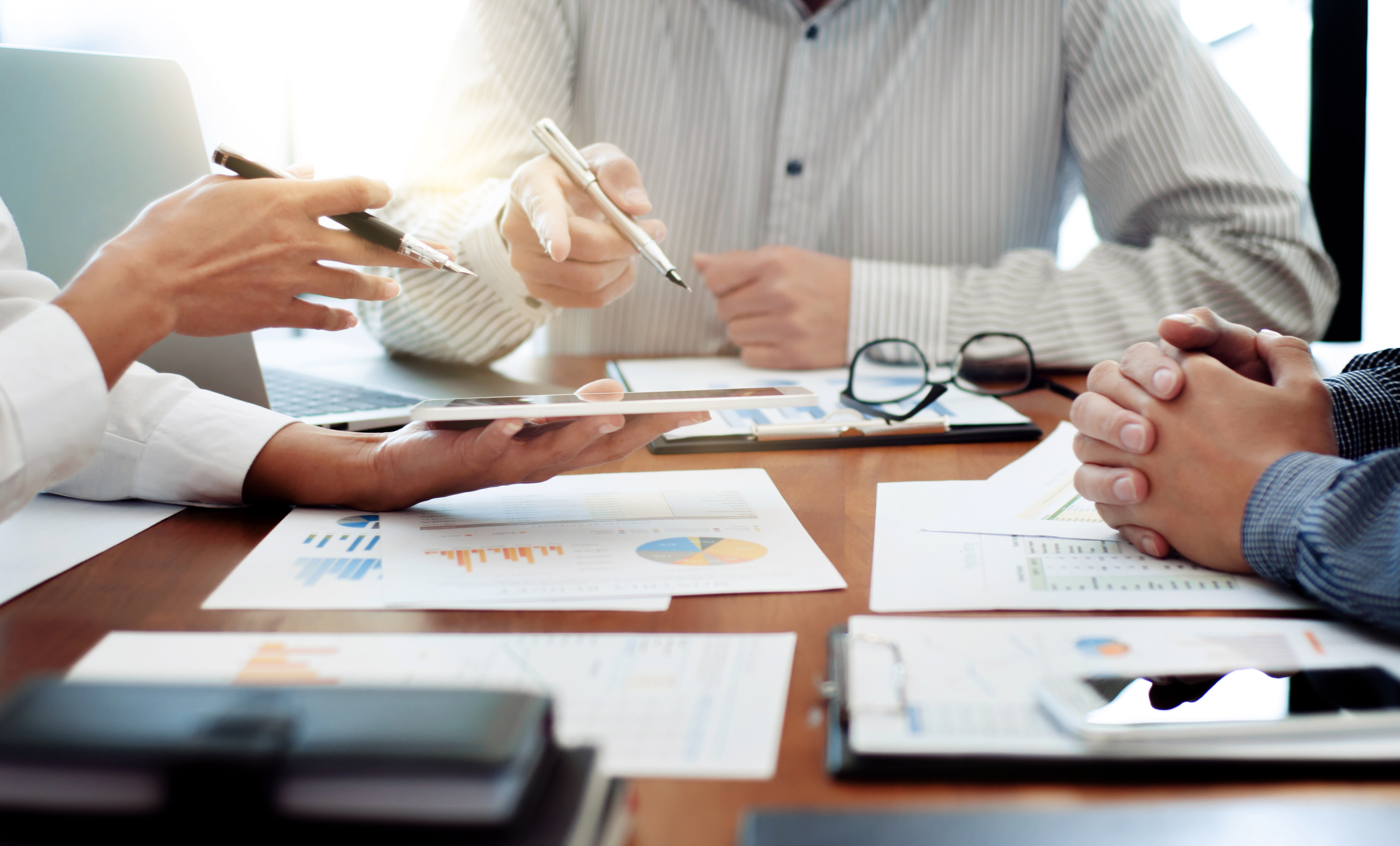 To successfully monetize your blog with consulting, you will need to establish your credibility and expertise. Consider using your blog to showcase your knowledge and experience by providing valuable content and directing people to your "Work With Us" page.
Leverage your existing network and reach out to potential clients through email, social media, or targeted advertising. Finally, consider offering free consultations or trial sessions to attract new clients and build relationships.
By providing high-quality consulting services and establishing yourself as an authority in your niche, you can turn your blog into a successful consulting business that helps your readers achieve their goals while earning income for yourself.
Final Thoughts: Start A Profitable Blogging Business
I'm hopeful that a takeaway from this article is that starting a blog is fairly easy.
We were able to set up Pursuit of Passive Income in about a week while working on it in our spare time. That includes the Home & About pages as well as our first 5 posts to fill out our site.
From there, we recommend putting systems in place for generating additional content, while you focus on promoting your new blog!
So to recap, the 10 simple steps to starting a profitable blog are:
Get Web Hosting
Pick A Niche
Acquire A Domain Name
Install WordPress
Choose A Theme For Your Blog
Install WordPress Plugins
Set Up Your Email List
Create & Assemble Content
Build Authority & Grow Your Audience
Monetize Your Blog
The best advice we can give any aspiring blogger is to START!
Once you start, you'll learn along the way and eventually figure it out. If you've made it to this point of the article, you're likely ahead of the pack as you've committed yourself to learning how to start your own blog.
So again, while starting can be daunting it is the only available option to you! Take action and learn as you go!
We wish you nothing but success and are here to help in any way that we can.
For you action takers out there that are ready to start your journey towards becoming a successful blogger, get started with Bluehost and begin your blogging journey.

There is no sustainable business that was built in a month or two. Once you start thinking in terms of years and even decades, and commit to making minor improvements every day to improve your life, the next thing you know you will wake up with a profitable lifestyle business!
Again, starting a blog is our #1 recommended business model for those looking to start a passive income business online, so take control of your life, achieve financial freedom, and create a life you love!
Here are some of the additional resources we mention throughout this article to help set up your blogging business for success.
Best Blogging Tools & Software
Below is our full list of tools and software to help you grow as a new or experienced blogger.
Related: Best Blogging Tools For More Traffic & Revenue
Bluehost. Web hosting is the first step to getting your blog up and running. You are not online without it! The Choice Plus Web Hosting Plan from Bluehost is the best option for getting started.

WordPress. WordPress is the content management system trusted by the majority of websites that exist online. Bluehost offers a FREE one-click install of WordPress once you get set up with their web hosting.

WP Rocket. Maximize your site's performance with WP Rocket. Google rewards increased site speed and penalizes slow load times. Make sure you are on the right side of that equation with WP Rocket which will run you just $59 annually.

ConvertKit. The power is in the list! You should be collecting emails for your blog from Day 1. At PPI, we use and love ConvertKit, which is commonly referred to as the best email provider for bloggers. It's also FREE up to 300 subscribers!

Surfer SEO. This tool gives you the best chance to rank your articles in the top positions of Google search results. If your strategy is to drive organic traffic from Google, which is the best strategy for a passive income blogging business, you must have Surfer SEO, which will cost you $49 per month but is well worth it!
Related: Surfer SEO Review | Features, Benefits & Pricing

Ahrefs. You aren't a serious blogger without Ahrefs. It is the best keyword research tool on the market and provides many other functions that are absolutely essential for growing the authority and traffic of your blog. It is a little pricey at $99 per month, so consider purchasing it for a month and completing all your keyword research or split the cost with a fellow blogger!

Take advantage of these tools to grow your audience and monetize your new online business!