More people work from home than ever before. The Covid Pandemic reshaped the way we as humans operate as a workforce. The 'Great Resignation' turned the relationship between employer and employee upside down, putting the employee in a position of power.
At the same time, the work from home lifestyle offered by a remote job became comfortable and appealing to a significant portion of the workforce, and for good reason.
Who wants to wake up to the realization that they have limited time to quickly jump in the shower, grab a cup of coffee, and make their 30 minute commute to work, the average for American workers.
When you get there, you're on company time, meaning anybody can come up to you at any minute and interrupt your work to drop a new task on you or otherwise distract you from what you were doing.
If you're anything like me, you want out of this type of daily routine and environment, which is one of the reasons I started Pursuit of Passive Income. I now work from the comfort of my home and if I'm having an in-person meeting, it's because I want to be there.
I generally don't like Zoom (don't get me started on FaceTime), so most of my business is conducted via email, phone calls, and text.
For me, starting a blog provides an income, and more importantly, a lifestyle I'm happy with. But let's go through the full list of ways to make money online so you can earn a living from the comfort of your home!
How To Make Money Online For Beginners?
Disclosure: PPI is reader-supported and may receive commissions when you click through the affiliate links (that are great products we use and stand by). This site is not intended to provide financial advice and is for entertainment only. You can read our affiliate disclosure in our privacy policy.
I started Pursuit of Passive Income to help people unlock their financial freedom and create a life they love. For a lot of people, the ability to work from anywhere is part of their ideal lifestyle.
So let's review our full list of ways to make money with nothing other than an internet connection, so you can take control and create a routine that fits in with everyday life.
1. Start A Blog
We preach starting a blog throughout our content at Pursuit of Passive Income as our #1 recommended business model to make money online, and for good reason. Blogs make money from sponsored posts, ad revenue, newsletters, affiliate marketing, course sales and so much more!
For a business that has so many avenues to earn money online, the startup costs are minimal. We provide a full list of useful blogging tools, but generally you can get by with web hosting from Bluehost, a free theme from WordPress, a SEO tool called Surfer, and the keyword research tool Ahrefs.
All in, you're looking at about $200 a month to start and operate a business that has the potential to be a lucrative way to make passive income month after month. We know individual bloggers that are making upwards of $500,000 – $1,000,000 per month from their business they started as a side hustle while working their full time job.
To start your own blogging business, check out our full article on How To Start A Profitable Blog in 10 Simple Steps!
2. Affiliate Marketing
Affiliate marketing involves the promotion of a company's products or services through an affiliate link, which tracks each visitor and awards a commission to the referring party in the event a purchase is made.
Affiliate marketing has exploded in popularity due to its simplicity as a business model. All you are responsible for as an affiliate marketer is the traffic – getting people to the product page. Then, it is on the company to make the sale, produce the product, handle the shipping, and take care of any ongoing customer service.
For certain products like software and tools that use a subscription model, an affiliate can expect to make a monthly recurring commission as long as that customer keeps their subscription. So every time we make an affiliate sale, we are building up reliable source of income that we can count on each month.
Make sure to check out our article on How To Start An Affiliate Marketing Business if you haven't already!
3. Sell An Online Course
Rising tuition costs and a higher demand for freelance services plus the ease of which professionals can create and sell their online courses makes doing so a great way to earn money online.
We actually offer our Beginner Blogger course for free, but if you have a unique skill that is in demand, selling an online course might be a great option to earn some extra cash.
Find a way to package up what you know and offer it to your audience. If you don't have an audience, partner with someone who does! As a general rule, any online course should provide 10X the value of what the course costs, and can be offered for a one-time fee or as a paid membership community.
In other words, if your student can take your information and make $10,000 in the months after going through your course, your price should be in the $1,000 range.
4. Start A Dropshipping Business
A dropshipping business can be a great way to make money online for beginners as long as you have a reasonable expectation for the profit margin and an understanding of what it takes to be successful.
This is a high volume, low profit margin business model, and while there are many successful dropshipping businesses out there, just know that you will have to churn through some product to make thousands of dollars a month with your online store.
If I was starting a dropshipping business today, I would start an online store around a product with some virality to it and post about it daily on TikTok for organic reach and traffic. Free advertising will help your profit margins and if you stick to a strict posting schedule your account could very well blow up and become a reliable method of making money online.
Check out dropshipping websites like The Peach Lift and Slushy Cup for inspiration!
5. Become A Freelance Writer
Freelance writers are in high demand in an age where online content can drive significant online money making for both small business and big corporations. Offer to contribute a blog post to help an online publication improve its search engine results and sell more through its affiliate links.
Freelance writing can also help you boost your own online presence as you can link from the websites you write for to your own blog posts, which help them get more traffic and boost your income as well.
So if you can build up a small portfolio of guest articles, you can start to make some extra money doing freelance writing on the side or even as your full time gig!
Bonus Tip: Leverage Powerful AI Writing Tools Like Jasper To Create Optimized Content Quickly And Make More Money Online!
6. Offer Services On Fiverr
If you are unfamiliar with Fiverr, it is an online marketplace to find a variety of digital services for your online business such as logo & graphic design, email marketing assistance, video editing, social media marketing, data entry and more!
If you possess a skill offered on the site or maybe you want to become a virtual assistant, head over and sign up to become a seller to make money online through their platform!
7. Start A YouTube Channel
YouTube is another great way to get paid for offering free content while building a trusting audience. The Google-owned social media platform provides a unique opportunity to make money online if you can build a following of people watching videos of you talking about a certain topic or theme.
Do your market research and choose a niche you're interested in creating video content about. The more views you can achieve on your channel, the more money you will make from Google Adsense, your affiliate links, and digital products that you can sell on the platform.
You want to invest in some camera and audio equipment up front, but from there you simply create content, post it on the platform, build an audience, then figure out how to monetize that audience down the road.
8. Start A Social Media Marketing Agency (SMMA)
There is no longer any doubt that businesses need to establish their presence on social media platforms like Facebook, Instagram, YouTube, TikTok and more. Whether it's a small business focused on their local market or a large clothing company selling products internationally, they need to be on social media.
But most business owners these days don't have the knowledge or the time to set up and manage their own social media accounts, so they are hiring experts on a consulting basis.
For those of you that have grown up with social media, offer this service to local businesses in your area then broaden your reach as you grow into an authority as a social media marketer!
There are plenty of businesses out there willing to pay upwards of $5,000 – $10,000 per month for this service, a great opportunity for you to make money online that is completely passive once you set up your systems and a team behind you.
9. Sell Digital Products
Selling digital products is other potentially lucrative way to make money online for beginners. I know bloggers and social media influencers in the finance industry that create and sell all kinds of guides and templates for things like budgeting, saving money and investing.
They are lower price point, which makes them relatively easy to sell. To get started, head over to Canva to choose from an endless supply of templates and play around with the design until you feel you have something you can sell!
10. Retail Arbitrage
Retail Arbitrage is another great way to make money online and is the process of buying products at discount stores like Marshalls, Ross, Walmart and Target and reselling them at a higher price on Amazon or another online outlet.
Simply download an app like Scoutify 2, scan the products that seem like a good deal or that you find in the clearance section, and if they show as a profitable product, simply buy out the store's inventory and list them on Amazon.
11. Perform Your Current Role Remotely
There's a chance you were already given the opportunity to conduct your current role from home during the pandemic. But if not, or if you've been requested back in the office, simply ask your boss to work from home.
The way working environments are these days, employers are much more amenable to accommodate their employees wants and desires. Of course, if you're granted a trial run, make sure you continue to produce at the same level as you would in the office!
12. Become A Virtual Assistant
You would be surprised at how many people have or need a virtual assistant. I've found this to be especially true for people in their 60s and 70s on the back end of a successful career. They simply don't have the bandwidth to keep up with everything, and offering to help with some everyday tasks is a great way to earn money online.
Think about a husband that plays golf most days and a wife that likes to go on walks and play with her grandchildren. Even offering to help with things like paying the bills or booking their next flight could turn into a long and somewhat lucrative relationship.
13. Self Publish An eBook
New authors are self publishing their books online more than ever. This is a great opportunity for beginners to quickly publish their own book and make money doing so. The most popular method for publishing an eBook is through Amazon with Kindle Direct Publishing (KDP).
Now, almost anyone can write their book in a google document, pretty it up on a template on Canva, and publish it directly to their Amazon KDP account. Learn more about how to publish and sell an eBook.
14. Flip Items From Facebook Marketplace
Most of us are familiar with Facebook Marketplace by now, and if you're in a large enough city you can find some really good deals. Generally, people just want to get rid of their stuff and if you're willing to put in a little extra effort to drive the price, there is money to be made.
15. Participate in Market Research
Taking surveys is a great way to earn extra cash in just a few minutes. While a lot of these sites will pay you in the form of gift cards, sites like Branded Surveys will pass along your earnings in the form of direct deposit or Paypal.
The more online surveys you complete, the higher your status, which will help you achieve greater payouts and additional perks. You may not break the bank by taking surveys, but it's still an online income source that can't be ignored.
16. Online Tutoring
Parents can always use help with their kids, and when it comes to education, they are usually willing to pay the freight. Online tutoring is a great way to get paid for something as simple as jumping on a Zoom with a kid after school.
I've heard about plenty of tutors that teach English to kids that have come from overseas or have parents who aren't native English speakers. This could be an angle worth pursuing.
17. Buy & Sell Domain Names
Finding and/or acquiring a recognizable domain name is more challenging than ever, and it's only going to get worse. A site like GoDaddy allows you to buy and hold a domain in your name and even provides a service to help acquire desirable domain names that are already owned by someone else.
Of course, buying and selling domains is a bit of an art, but it can be a lucrative way to make money online if you know what to look for and how to market what you own on the back end.
18. Offer Consulting
Again, is there a skill you possess that is in demand? Specifically, can you solve a common problem for small business owners? Social media, advertising, design, search engine optimization, data entry, payroll, accounting… these are all services that any business needs to function.
I've done some search engine optimization consulting work since I started Pursuit of Passive Income and it was a great way to supplement my income while I built out a reliable passive income stream. When you're first getting started, anything helps as far as money in the bank, whether it is to reinvest back into your business or fund your next trip to the grocery store.
19. Get Paid To Test Websites & Apps
Similar to online surveys, businesses want feedback on their websites. How is the design and user experience? Some sites like TestingTime will pay you $30-$45 per hour to screen record and provide feedback for websites.
Certain apps will also pay you to test their product, and in some cases you can get paid to play games!
This can add up even in a part time capacity if you're chasing some extra money.
20. Sell Your Unused Gift Cards
I have gift cards laying around everywhere. They are in my desk drawers, hidden away in my wallet, and I even have a whole stash of them in an old headphone case in my car. I don't know where they come from.
At any rate, these unused gift cards do have real money on them and there is a significant market for them! A site like Raise will let you list your gift card at whatever value you place on it, and take a 15% cut when it sells. Not bad if you have a bunch of these cards lying around like I do!
21. Video Editing
We've talked about YouTube and social media already in this article, which hints at the fact that video content is more prevalent that we've ever seen. As any guru, video content trumps an image every time.
As such, the demand for video editing services is at an all time high. Now it can take some time to develop this skill, but if you watch enough YouTube videos or already have some knowledge of how to use Premiere Pro or Final Cut Pro, chances are you could earn some extra money making and editing video content.
Summary: How To Make Money For Beginners in 2022
How do you define a "Good Job?"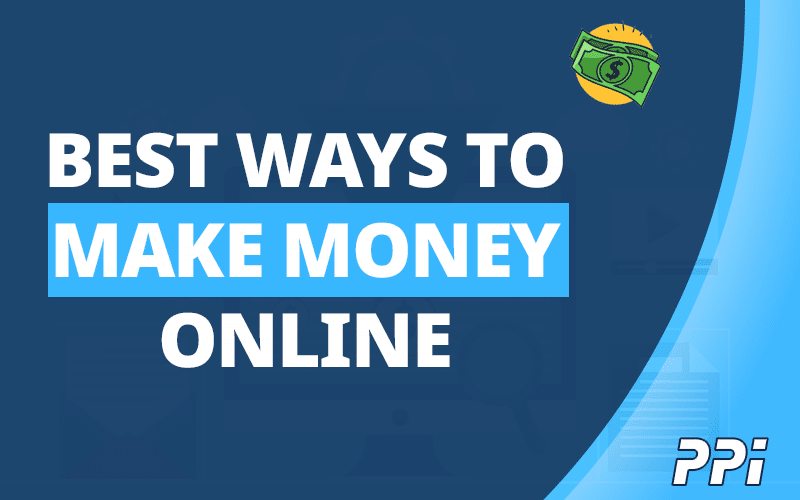 It used to mean a role at a large company that supported a reasonable living for you and your family. But more than ever, people are rejecting the notion that they have to show up to a job and work from 9-5.
We are all searching for fulfillment, and if you made it to the end of this article, you're on the right track! Making money online is easier than ever, and the opportunities are endless!
Certainly, if you're interested in an online business we suggest browsing some of our other content and definitely join our Beginner Blogger free course! The goal of the course is to help you get your online business from Zero to $1,000 then scale it to replace your full-time income. From there, you'll have all the skills you need to 10X your effort and your income so you can unlock your financial freedom and create a life you love!
We all want that freedom, whether we want more time with our families or to work from a beach on the other side of the world. An online business provides that lifestyle, and while we can't cover every single opportunity that exists for making money online, we hope this got your wheels turning and provides some clarity for you on your journey to financial independence.
The best advice we can ever give is to JUST START 🚀
As always, we wish you nothing but success!
Recommended Reading
For those of you that have made it to the end of this article, you're already ahead of everyone else that wasn't able to make it all the way through. To put yourself in the 1% you have to actually take the first step and just start!
We recommend checking out our article on How To Start A Profitable Blogging Business in 10 Simple Steps, which is our most comprehensive guide to help you start your passive income business. Blogging is our #1 recommended business model for aspiring online entrepreneurs, so make sure to check it out and take the first couple steps towards financial freedom and all the benefits that come along with it!