At Pursuit of Passive Income, we strive to help people start their own lifestyle business, which provides a sustainable income & location independence. For a lot of people, they aren't used to being able to move around the world at will, whether they work remotely or have a business that allows them to travel.
Whatever the case may be, you now have the freedom to explore the deepest corners of the world. First of all, take a moment to appreciate how lucky you are to be in the position you are in. Next, let's explore some of the best places for digital nomads to live!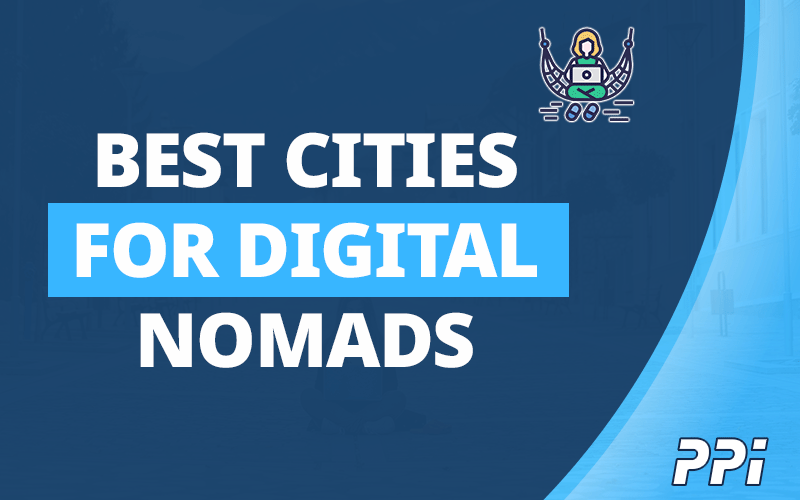 What Is A Digital Nomad?
I did some research to find a definition for digital nomad but found nothing particularly groundbreaking. To me, a digital nomad is anyone that earns an income from activities that do not tie them to any particular location, and has a particular affinity for travel.
Traditionally, it is said that digital nomads need nothing other than a laptop and an internet connection.
I personally believe that a digital nomad is any working person that is financially free & location independent. So take out retirees and trust fund babies, and consider a digital nomad to be anyone that works remotely while traveling the world.
Related: 17 Reasons Dubai Draws Millions Of Vacationers Per Year
Love Your Life: 5 Benefits Of Being A Digital Nomad
For those of you that have already achieved digital nomad status, you understand how great it is to be able to travel around the globe while still earning a consistent income. Let's cover a few of the top benefits of being a digital nomad.
You'll Be More Productive
If nothing else, you'll be where you want to be. Whether you appreciate the beach or the mountains, the ability to wake up and look out the window at something new, beautiful and inspiring will set your mind at ease. This is a great way to start the day and will lead to greater productivity!
You'll Be More Creative
Just as an inspiring start to the day helps with productivity, it will help unlock your creativity. When your mind is free to roam about, when we as humans come up with our most creative thoughts, ideas, and solutions. Plus, as you move around and open your mind up to new experiences and destinations each day, your brain will instinctively adopt a new level of creativity!
You'll Become More Adaptable
This one speaks for itself, but as you venture through life, taking on new challenges and experiences each day, you will become more adaptable and light on your feet. Your ability to problem-solve and succeed in a new environment will help you grow as a person and eventually lead to even more success!
You'll Meet A Lot of People
Digital nomads are naturally attracted to each other. They want to hear from fellow nomads about their life, experiences, troubles, and tribulations. The digital nomad community is a tightly-knit group of like-minded people that generally love incredible food and free WiFi. Many friendships you create and nurture along the way will last a lifetime!
You'll Love Your Life
Most digital nomads have set their lives up this way on purpose. They want the freedom and ability to move around as they please. This comes with a sense of happiness that is hard to find among 9-5 employees that make the same commute every day.
At Pursuit of Passive Income, we're committed to helping you build passive income streams and create a life you love!
Evaluation Criteria for the Best Places for Digital Nomads
When compiling our list of best places for digital nomads to live, we took a number of factors into account. From the cost of living and safety to amenities and climate, we thought about everything that makes these the best cities for digital nomads.
Here are our most important evaluation criteria.
Internet Connectivity
Those of us living the digital nomad lifestyle know that access to internet isn't a given. But to get our work done, we require fast internet speed, whether to be on Zoom calls, upload video content, and more. Our list of best digital nomad cities takes into account the availability of a reliable internet connection.
Cost of Living
We get it. There is a large range of income among digital nomads, with some scraping by while they travel and others that aren't so concerned with expenses. But we wanted to make our list of popular digital nomad hubs affordable, so we've skewed our list of cities for digital nomads to include those that offer a low cost of living.
Safety
Do not forget about safety. One of the major drawbacks of solo world travel is that you are vulnerable. We recommend traveling with a buddy, but if you're going it alone, our list of digital nomad cities are all extremely safe!
Availability of Coworking Spaces
Most digital nomads are comfortable working from their laptop in their apartment or hotel, but it's always nice to be able to check out the coworking spaces that are available. Being around other remote workers can help you feel a sense of community and lead to greater productivity. Our top cities factor in the availability of coworking spaces.
Access to Amenities
Our list of digital nomad hotspots wouldn't be complete without considering access to amenities and experiences. While some remote workers might enjoy a quiet mountain town, others are looking for a vibrant city with rich history. At any rate, our list features a few quiet towns as well as a couple of bustling cities, but all of them provide easy access to an array of amenities!
Climate and Natural Environment
Finally, the cities we cover offer a great climate and breathtaking beauty! Great weather and nature inspire our bodies and minds as humans. This inspiration pushes us to be better, more productive, and happy. For this reason, our list of cities for digital nomads is complete with some of the most beautiful places on earth!
Top 10 Best Places for Digital Nomads To Live In 2023
Now that we've outlined our criteria for the best digital nomad cities let's dive into the list of some of the most tremendous places on earth!
Bali, Indonesia
Bali is a province of Indonesia in Southeast Asia that offers a laid-back lifestyle in a tropical paradise. Formerly known as a holiday destination, Bali has become one of the most widely renowned digital nomad hubs in the world!
For those of you looking for the beach lifestyle, Canggu is popular among surfers looking for consistent waves and good vibes. It offers a full complement of coworking spaces, coffee shops, networking events, and workshops geared toward digital nomads.
Ubud is the other Bali city offering lush forest for those looking for a digital nomad adventure! Ubud is more popular among yogis and is even more laid back than Canggu. Fast internet speeds can be hard to find outside of coworking spaces, but what Ubud lacks in reliable internet, it makes up for in local culture!
Both Canggu and Ubud offer a very reasonable average cost of living at around $1,250 per month.
Chiang Mai, Thailand
Chiang Mai, located in northern Thailand, is a popular destination for digital nomads. It offers a low cost of living, a thriving digital nomad community, and a rich culture that makes it an attractive place to work and live. Chiang Mai is well-known for its stunning temples and beautiful landscapes, including mountains, lakes, and waterfalls.
The city also offers a plethora of cafes and coworking spaces that provide a comfortable environment for remote workers. Additionally, the local food scene is diverse and delicious, offering a range of street food and dining options that cater to different tastes and budgets.
In Chiang Mai, you can find a good balance between work and leisure. There are plenty of activities to keep you occupied during your downtime, such as yoga classes, trekking expeditions, and cooking classes. The city is also home to many digital nomad-friendly events and meetups, which provide a great opportunity to network and socialize with other remote workers.
Additionally, Chiang Mai is within close proximity to other popular destinations in Thailand, such as Chiang Rai and Pai, allowing for easy weekend trips. Overall, Chiang Mai provides a supportive and affordable environment for digital nomads looking to live, work, and play in Thailand.
Lisbon, Portugal
Lisbon, the capital city of Portugal, is a popular destination for digital nomads due to its stunning architecture, rich culture, and vibrant atmosphere. Located on the western coast of Portugal, the city offers plenty of opportunities to work and explore, with its abundant cafes, coworking spaces, and internet connectivity. The city's mild weather and beautiful beaches make it a great place to escape from the daily routine and take a break from work.
One of the major attractions in Lisbon is its historic center, which is full of narrow winding streets, picturesque squares, and colorful buildings. The city is known for its traditional Portuguese tiles and street art, which offer a unique and colorful backdrop to work from.
The city is also home to many museums, galleries, and cultural events, making it a perfect place for digital nomads looking for inspiration and creativity. With its Mediterranean climate, delicious food, and friendly locals, Lisbon is a great destination for digital nomads looking for a change of pace and a chance to experience a new culture.
Budapest, Hungary
Budapest is a city with a rich history and stunning architecture that draws people from all over the world. It's the capital of Hungary and is located on both sides of the Danube River, providing stunning views and a unique geography that separates Buda and Pest. The city is known for its thermal baths, vibrant nightlife, and cultural landmarks, making it an exciting and intriguing destination for digital nomads.
Digital nomads will find that Budapest is a hub for creativity, technology, and innovation. With an abundance of coworking spaces, fast internet, and an inclusive community, the city offers an ideal work environment for freelancers, entrepreneurs, and remote workers.
With a low cost of living and a rich cultural scene, digital nomads can experience all that the city has to offer while still being productive and efficient. From the bustling cafes and restaurants to the peaceful parks, Budapest is a city that truly has it all for digital nomads.
Medellin, Colombia
Medellin, the second largest city in Colombia, has quickly become a hub for digital nomads. Its favorable climate, low cost of living, and growing tech scene have made it an attractive destination for those looking to live and work remotely. With its vibrant culture, modern infrastructure, and easy access to nature, Medellin has something to offer for everyone.
Whether you're a freelance writer, graphic designer, or software engineer, the city's coworking spaces, cafes, and co-living communities provide the perfect environment for a digital nomad to thrive.
In addition to its favorable living conditions, Medellin is a hub for innovation. The city's transformation from a dangerous and crime-ridden city to a thriving metropolis has been driven by its innovative and forward-thinking approach to urban planning. The city has invested heavily in public transportation, green spaces, and social programs, making it a model for sustainable development.
Digital nomads can take advantage of this environment by connecting with local startups, tech communities, and innovation centers. Whether you're interested in social entrepreneurship, sustainable technology, or just looking for a supportive community of like-minded individuals, Medellin is the perfect place to call home.
Miami, United States
Miami is a vibrant city located on the southeast coast of Florida. It is a popular destination for digital nomads due to its warm weather, diverse culture, and thriving business scene. The city offers a plethora of coworking spaces, high-speed internet, and an abundance of restaurants and cafes, making it a prime location for remote workers. Miami is also home to a large ex-pat community, making it easy for digital nomads to connect and network with like-minded individuals.
In addition to its thriving business scene, Miami is known for its stunning beaches and vibrant nightlife. Digital nomads can enjoy the city's famous Art Deco Historic District, visit Little Havana for a taste of Cuban culture, or spend a day exploring the Everglades National Park.
The city is also home to a number of sports teams and hosts several major events throughout the year, such as the Miami Open tennis tournament and the Miami International Boat Show. With its endless opportunities for entertainment, digital nomads will never run out of things to do in Miami.
Berlin, Germany
Berlin is an ideal location for digital nomads, with its thriving start-up scene, fast and reliable internet connectivity, and affordable cost of living. This city is known for its creativity and innovation, making it an attractive hub for freelancers, entrepreneurs, and remote workers. Whether you're looking to work on a new project or grow your existing business, Berlin provides ample opportunities for success.
Aside from its entrepreneurial opportunities, Berlin is a city rich in history and culture, with plenty of interesting sights and sounds to keep you entertained. It has a vibrant food scene with a diverse range of restaurants and cafes, providing a perfect escape from the world of work.
Additionally, Berlin offers numerous co-working spaces, including cafes, coworking spaces and flexible office spaces, allowing digital nomads to work and network with like-minded individuals. With its welcoming and diverse atmosphere, Berlin truly is an ideal location for digital nomads.
Melbourne, Australia
Melbourne, Australia is a vibrant and bustling city that is ideal for digital nomads. With its diverse range of cultural offerings, it is no surprise that it is one of the most livable cities in the world. The city has a thriving arts scene, with numerous galleries, museums, and theaters to explore, making it a great place for those who love culture and the arts. There are also plenty of green spaces to enjoy, including parks, gardens, and public squares, providing a welcome respite from the fast pace of city life.
For digital nomads, Melbourne is a hub of technology and innovation, with a thriving start-up community and a strong focus on technology and digital innovation. With excellent internet connectivity and a range of coworking spaces and cafes, it is easy to work remotely in this city.
The city is also home to a thriving food scene, with a range of international cuisines available, making it a great place for food lovers. The city's cosmopolitan vibe, combined with its laid-back lifestyle, makes it an ideal location for digital nomads looking for a change of pace and a chance to immerse themselves in a new culture.
Tbilisi, Georgia
Tbilisi, Georgia is a city that has gained popularity among digital nomads in recent years. The city is located in the Caucasus region and has a rich history and culture that blends Georgian, Armenian, and Azerbaijani influences. It is known for its stunning architecture, including medieval churches and citadels, as well as its lively street art scene and stunning views of the surrounding mountains. Tbilisi is also home to numerous museums, theaters, and parks that offer plenty of opportunities for cultural exploration.
The city has a growing startup scene and is home to many co-working spaces, including Tbilisi Hub, Impact Hub Tbilisi, and Idea Hub Tbilisi. The cost of living in Tbilisi is very affordable compared to other European cities, making it an ideal destination for digital nomads looking to save on expenses.
The city has also been praised for its food, with a range of local cuisine options and street food stalls that serve traditional Georgian dishes like khinkali and khachapuri. The city's vibrant nightlife, including live music venues, bars, and clubs, adds to its appeal as a destination for digital nomads.
Valencia, Spain
Valencia, Spain is a vibrant and bustling city that is ideal for digital nomads. With its beautiful beaches, stunning architecture, and rich cultural heritage, Valencia offers an excellent environment for those who want to live and work in a city that is both dynamic and relaxed.
The city is renowned for its many parks and gardens, which provide the perfect space for a quick break from work or for a leisurely lunch. Additionally, Valencia is well-equipped with top-quality cafes, restaurants, and bars, making it a great place to socialize and meet other like-minded people.
For digital nomads, Valencia offers a thriving and innovative community that is constantly growing and developing. The city is home to many tech startups and co-working spaces, which provide an excellent environment for networking and collaboration. Additionally, Valencia is well-connected, with a fast and reliable internet connection available throughout the city, making it an ideal place to work from anywhere.
The cost of living in Valencia is also relatively low compared to other major cities, making it a budget-friendly option for digital nomads. Whether you're a freelance writer, graphic designer, or software developer, Valencia is a great place to work, live, and thrive as a digital nomad.
Final Thoughts
Living the laptop lifestyle as a digital nomad has so many benefits, and the world has so much to offer those of you that are dedicated to exploring its many beautiful places! If you're out there taking advantage of the digital nomad world, we would love to hear from you about where you've been and which places you consider to be the best digital nomad cities!
For those of you that are interested in the digital nomad lifestyle but haven't quite figured out how to make it a reality, make sure to check out our Beginner Blogger free course. Blogging is one of the most rewarding businesses in terms of the lifestyle it offers. If you're feeling stuck, we hope this article inspires you to take action today, and we hope to see in you in the digital nomad community very soon!